ASOBI ICO AND REVIEW "
Asobi is a new project based on a chain of blocks that aims to create a distributed secondary content platform. On the Asobi platform, you can sell, buy all digital content such as comics, music, videos, game items with fast transactions and affordable fees. Asobi uses the latest blockchain technology to provide a secure cloud system called the Decentralized Security System (DSS) and a P2P distributed secondary content platform.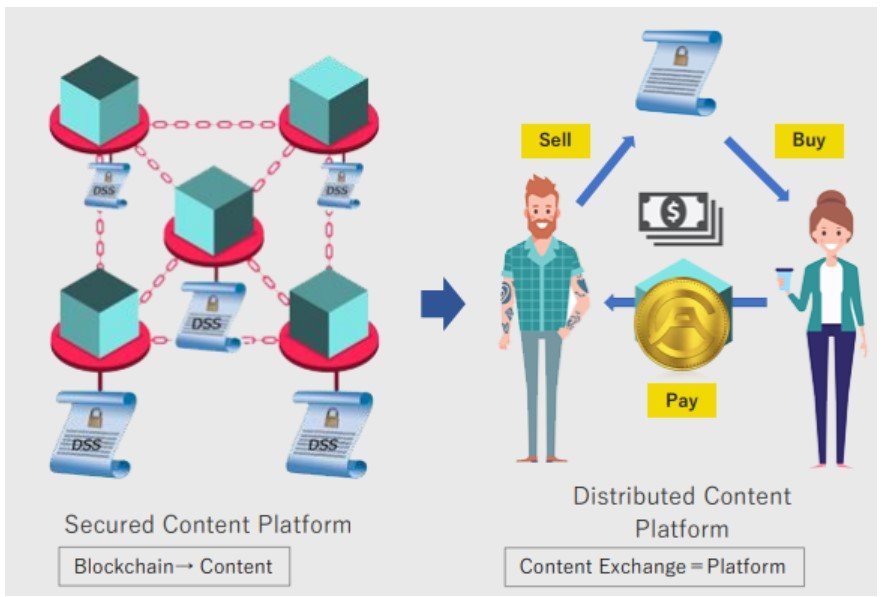 Asobi distributed secondary content platform
Asobi background? Asobi is a project of Asobimo, Inc., a game development company with more than 15 years of experience in the development of online games. Some of their most popular games are Avabel Online, Toram Online and Iruna Online. Their games, especially the MMORPG games, have been downloaded more than 10 million times and have generated more than $ 200 million in revenue.
Why Blockchain?Asobi wants to use blockchain technology to create the secure platform ASOBIMO DApps and ASOBI MARKET, which make digital content on secondary markets a valuable asset for all parties, and provide a secure trading experience at minimal cost and without friction. A big problem nowadays in the digital content market is that digital content may be too easy to copy, resulting in lost revenue for content owners. ASOBIMO dApps will solve this problem by providing a distributed secondary content platform with "Decentralized Security System" (DSS). The blockchain will provide irrefutable proof of ownership of the content. ASOBIMO DApps allows the exchange of digital content such as e-books, gaming articles, music,
Asobi will launch ASOBI WALLET and ASOBI MARKET to serve the Asobi ecosystem. ASOBI MARKET uses blockchain technology to provide a protected secondhand content distribution system, while ASOBI MARKET allows users to buy and sell various digital content directly from ASOBI WALLET.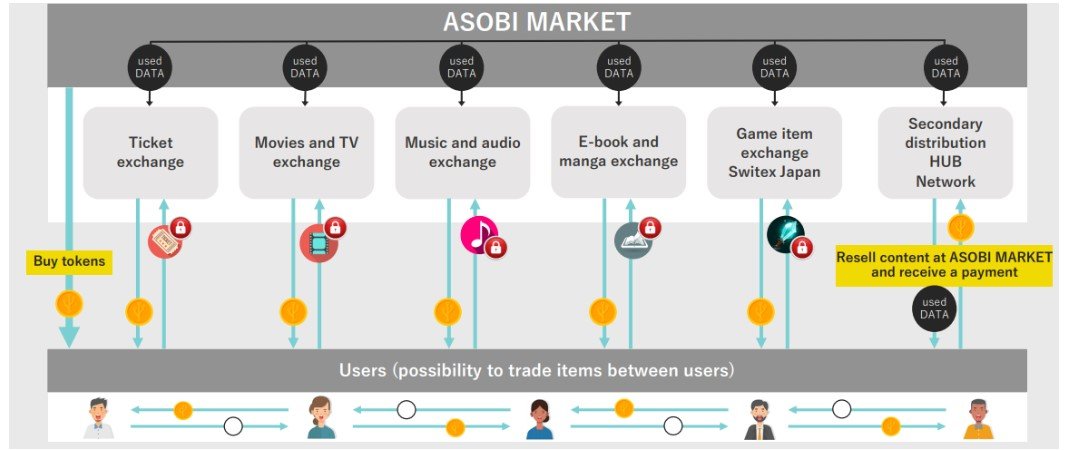 The currency used in the Asobi ecosystem is ASOBI COIN (ABX). In addition, ASOBI COIN can also be used in online games published by ASOBIMO, Inc. and other companies' games. When using ASOBI COIN in Asobimo games, 1 ASOBI COIN equals 2 JPY (about 0.02 USD). Games accepting the Asobi play will be "PROJECT A2", "Avabel Online", "Iruna Online HD", "Iruna Online" and many other games are in the development phase with a budget of 15 billion yen.
To raise funds for product development, Asobi organizes an ICO, the details are as follows:
Name: Asobi coin 
Symbol: ABX 
Type: ERC20 token Total 
supply : 16,500,000,000 
Token for sale: 8,250,000,000 ABX (50%) Original 
price: 1 JPY (approximately 0.01 USD) 
Soft Cap (reached): 550 JPY 000,000 (approximately USD 5,000,000) 
Hard Cap: JPY 5,500,000,000 (approximately USD 50,000,000) 
KYC requires: yes 
Currency of acceptance: ETH, BTC, BCH 
Asobi PreSale STAGE 3 is now online at address https://tokensale.asobimo.io and will run until 30 August at 14:59 (JST time).
Token allocation:
50% for the sale of chips

20% for the team and the counselors (blocking 180 days.)

10% for the premium (no blocking)

10% for airdrop (no blocking)

10% for the reserve (imprisonment for 360 days.)
Allocation of token sales funds
50% for software development

30% for promotion

10% for the reserve

7% for business development

3% for legal
Asobi has a management team of experts and diverse talents. They are specialists in entrepreneurship, online gambling, Internet life, e-commerce, blockchain and cryptocurrency.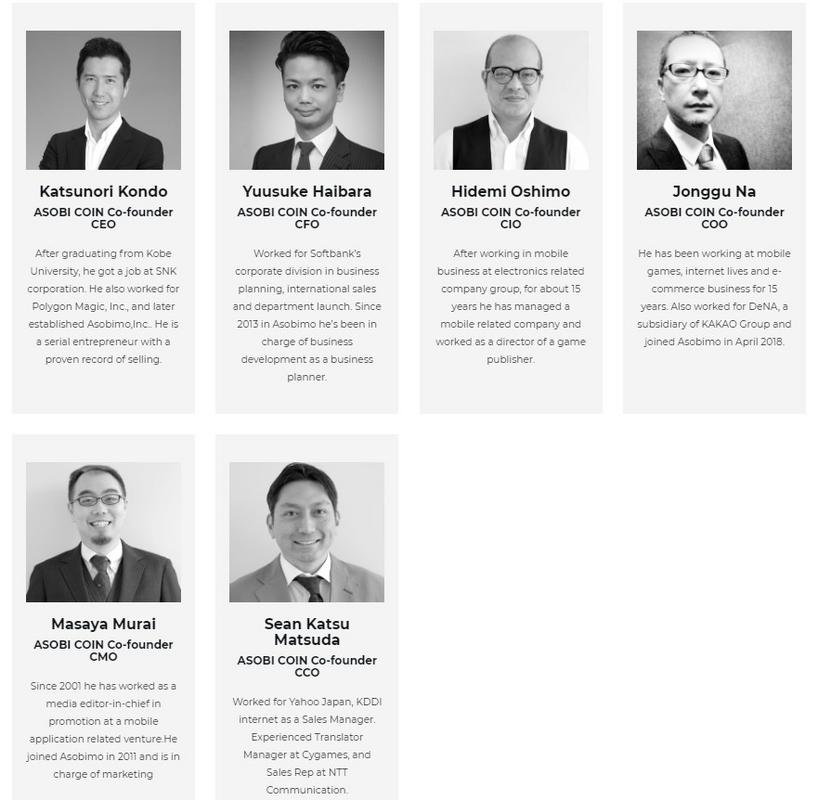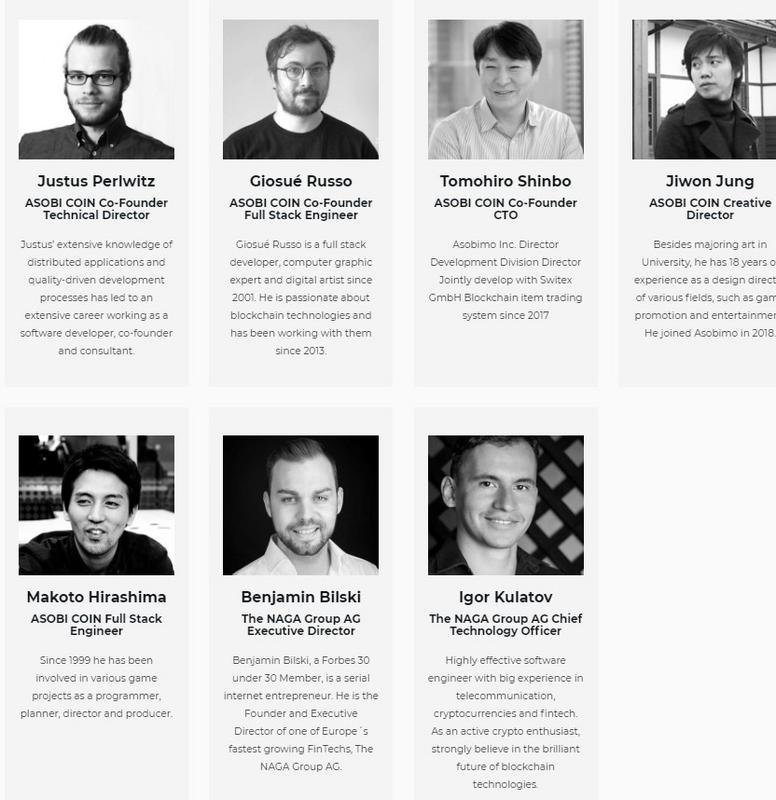 Roadmap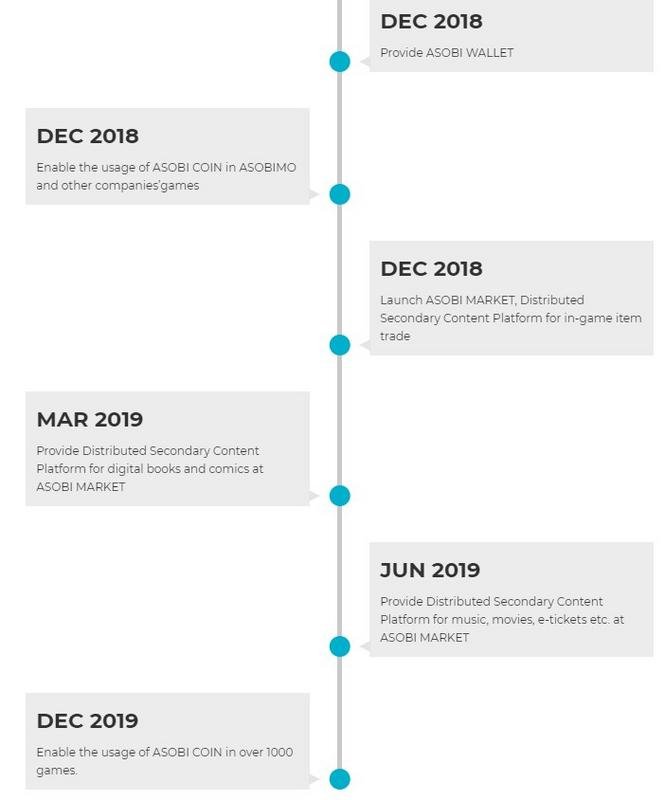 From my personal point of view, Asobi is a project I would like to use. The Asobi concept is very interesting and very effective. The gaming industry and the digital market need a platform like Asobi to facilitate the exchange of what we want with a good user experience.
My rate for Asobi ICO
TEAM: 4/5 
VISION: 5/5 
PRODUCT: 5/5

You will find all important information here:
Website: https://asobimo.io/en/
Whitepaper: https://asobimo.io/pdf/white_paper_en.pdf
Bitcointalk: https://bitcointalk.org/index.php?topic=4884216.0
MVP: https: // asobimo.io/en/#mvp
Youtube channel: https://www.youtube.com/channel/UCHqoxmCPn_Bc2CHpZUV8kEg
Twitter: https://twitter.com/AsobiCoin
Facebook: https://www.facebook.com/Asobi-Coin -130436194467568 /
Telegram: https://t.me/AsobiCoin_Official
bakmi02
https://bitcointalk.org/index.php?action=profile;u=2226015