Atomic Ethereum Wallet: Best Ethereum Wallet
Atomic wallet as we all know is a multi-feature wallet for all cryptocurrency users with a top-class security measures and excellent user-interface.
Ever since I have been using this wallet, my cryptocurrency assets management has been on the next level because not only can I now manage 300+ cryptocurrencies effectively without any difficulties, I ca also boast of top-class security on my cryptocurrencies.
On this post today, I want to make a review on how to manage your ethereum effectively inside the atomic wallet application
.Managing your ethereum cannot be more effective than what atomic wallet is offering to us because it is easy to use, secured and also fast.
In order to access your ethereum wallet inside your atomic wallet, login to your wallet using your password, search for ethereum in the search bar on the top of the homepage, your ethereum wallet will be displayed with the amount inside your wallet. If you want to copy your wallet address in order to receive funds, all you need do is to click on the wallet address displayed at the front of your ethereum wallet and it will be automatically copied to your clipboard.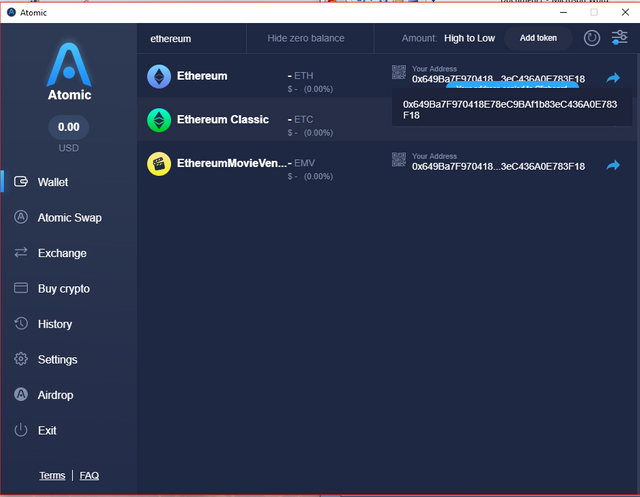 You can thereafter send ethereum into this address which will appear inside your wallet as soon as the transaction is confirmed.
If you want to send out eth to another eth wallet, all you need do is click on the arrow beside your ethereum address, then you fill I all the necessary details such as the recipient wallet address, amount of eth and your password, thereafter you can click on the send button.

If you want to keep your ethereum wallet private keys secured, go to your wallet settings tab, click on private keys option at the top of the page, then input your password and press enter.
This will reveal the private keys for all your addresses inside the atomic wallet.
Click on the private keys displayed beneath your wallet address and it will be automatically copied to your clipboard.

To exchange your ethereum for other cryptocurrencies, all you need to do is click on the exchange tab, then select eth as your preferred coin to exchange, then choose the coin you want to exchange to, after which you will see the equivalent number of coins you will receive and your transaction charge, then click on exchange.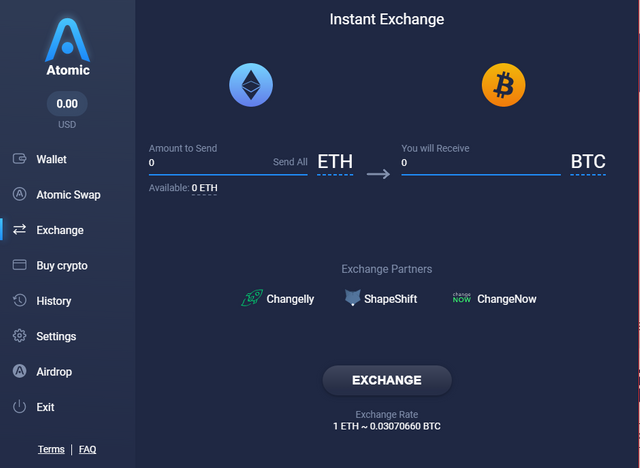 Atomic wallet has also included a buy crypto feature in their wallet which allows users to purchase ethereum using their bank cards. This has been made possible via their integration with Simplex which only requires you to make a one-time verification after which you can continue to enjoy the service. After paying for cryptocurrency purchase using your bank card, your account will be debited and your cryptocurrency sent to your wallet in less than 24 hours.
We can all see clearly that management of cryptocurrencies cannot be more reliable than what is being offered to us by atomic wallet which is available for both mobile and PC. What are you still waiting for? go on to download the wallet now.
Atomic Wallet: https://atomicwallet.io
Ethereum Wallet – https://atomicwallet.io/ethereum-wallet
My Bitcointalk username: amusanmikel2