Atomic Wallet provides an easy way to buy cryptos
The success of bitcoin which was the first cryptocurrency paved way for other blockchain projects to create their different coins and token to provide solutions to real life problems in different sectors. Statistics have it that there's currently more than 2000 different cryptocurrencies out there, thus as these different coins serves as currency, their ever increasing values has attracted a lot of investors to adopt them as a mode of payment. One of the greatest reasons for this increase in adoption was the reliability, security, and fast transaction speeds of these currencies.
However, both old and new investors are always faced with the problem of how to enter the crypto market with fiat currencies. Although, There's availability of lots of cryptocurrency exchanges operating in various countries all across the world but most of these exchanges doesn't provide a way to buy cryptos with Fiats.
Atomic wallet is offering a secure alternative to easily buy cryptos
Atomic wallet is a decentralized multi-currency platform that provides a powerful, in-demand service that allows users to reduce effort spent on managing crypto assets and makes it transparent and reliable. Atomic wallet platform is not just a wallet but also has a cross-chain Atomic swap exchange.
with the atomic wallet, I'll like to let you know that with atomic wallet, you can carry out not only the purchase of crypto assets but you can also perform a range of functionality such as a wallet store more than 300 different coins and tokens, the opportunity to swap assets using it's secure atomic swap technology, the opportunity to use instant exchanges such as changelly and shapeshift. Simply, atomic wallet emerges to reduce the effort and time spent on managing crypto assets. The atomic makes a this functionalities possible in one platform which is available on virtually all operating systems.
The atomic wallet is partnered with and incorporate the largest EU licensed card processing company, Simplex into it's secure multi-functional wallet to provide an easy gateway for users to easily buy different types of Crypto with bank cards.
PROCEDURES FOR BUYING CRYPTO WITH ATOMIC WALLET
The first step is setting up your wallet if you are not using atomic wallet yet, download the compatible wallet for your operating system from the official download link: https://atomicwallet.io/downloads
Set up the wallet and save you seed key securely.
After successfully setting up your wallet, Click on the "Buy crypto" tab in the left menu and choose BTC, ETH, BCH, XRP or LTC: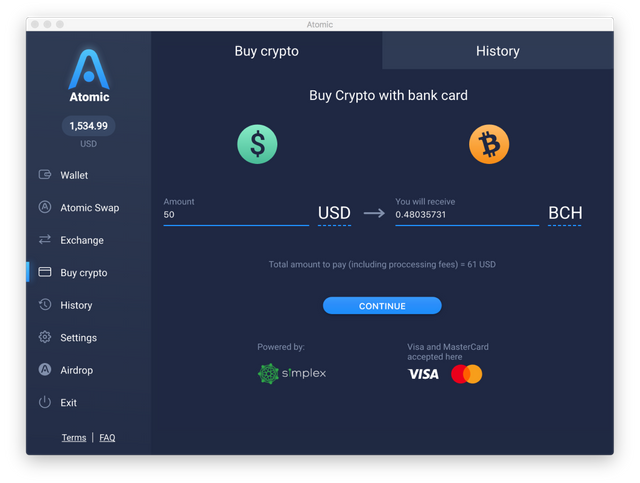 Currently with Atomic Wallet you can buy different type of cryptocurrency such as Bitcoin, Bitcoin cash, Litecoin, Ethereum and Ripple. In the image above, you will see a space to input ur dollars value in the left hand side and on the right side, you have your Bitcoin value in Dollars. Bitcoin is shown as the default crypto to be bought on this screen. However, you can change the currency to be purchase into other ones. Then click on the continue button.
Fill out the Billing Info to pass the one time verification process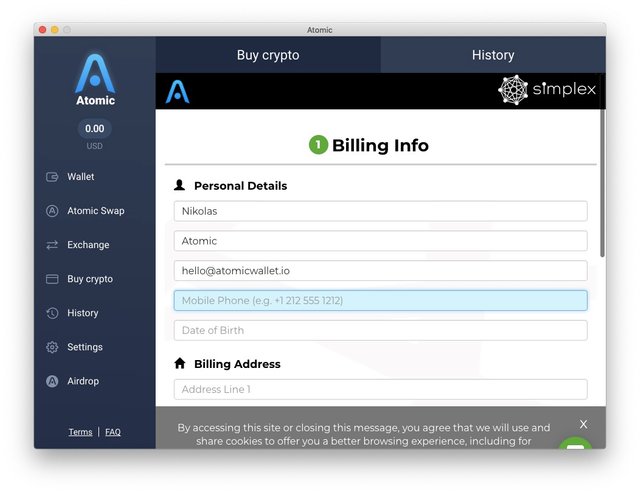 The next step is to input your payment details.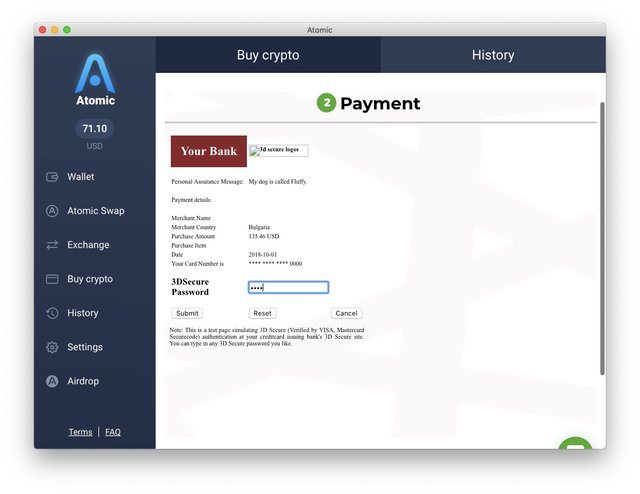 Verify your phone and email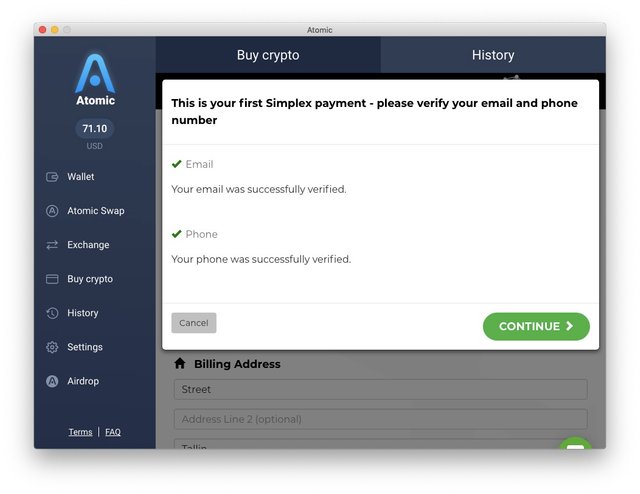 Attach the scan of your ID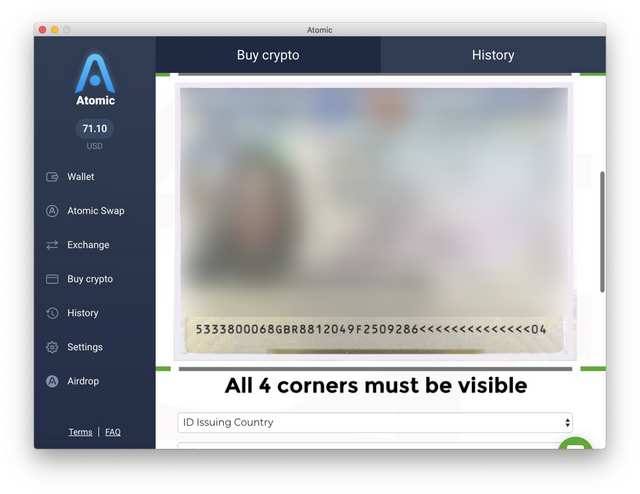 After successful inputation of your details for the verification process and the purchase amount. Your purchases will be credited to your wallet address.
You can keep track all your transactions by clicking on the History tab on the upper part of the Buy crypto menu.
Always look out for more of my post on Atomic wallet
FOR MORE INFO, VISIT THE FOLLOWING LINKS
Website : https://atomicwallet.io
Telegram : https://t.me/atomicwalletchat
Twitter : https://twitter.com/atomicwallet
written By :
Cryptomonger