ATOMIC WALLET – SECURE MULTI-CURRENCY WALLET AND INSTANT EXCHANGE
Blockchain is the buzzword of the moment, but the hype around the technology is warranted. To put it simply, blockchain is a fundamental rethinking of how data is tracked online. Instead of recording data in a traditional database, blockchain technology uses a distributed ledger (essentially a transparent, yet secure record of transactions) and consensus algorithms to store data in a decentralized manner. The end result is that this gives consumers more control over their data, while giving organizations new ways to use that data. At its core, blockchain operates on a trustless principle that ensures no central authority has to be in place in order for a transaction (financial or otherwise) to take place successfully. For many consumers, blockchain is already proving to be a guarantor of security and trust that previously hasn't existed between brands and consumers.
As cryptocurrency is the number one underlying application of the blockchain technology, it provides a secure method of making transactions with digital cuirrencies with the help of the decentralized nature of the blockchain technology. However, the adoption and the use of cryptocurrency is still very low which the major factor that contribute to this is the various platform which provides a medium for the exchange of these currencies.
Most of the available cryptocurrency wallet and exchanges are faced with a lot of problem which make the trading of cryptocurrencies tedious as well setting back the mass adoption of the blockchain technology at large. These problems include; the centralized nature of most exchanges where all the data of the exchange and users are being saved on a central data base making the entire platform vulnerable in a situation of any system failure. The major exchanges we have today has experienced severe hack leading to loss of multimillion assets. Aside the security issues, most of these exchanges charges a lot of fee for transactions taking place on their platform.
All the above outlined inconveniences lead to the invention of many decentralized exchanges but so far their solutions have been insufficient. However, THE ATOMIC WALLET emerges to provide a decentralized platform to give consensual power back to individuals regarding their financial transactions with the intervention of a central body.
Atomic wallet is a decentralized multi-currency platform that provides a powerful, in-demand service that allows users to reduce effort spent on managing crypto assets and makes it transparent and reliable. The platform provides an exchange for user where they can easily exchange their various cryptocurrencies for another and also a secure wallet supporting more than 300 different cryptocurrencies.
Atomic wallet has proffered a credible solution to all the related cryptocurrencies wallet and exchange problems by developing a new approach based on the idea of decentralization of digital assets exchange. Atomic wallet platform provides custody-free, transparent, immutable cryptocurrency wallet and trading platform.
UNIQUE FEATURES OF THE ATOMIC WALLET PLATFORM.
1.   ATOOMIC SWAP: the atomic wallet introduces in its platform a cryptographically powered smart contract technology that enables two parties to exchange different cryptocurrencies/tokens without the risk of one party defaulting on the trade.
2.   Security: The atomic wallet platform is incorporated with a Strong encryption and custody free security solutions which is the essential part of any platform offering a financial platform. Only you have the control over your funds without the interference of the third party.
3.   MULTI CURRENCY WALLET: the atomic wallet platform provides a well secured cryptocurrency wallet supporting up to 300 different coins and tokens providing users with the most convenience avenue of saving different currencies in one wallet.
4.   USER FRIENDLY INTERFACE: the platform is not only secured but also user friendly making it easy for both experts and beginners to take control of their digital currencies. The platform has various feature and function outlined by the side, this include: wallet, atomic swap, exchange, buy crypto, history setting.

BELOW ARE THE IMAGES SHOWING THE ATOMIC WALLET INTERFACE.
THE PLATFORMS ROADMAP.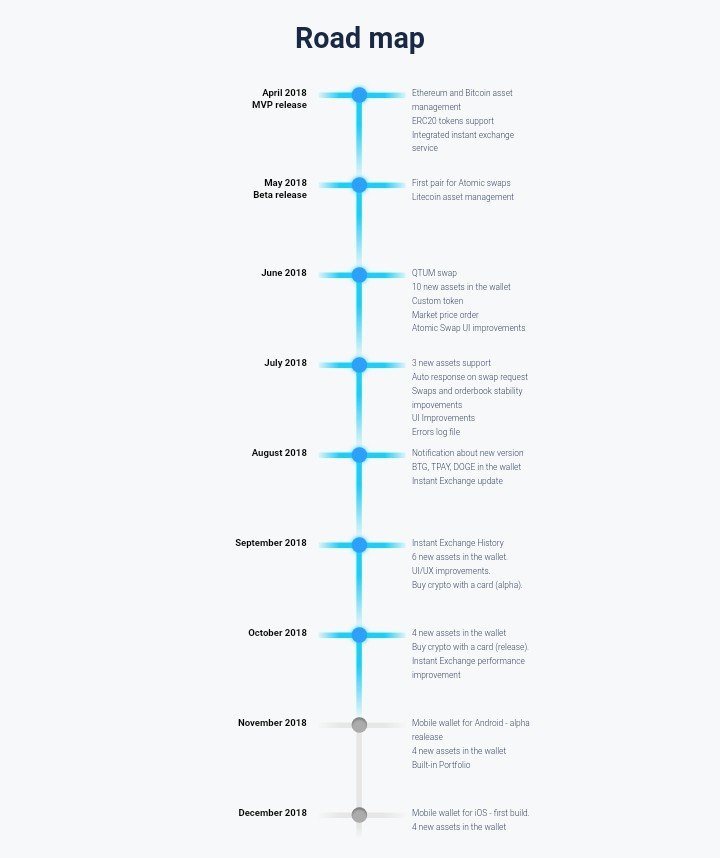 THE TEAM BEHIND THE PROJECT.
Konstantin Gladych
Konstantin Gladych, CEO, PhD in data science with 3 years solid experience in blockchain and cryptocurrencies, 10 years in IT. Konstantin is well-known as the co-founder and CEO of Changelly.com, biggest cryptocurrency instant exchange with over 2 millions active customers monthly and $0.5bln in monthly turnover. Konstantins interests are: decentralization, custody-free solutions, p2p exchangers.
Charlie Shrem
Charlie Shrem, Strategic Advisor and Visionary, is an American entrepreneur and bitcoin advocate. In 2011 he co-founded the now-defunct startup company BitInstant, and is a founding member of the Bitcoin Foundation, formerly serving as vice chairman. The Bitcoin Foundation is a nonprofit founded in 2012 with the mission to "standardize, protect and promote the use of bitcoin cryptographic money for the benefit of users worldwide".
Simon Dixon:
Simon Dixon, Advisor, CEO of online investment platform BnkToTheFuture.com who have invested over US$400m in FinTech companies, like BitFinex, Bitstamp, Kraken, BitPay, ShapeShift, Exodus and over 40 others. Simon's BnkToTheFuture has 300 professional FinTech investors who all believe the future of finance looks very different from today. Their experience and background covers most areas in finance, technology and startups.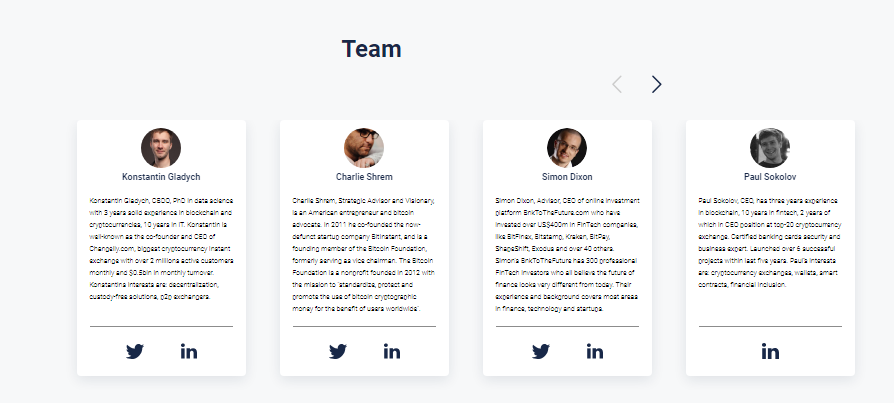 TO KNOW MORE ABOUT THE PLATFORM, VISIT THE FOLLOWING OFFICIAL LINKS:
Website => https://atomicwallet.io
Whitepaper => https://download.atomicwallet.io/atomicwallet-whitepaper.pdf
Telegram => https://t.me/atomicwalletchat
Twitter => https://twitter.com/atomicwallet
Github => https://github.com/Atomicwallet
Medium => https://medium.com/atomic-wallet
Reddit => https://www.reddit.com/user/atomicwallet/
Facebook => https://www.facebook.com/atomicwallet
WRITERS INFO
USERNAME : IDRIX
LINK : https://bitcointalk.org/index.php?action=profile;u=1328628