ATOMIC WALLET – The Multi-currency Wallet with Decentralized Atomic Swap Exchange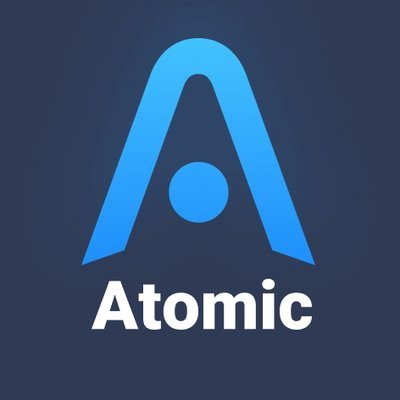 The influx of people into the cryptocurrency market has made an astronomical rise in the adoption of blockchain technology. Numerous supporters, investors from different field of professions and businesses around the world have embraced new technological innovation which has helped reshape the world. One such firm at the forefront of blockchain innovation is ATOMIC WALLET which has created a Multi-asset Wallet with cross-chain Atomic Swap exchange and decentralized orderbook. The platform support over 300 coins and tokens where you can manage your crypto porfolio in a single smooth interface.
Atomic wallet is a decentralized multi-currency platform that provides a powerful, in-demand service that allows users to reduce effort spent on managing crypto assets and makes it transparent and reliable. Atomic wallet platform is not just a wallet but also has a cross-chain Atomic swap exchange and a decentralized order book.
Atomic Wallet provides a powerful "on-demand" service that enables users to reduce the effort spent on managing cryptocurrency assets and makes it transparent and reliable. To make the platform even more convenient and useful for users, the Atomic Wallet team uses the best user interfaces and security techniques, which makes it easier to use the functionality of the Atomic Wallet platform in full.
Atomic Swap
Use decentralized Atomic Swap to proceed with cross-chain exchange avoiding third party risks. For coins not yet supported by Atomic Swap, we have built-in ShapeShift and Changelly exchanges.
A cross-chain is an exchange of cryptocurrencies between users. Basically, party A sends Coin A to party B's Coin B address via blockchain, while party B does the same with Coin B. These actions happen independently on parallel blockchains, in a one-way fashion. Such setup raises the possibility of either of the parties never honoring his/her end of an agreement. One of the ways to solve this issue is involvement of a trusted third party. An atomic cross-chain swap, on the other hand, solves this problem without the need for a third party.
Atomic swaps require each party to arrange a transaction contract. The contracts contain an output spendable by the the opposite party, but the rules required to collect is are different for each party involved.
PROBLEMS ATOMIC WALLET IS PROVIDING SOLUTIONS TO
Personal documents: one of the problems associated with a centralized exchange is that they often request for a personal roof of identity during depositing or withdrawal, this information are usually stored on the computer which in the case of system hacking or misguidance can lead to loss of information, fraud or theft. some people even sell customers personal information for their own personal gains.
Security: In centralized exchanges, you don't have control over your assets, the team does the control. Also, they store all users' details with just a single entry which is susceptible to hacking which could lead to loss of funds.
High trading fee: while the trading fee on centralized exchanges ranges from 3–10%, decentralized exchanges have a very low trading/transaction fee and it ranges from 0.1–1%.
Trust: this challenge is one of the greatest challenges facing exchanges as a whole. We have heard of several cases of cryptocurrency exchanges shutting down unjustly and went with peoples hard earned assets. For instance, octaex and Bipaction recently shut down their exchange without prior notifications and went with people's assets.
ATOMIC WALLET SOLUTION
All the aforementioned problems will be solved by the Atomic project with a classically new approach based on the power of decentralization of digital assets exchange. The atomic project will create a versatile and convenient decentralized avenue for the middle-man's free cryptocurrency trading. Atomic wallet adopts various means of exchange. Also, the atomic wallet will provide a decentralized and immutable environment for its users, thus making their wallet to be serverless, and provide the immutable properties in all aspects
FEATURES OF ATOMIC WALLET
Secure: Clients are guaranteed the highest level of security because we will employ a strong encryption and custody free-solution. Only you have the control over your funds without the interference of the third party. Your private keys are encrypted and it will always be on your device. Your security is highly guaranteed because all the data entered when transacting with the blockchain will be fully encrypted, local data is secured with AES and the data obtained while interacting with the blockchain is secured with TLS asymmetric encryption.
Multi-currency: Let me present a palatable wallet that can handle numerous cryptocurrencies and tokens to you. With the list updated daily, at the moment, atomic wallets support over 300 tokens and coins and many more coins will be accepted. The atomic wallet is currently available on Google play store and Apple app store.
ATOMIC WALLET ECOSYSTEM
Varieties of users make up the ecosystem including;
Traders
Blockchain Assets issuers
Arbitrageurs
Cryptowhales
Third party developer
How Does Atomic Swap Work?
We can see that the Atomic-Swap is developed to manage transactions among 2 different virtual currencies. Atomic Swap is a technique that can exchange digital money in "cross chain," straightly, without going from side to side any 3rd party services.
How does it works, can be completed in 2 ways:
Among the 2 ways above, Atomic Swap works by applying Hashed Time lock agreements (HTLCs). The applying of this HTLC is derived from the idea of BTC community that applies Lightning Network.
The Benefits
It's worth highlighting the functions of the wallet, which will make it famous and in demand:
No longer run registration makes spending additional time;
No limits on the exchange: the Atomic-Wallet is regularly evolving, consumers are capable of exchanging every available digital money. Here you can forever find a collaborator for similar beneficial cooperation;
No scam with exchange rates: entire data are fixed, intellectual agreements don't allow deceiving clients;
It's guaranteed by the crypto exchange of chains or the term of return. There're clear laws that have to be followed to create the deal occur;
Straight exchange of one to one more with no 3rd party pairs. The lack of 3rd parties has a plus impact on such firm. There's no need to pay any commission;
Consumers can exchange at any moment: just a few moments is sufficient for this.
The process is safe and quick;
Centralized platforms are obligated to warrantee anonymity: consumer info is reliably secured from cyber attacks and hacking by scammers;
The interface of Atomic-wallet is distinguished by its exceptional style and simplicity. No further skill you don't need – the processes are performed easily and rapidly;
No decentralized solutions: the absence of one server positively effects the featuring of the Atomic-wallet platform.
TOKEN INFORMATION
Type: ERC20 Token
Ticker: AWC
Full name: Atomic Wallet Coin
Decimals: 8
Total supply: 100,000,000 AWC
TOKEN ALLOCATION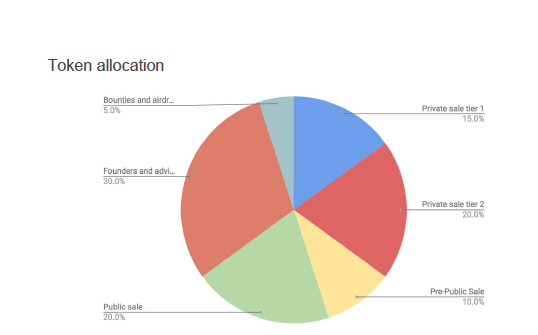 BUDGET ALLOCATION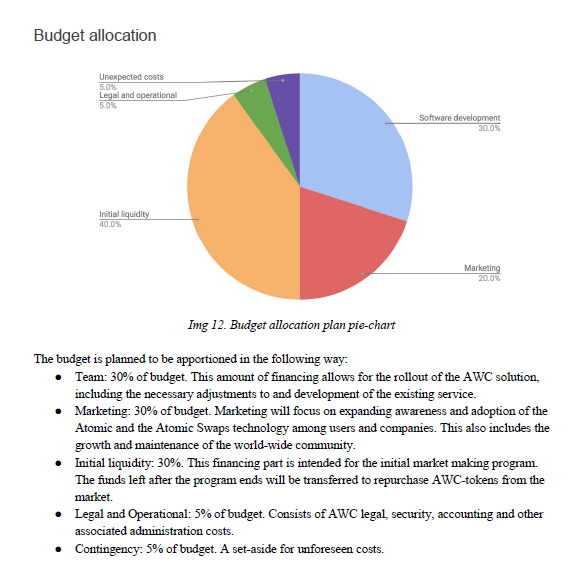 WHERE TO DOWNLOAD ATOMIC WALLET.Atomic Wallet can be downloaded and install from these trending Operating Systems for the now. However, more operating systems will be available in the near future. Be the first to know about Atomic wallet updates on the upcoming platform users like Chrome, Android and iOS here.

WINDOWS | macOS | UBUNTU | DEBIAN | FEDORA
ROADMAP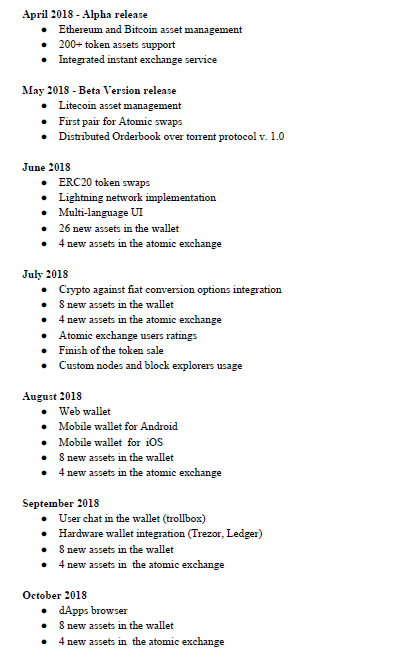 TEAM MEMBERS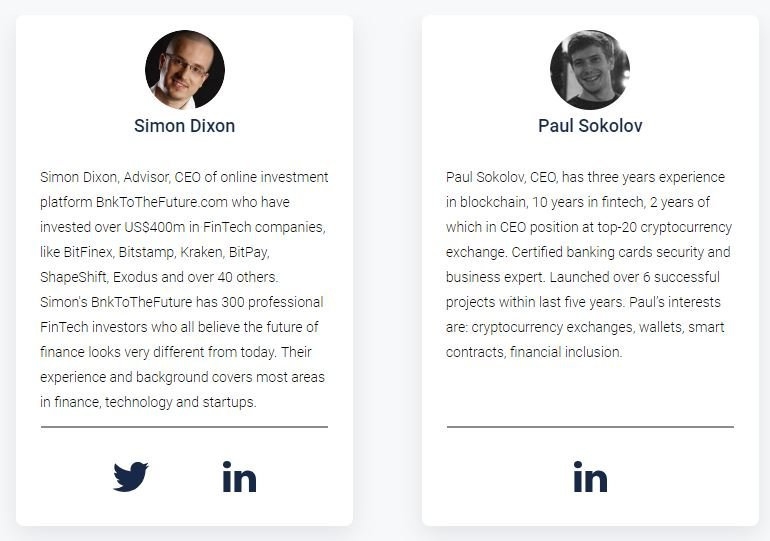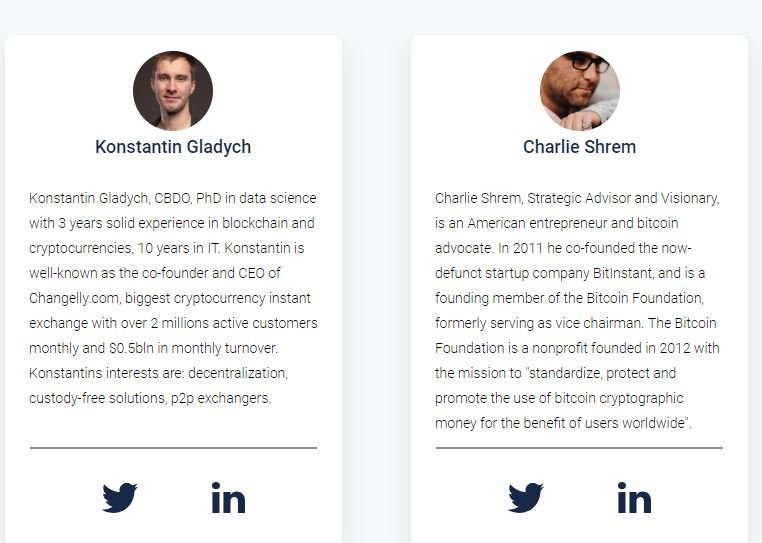 STRATEGIC PARTNERS


FOR MORE INFORMATION PLEASE VISIT THE LINKS I HAVE PROVIDED BELOW;
Website: https://atomicwallet.io/
WhitePaper: https://atomicwallet.io/
ANN Thread: https://bitcointalk.org/index.php?topic=4437510.0
Telegram: https://t.me/atomicwalletchat
Twitter: https://twitter.com/atomicwallet
Facebook: https://www.facebook.com/atomicwallet
Reddit: https://www.reddit.com/r/atomicwallet/
Medium: https://medium.com/@atomicwallet
Author: BrainerdPaul
BitcoinTalk profile link: https://bitcointalk.org/index.php?action=profile;u=1680409