Auditchain – Decentralized Continuous Auditing & Reporting

The prevalence of the cryptocurrency allows us to look at ways and advances that guarantee your openness to ordinary people. As the cryptocurrency markets are in turmoil, the industry continues to build and move forward with exciting new developments. Organizing Auditchain is a leader in developing the world's first decentralized continuous audit and real time financial reporting protocol ecosystem for digital asset and enterprise assurance and disclosure. Oir's goal is to enable continuous external validation of enterprise systems and control, financial data and disclosure control environments through a network of CPAs and Chartered Accountants. The dcarpe Alliance is a consortium of CPAs, accountants, business software vendors and developers, which contributes resources to the development and driving adoption of the dcarpe Assurance and Disclosure Protocol. And we believe that the audichain organization can strengthen it with a proper and reliable framework.
Problems
As you may have guessed, today we will focus on the urgent topic related primarily to the lack of reliable systems of audit. Why am I talking about absence when there are thousands of them all over the world?! Everything is very easy and simple. Let's imagine that you are a big businessman and you have a large international company at your disposal. Which must be audited annually for its further growth and development. But for some reason, you have a bad relationship with one of the representatives of the same audit and you have once again catch yourself thinking, and whether the current test will meet all norms and standards or acquire another "personal" character. Of course you, like any other adequate person, can not fully be sure that the test of his company will be engaged in specialists who do not experience biased attitudes and personal principles. So as fix this fact you not you can. Therefore, you have no other choice but to make up or turn to another audit company.
But again, all audit firms are centralized, which means that they are vulnerable, like any other financial bodies and banking structures. In most cases, their vulnerability borders on the storage and use of a large number of valuable data, access to which can be easily detected by any fraudster. That in the end can have a negative impact not only on the action of the company itself, but also all business partners cooperating with it. The solution of the data offers us a new decentralized project, whose essence is to eliminate all the negative factors and problems inherent in the classical audit companies by the blockchain network.


About the project and its features
As you know AuditChain is the project, whose decision had long been waiting for the whole world. After all, its formation began back in 2009, when only for the first time in the world people got acquainted with the decentralized blockchain technology and its unchanging distribution network. It was then that many audit professionals realized that this tool of our time will be useful in this segment of the market.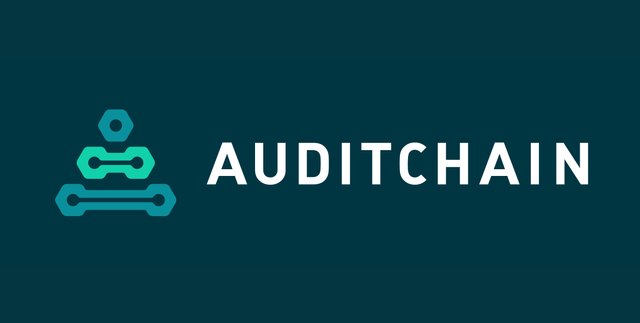 In fact, the AuditChain principle is based on simple, but very clear and safe actions. Since the structure of accounting allows you to control absolutely all elements of the system, as well as monitor their changes in real time. That once again confirms its effectiveness and transparency from all sides.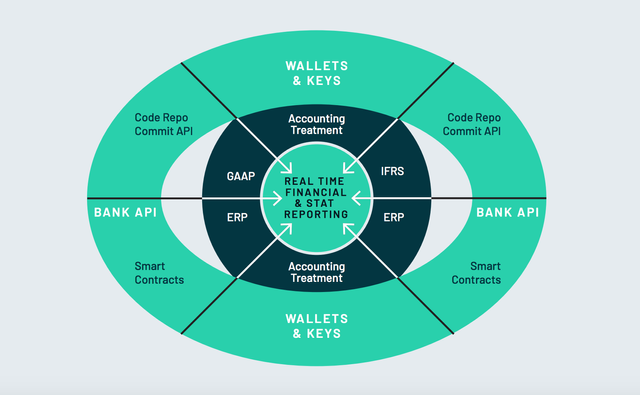 Moreover, the AuditChain platform will contain the so-called auxiliary stack technology, the principle of which lies in the multi-layer protocols and their basic functionality. That is, in addition to blockchain technology and its smart contract, Stack technology will include its elements such as contracts from ERP audit and NODES reports, necessary for the public personification of the received statistics to the audience.


Advantages
It is important to note that these tools, functions and capabilities of the AuditChain platform can be easily demonstrated in the world of international enterprises. Where it is really time to bring order between all suppliers, employees, customers, regulatory bodies responsible for the high level of competence of the enterprise. To do this, in the very near future, the developers of AuditChain intend to start testing all their structures in practice in order to fix their advantages and fully demonstrate the successful implementation of their ideas.
In practice, this chain of actions will look as follows: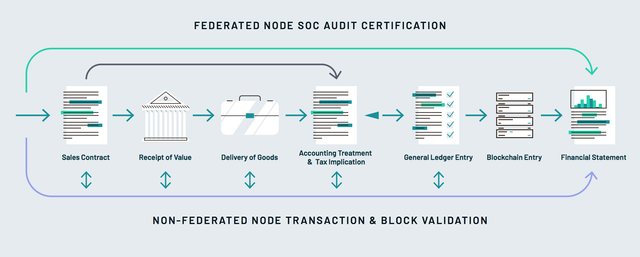 Token
Of course, like any other blockchain platform, AuditChain also intends to use its internal token to regulate all internal processes of the system, as well as to allow everyone to acquire access to special services of the platform itself. Thus the owners of the token AUDT can at any convenient time to buy the desirable and sought after tools and features AuditChain and also pay various other fees that are present in the system. Simply put AUDT token is an internal unit of exchange having its own special power and value.
If we touch a little on the technical side of the issue, then the AUDT token will be developed on the basis of the Ethereum blockchain, a total of 250 million pieces. Most of the coins will be distributed among the development team, and reserved for further distribution of the AuditChainsystem and its partnership with other structures as the network scales.
The distribution of tokens is as follows: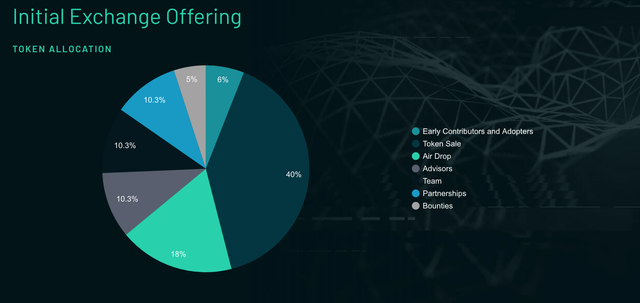 Conclusion
Summing up, I want to note the high potential of this structure, because at the moment there is no such alternative source of audit function which could meet all the standards and indicators stated in the regulations of the world. So AuditChain has all chances to occupy its leading position and proven its effectiveness for all participants.
Of course, in order to objectively form an opinion about the project, you will not have enough of my review. Therefore, I strongly recommend that you continue your pleasant acquaintance with AuditChain by means of its official documents and social resources, the links of which have been waiting for you at the bottom for a long time. And I perhaps that's all and see you soon!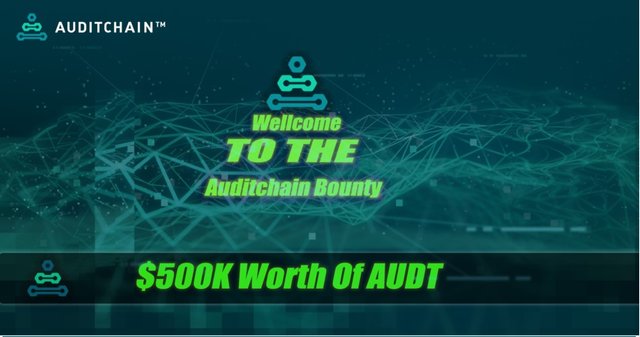 For More Information
Website : https://auditchain.com/
Facebook : https://www.facebook.com/auditchain/
Twitter : https://twitter.com/auditchain
Telegram : https://t.me/Auditchain_Community
Ann : https://bitcointalk.org/index.php?topic=5041997
Author : iamblo.ra
Bitcointalk : https://bitcointalk.org/index.php?action=profile;u=2570086
ETH : 0x5172fA284b303A273C599eFdc9079c1b4978D84E