BCHARITY: AN INTERNATIONAL CHARITY EXCHANGE PLATFORM THAT IS BASED ON BLOCKCHAIN TECHNOLOGY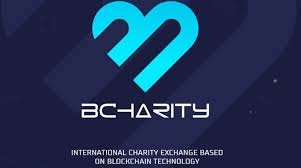 The importance of being of help to one another in today's world cannot be overstated. Without the kindness of human beings to each other, the world will be less enjoyable than it is today. Many people, out of kindness, donate to charity as there are millions of people all over the world who are less privileged and need help in one form or another. Also, there are many disasters and epidemic diseases that happen every now and again that render millions of people around the world helpless. These people depend on charity giving from kind hearted people to survive and get back on their feet. However, at the moment, charity giving isn't what it is supposed to be. Many challenges currently exist in the charity ecosystem that need urgent remediation. These challenges include:
• Unavailability of an international platform that enables gathering and connecting the needy with philanthropists around the world.
• Language barrier (it prevents the needy from sharing their plight with the global audience from which they will get support/aid).
• Lack of charitable organizations or funds in some areas of the world (cities, regions, countries).
• A huge gap between the now dominant and beneficial blockchain technology and the charity ecosystem.
• Fraud acts by many existing charity organizations in terms of utilization of charity funds, leading to a distrust in charity organizations.
• Lack of financial support to small charity organizations that are of interest to those in need.
These challenges haven't helped those in need and as such, BCharity wants to remediate them and consequently transform charity globally. BCharity will achieve its aim by utilizing the power of blockchain technology and cryptocurrencies. The BCharity platform represents a global network of organizations and philanthropists, utilizing the newest asset class to ensure maximum donation effectiveness. As we know, cryptocurrencies are decentralized and as such related transactions cannot be cancelled nor withheld. With the use of cryptocurrencies, transfer of funds will be instantaneous and help will reach those in need in good time. The BCharity platform will also help to proffer solution to the other challenges surrounding the charity ecosystem worldwide.
In addition, BCharity will establish a cryptocurrency based exchanged to facilitate purchases of the BCharity Token (CHAR) via Fiat and Cryptocurrency. Also, BCharity will utilize a social network interface that will be placed on top of the exchange, allowing for charitable organizations / foundations (or individuals) to showcase their story and need. The following shows more of how BCharity will resolve the above issues:
• BCharity will have an interpreter department that will translate request in different languages thereby alleviating the language barrier.
• The BCharity exchange will leverage its platform, brand and team to connect with the global activist community so that charity funds can be properly utilized. The use of cryptocurrency for charity will also enable people in need from any country in the world to ask for and get help with ease.
The BCharity exchange will allow all charitable organizations and funds to connect to it with minimal expense. These charitable organizations and funds only have to provide official documents that confirms their legality, relevance and validity in one or another country/state/region/district/city, as well as their official registration in the register of charitable organizations, before gaining entry into the BCharity international exchange.
BCHARITY TOKEN SALE
BCharity token sale is for the purpose of collecting funds to launch the international charity exchange. BCharity tokens (CHAR) are ERC20 compliant and is based on the Ethereum smart contract. There will be an established link between BCharity Token and BCharity Coin which will enable the use of BCharity Coin for donations within the BCharity ecosystem. Token sale participants will receive BCharity tokens at the end of the main phase of token sale. Received tokens will be proportional to the contributed amount during token sale. Should the softcap not be achieved after exhausting all token sale phases, all funds collected during the main token sale will be fully refunded to the wallets from which the contribution was initially made and in the specific currency.
DETAILS OF THE BCHARITY TOKEN SALE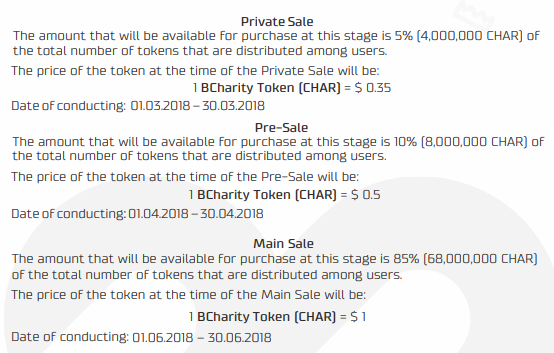 Total number of tokens issued: 100 million CHAR
Accepted currencies: Bitcoin, Bitcoin Classic, Ethereum, DASH, Litecoin, ZCash, Ripple, Monero, etc.
Number of tokens up for sale in private sale: 4 million CHAR
Private sale price: 1 CHAR = $0.35
Private sale date: 01.03.2018 – 30.03.2018
Number of tokens up for sale in pre-sale: 8 million CHAR
Pre-sale price: 1 CHAR = $0.5
Pre-sale date: 01.04.2018 – 30.04.2018
Number of token up for sale in Main sale: 68 million CHAR
Main sale price: 1 CHAR = $1
Main sale date: 01.06.2018 – 30.06.2018
Softcap: $5 million
Hardcap: $35 million
TOKEN SALE BONUSES BASED ON TIME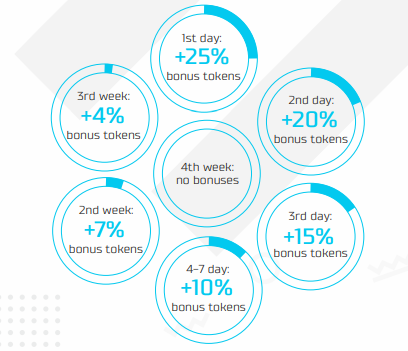 1st day: +25% bonus tokens
2nd day: +20% bonus tokens
3rd day: +15% bonus tokens
4th – 7th day: +10% bonus tokens
2nd week: +7% bonus tokens
3rd week: +4% bonus tokens
4th week: No bonuses
Note that, bonuses here is applicable only during main sale
TOKEN SALE BONUSES BASED ON WORTH OF PURCHASED TOKENS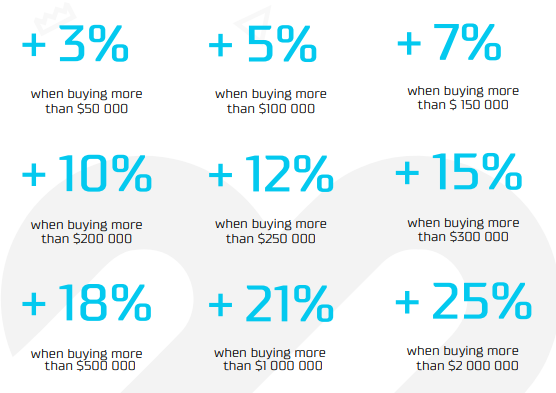 $50,000 (+3%)
$100,000 (+5%)
$150,000 (+7%)
$200,000 (+10%)
$250,000 (+12%)
$300,000 (+15%)
$500,000 (+18%)
$1,000,000 (+21%)
$2,000,000 (+25%)
Note that, bonus here is applicable only during main sale.
CHAR TOKEN DISTRIBUTION



10% – Founders
5% – Consultants & Advisors
3% – Bounty
2% – Partners
80% – Users
FUND USE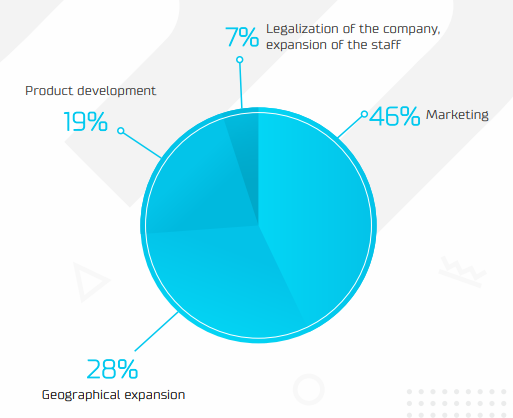 19% – Product development
28% – Geographical expansion
46% – Marketing
7% – Legalization of the company, expansion of the staff
THE BCHARITY ROADMAP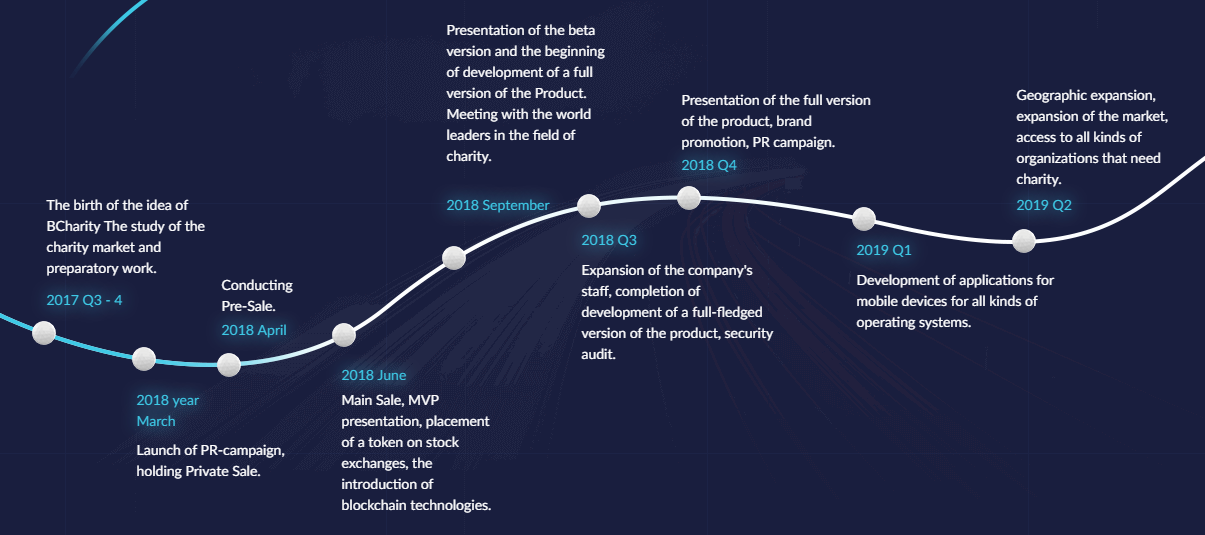 Q3 2017 – Birth of the idea of creating BCharity
Q4 2017 – Study the charity market and preparatory work
March 2018 – Launch of PR campaign, holding of Private Sale
April 2018 – Pre-Sale conducting
June 2018 – Main Sale, MVP presentation, placing a token on stock exchanges, the introduction of blockchain technologies
September 2018 – Presentation of the beta version and the beginning of development of a full version of the Product. Meeting with the world leaders in the field of charity
Q3 2018 – Expanding the company's staff, completing the development of a fullfledged version of the product, a security audit
Q4 2018 – Presentation of the full version of the product, brand popularization, marketing and PR campaigns
Q1 2019 – Development of applications for mobile devices on all operating systems
Q2 2019 – Geographical expansion of the market expansion, access to all kinds of organizations that need charity
THE BCHARITY TEAM
Roman Prishchip – Head developer & Co – Founder
Vladislav Kolodistyy – CEO & Founder
Dmitry Maslo – Co – Founder
Mike Elnikov – Development in China
Micah Mkombeza – Development in Africa
Max Pryvedennyi – Development in the USA
Vsevolod Lukovsky – Blockchain Technology and Smart-contracts
Anatolii Shovkovyi – Head Designer
THE BCHARITY ADVISORS
Tony Sousa – US Legal Advisor
Alesia Dubrovskaya – Business Influencer
Taha Ben Ali – Marketing Advisory and Arabic Community Manager
Ihor Nikolenko – Sales Increaser
Vladislav Nikitenkov – Marketing Specialist
Gery Maes – International Business Development
THE BCHARITY PARTNERS
Ties.DB
Kyrpto
HighTechBlock
INFORMATION PARTNERS
Mass Media
ICO Urban
TechBullion
Foundico
BuzzFeed
Hatena Blog
Charity giving will finally reach the level that it should be globally with the aid of the BCharity platform. This platform will help facilitate the effective provision and use of charity funds. I, therefore, enjoin everyone to participate in the BCharity token sale event and share in its numerous benefits.
Feel free to click on any of the following details should you require more information on this project or want to connect with other unique participants across the globe:
Website: https://bcharity.io/
Whitepaper: https://bcharity.io/main/static/WhitePaper_en.pdf
ANN thread: https://bitcointalk.org/index.php?topic=3217954
Facebook: https://www.facebook.com/bcharity.io/
Twitter: https://twitter.com/bcharity_io
Telegram: https://t.me/bcharity
LinkedIn: https://www.linkedin.com/company/18442577/
Medium: https://medium.com/@bcharity_io
Steemit: https://steemit.com/@bcharity
Published by: charleyles
Bitcointalk URL: https://bitcointalk.org/index.php?action=profile;u=1344011
Ethereum wallet address: 0x69C516900e939e97C7c60Ca59bdaF15295556838