Bcnex-Trading Platform with high stability and security

Currently there are many digital platforms that use human resources that still lack adequate skills. So that it causes a lack of quality of the technology created. This affected the platform operating system which initially performed well, but eventually fell when it had to deal with a large number of transactions. And often users experience transaction failures caused by this network problem. Some users who cannot tolerate this then choose to leave the platform. This is a form of disappointment shown because of the unreliability of the technology system designed.
From my reasons above, today I will introduce you to a trading platform that promises to provide a great experience for users when using this trading platform.
About BCNEX
Bcnex is a completely new solution in exchanging cryptocurrency. Bcnex is a universal trading platform that has a variety of services for buying, trading and exchanging digital currencies.
BCNEX is a place to trade and exchange the value of innovative start-up projects based on Blockchain technology. This is due to an intensive research process since 2006 when we participated in the Forex market, implementing automation in foreign exchange trading. In 2009, we implemented a real-time application data system to handle auction and transaction system matching and then engage in operating exchanges for foreign partners.
Bcnex offers these benefits through its digital platform specifically for people from all over the world who are at all times related to cryptocurrency trading activities.
Bcnex is a digital platform that provides facilities to facilitate the trading of digital currencies, such as Bitcoin, Ethereum, LiteCoin, and other types of digital eyes practically. This platform will assist users in providing information regarding the movement of digital currencies from around the world and overcome the risks and losses that arise.
Bcnex is an exchange based in Vietnam and all team members are from Vietnam. This platform was first established in early 2017 by a Vietnamese blockchain expert named Ngo Hoang Quyen. He currently holds the position of CEO of Bcnex.
This platform presents tremendous benefits from block chain technology, it places so much emphasis on security reasons brought on by a strong security package. First, the existence of a strong firewall, and most importantly the existence of Google's two-factor authentication that will be played every time a user makes a high-risk transaction.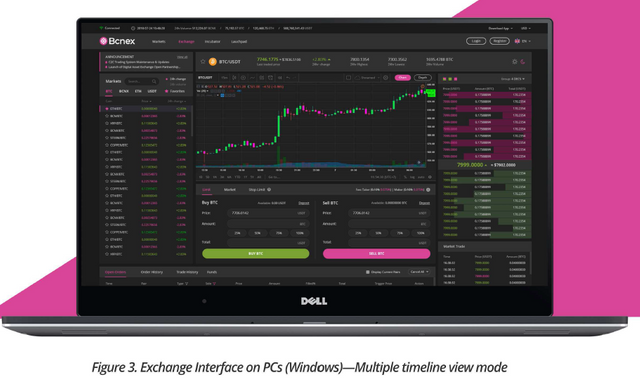 Reasons for choosing Bcnex
● Security and stability
● User oriented
● institutional level trading
● High liquidity
● Market Diversification
● 24/7 support
The BCNX Token is a security token on the website, but we haven't found a basis for that yet. I will analyze the white paper in the following article and complete the article. Bcnex is very similar to the Exchange UI platform and how it works, but the use of BCNX tokens is very similar to BNB. This is also used for transaction fees, withdrawal fees and listing fees, and is also used to support ICO/STO personal sales, angel funds, and other funding.
This is very similar. I think it will be a security token, the application of Securities Laws, income claims, decisions, or dividends.
Info token
Token BCNX
Platform Ethereum
Type ERC223
PreICO price 1 BCNX = 0.1 USD
Price in ICO. 1500 USD
Tokens for sale 100,000,000
Investment info
Min. investment 100 USD
Accepting ETH, BTC, USDT, BCN
Distributed in ICO 50%
Soft cap 2,000,000 USD
Hard cap 15,000,000 USD
Raised $ 1,000,000
Roadmap
● Q1 2017 – Market research. Blockchain trading platform conceptualization.
● Q2 2017 – Talent and key personnel recruitment.
● Q3-Q4 2017 – System design architecture, finalize basic functions of the platform.
● Q1-Q2 2018 – Continue to upgrade the system, develop the Bcnex trading engine.
● Q3 2018 – Conduct legal formalities and finalize the whitepaper.
● Q4 2018 – Angel Funding Round.
● Q1 2019 – Legal and marketing plan for Bcnex tokens sale events.
● Q2-Q3 2019 – Token sale launch event. Bcnex trading platform officially goes live.
● Q4 2019 – The initial development idea of the Lexus startup ecosystem.
● Q1 2020 – Experiment and proceed to introduce margin trading.
● Q2 2020 – To be announced.
Team
Advisory Board and Investors
Partner of BCNEX
Thank you for reading this article, for more information please click the link below:
Website – https://www.bcnex.net/login.html?lang=ng
Whitepaper – https://www.bcnex.net/docs/BCNEX_WP_ENG.pdf
Twitter – https://twitter.com/bcnex_net
Facebook – https://web.facebook.com/bcnex.net?_rdc=1&_rdr
Reddit – https://www.reddit.com/user/Bcnex_Official
Medium – https://medium.com/@bcnex
Telegram: https://t.me/Bcnex_Official
Author
Forum Username : andal02
Forum Profile link : https://bitcointalk.org/index.php?action=profile;u=1566211
wallet address : 0x0e73B7eB5a98731e25fcCf33919cED46a7aE0e50