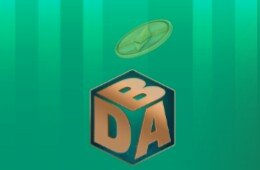 Presently DABANKING platform is making use of ETHEREUM Blockchain in developing the large community of users already on ground. This is the first phase of DABANKING projects. You should also be aware that apart from DABANKING games, DABANKING has other business models but will be unveiled phase by phase. This happens to be the first phase and DABANKING is operating using ETHEREUM blockchain. While in subsequent phases that will be unveiled in the nearest future, DABANKING intends to swap DAB token from ETHEREUM to DABANKING blockchain for a smoother and hitch free operations and management of the DABANKING GAMES and other business models.
Also, DAB token is distributed to DABANKING community /users based on Proof of algorithm Contribution ( POC) when ETH is locked into VALUE RESERVE FUND for DAB token. Note: DAB is use actually a token platform for DABANKING.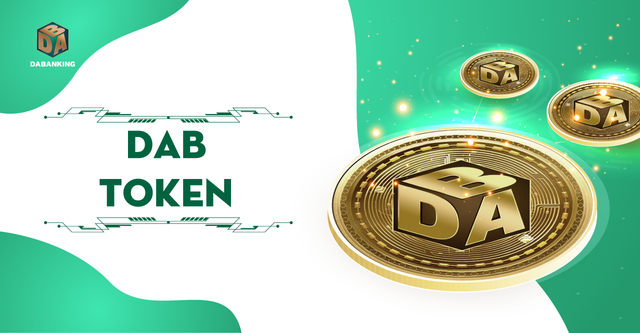 WHY DAB MINING IS ESSENTIAL FOR EVERY COMMUNITY MEMBER.
As long as DABANKING platform and the entire DABNKING community is concern, DAB MINING is very necessary; this is because as the main token that will be used in running the platform, the only way any community member and even the Team and developers can get DAB token is through the use of MINING WALLET in mining DAB token. Now you can see it is almost compulsory that if anyone must enjoy the features of DABANKING platform he or she must get the necessary requirement and start mining DAB token. On this note, I am therefore glad to inform you that DABANKING is working on building its unique blockchain that will be concluded and launched very soon to enable the DAB token SWAP from the present ETHEREUM blockain to DABANKING blockchain.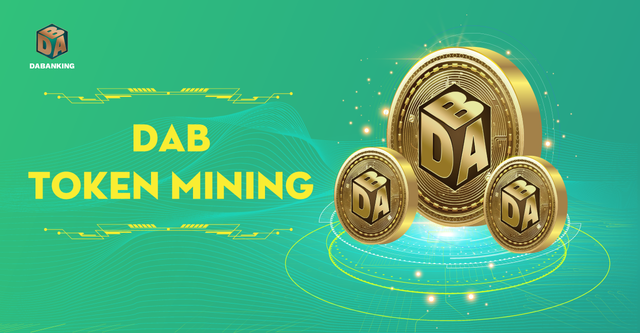 HOW DAB TOKEN MINING IS DONE
To be part of the DAB token mining you need to buy a unique tool called " TREASURY PACKAGE " this TREASURY PACKAGE can be bought using ETH WALLET , DAB WALLET or even MINING WALLET any of those wallets can be used in purchasing the TREASURY PACKAGE . But remember, the minimum amount you can buy the TREASURY PACAKAGE is $200 amount in ETH depending on the coin market price at that time. As a miner of DAB token you need 3 energy wallets which are: GOLD WALLET, GREEN WALLET and MINING WALLET. Please do not confuse these 3 energy wallets with the ETH, DAB or Mining wallets you use in paying for TREASURY PACKAGE.
Also, when you are sending your ETH from any of the DAB, ETH or mining Wallet for the purchase of a TREASURY PACKAGE you need to be sure it's confirmed by the blockchain as this is the only time the value is taken. Any price Fluctuation while the ETH is still pending confirmation will affect the price of the TREASURY PACKAGE which will either increase or reduce depending on the ETH price fluctuation. But please note that if the Price fluctuation of ETH goes below 3% , such transaction is automatically cancelled and the you have to resend your ETH for the purchase of TREASURY PACKAGE.
The percentage of MINING WALLET received compared to the Value of the TREASURY PACKAGE bought in the first 5 months when 800% of the GOLD WALLET package value moves into the GREEN WALLET is shown in this table below. MINING WALLET will continue receiving everyday until the GREEN WALLET gets to 0 and the minimum receiving time can be 2 years or more.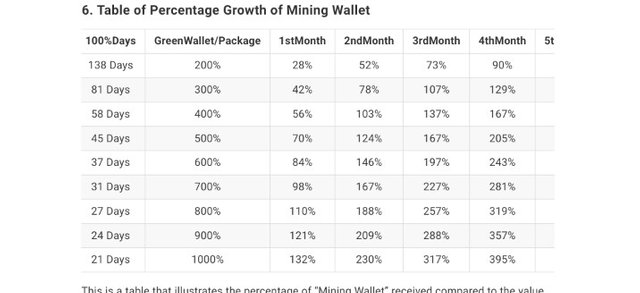 EARN MORE DAB TOKEN BY INVITING OTHERS TO THE DAB TOKEN MINING
As a community member you can earn more DAB token when you use you unique registration link to invite other members to join the DAB mining community ( this stage is called F1) you are meant to 50% of the package value of F1 to move the same value from GOLD WALLET to your own GREEN WALLET
This is how it works: if you introduce a $10,000 Treasury Package buyer, you get 50% of $5000 to move your GOLD WALLET to your GREEN WALLET and your amount will be transferred until GOLD WALLET gets to 0.
You will also be rewarded an additional 10% of the value of purchasing TREASURY PACKAGES as it continues from F2 to F10 and the move from your own GOLD WALLET to GREEN WALLET but under the two simple conditions below:
(i)The total amount purchase of "Treasury Package" from the entire F1 is at least 300% of the value of your package purchased at the first time.
(ii) You have 2 F1 to buy the package, you are rewarded 10% from F2
You have 3 F1 to buy the package, you are rewarded 10% from F3
You have 4 F1 to buy the package, you are rewarded 10% from F4
You have 5 F1 to buy the package, you are rewarded 10% from F5
You have 6 F1 to buy the package, you are rewarded 10% from F6
You have 7 F1 to buy the package, you are rewarded 10% from F7
You have 8 F1 to buy the package, you are rewarded 10% from F8
You have 9 F1 to buy the package, you are rewarded 10% from F9
You have 10 F1 to buy the package, you are rewarded 10% from F10
Also, you are charged 5% more from F11 to the every other level below you ,when either your total volume of the TREASURY PACKAGE of the whole system gets to minimum two hundred thousand (200,000) or gets to star 3 rank and above . In my next article I shall be explaining the Ranking bonus on DAB token mining.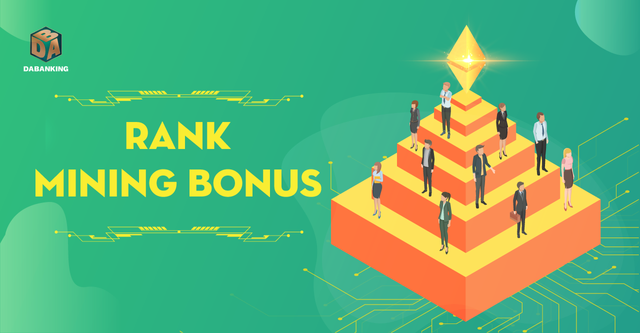 Meanwhile, to obtain more information concerning DAB token mining visit the links below:
Website: https://dabanking.io/
Whitepaper: http://dabanking.io/static/whitepaper.pdf
Discord: https://discordapp.com/invite/uqfMjYV
Telegram: https://t.me/DABANKINGOFFICIAL
Youtube: http://bit.ly/2VYtVOV
Medium: https://medium.com/@dabanking.io
Facebook: https://www.facebook.com/dabanking.io/
Twitter: https://twitter.com/Dabanking_io
Author's bitcointalk profile: https://bitcointalk.org/index.php?action=profile;u=2281902;sa=summary
Name: funex