Beaxy – all in one cryptocurrency exchange

What is Beaxy?
Beaxy will be a one-stop shop for all of your cryptocurrency trading needs. Our intuitive user interface will allow for trading in both crypto and fiat currencies. As Beaxy's transparent rocket logo suggests, our UI will be a sleek and elegant experience for the user but it will contain many complex mechanisms on the inside. Simple, yet powerful.
The Beaxy Story
The founding members behind Beaxy first discovered the cryptocurrency world in early 2015. Two of our co-founders (who both have years of experience trading on the market) happened to work in the same company and began discussing cryptocurrency. As the scope of their discussions expanded across different cryptocurrency communities, a pattern of complaints surrounding exchanges started to emerge. Obstacles like smooth currency transfers, dysfunctional algorithms, and a very steep learning curve for novices became very apparent. The idea of Beaxy was thus born as a ready-to-go, all-in-one exchange which will be:
easy to use for all newcomers to the world of cryptocurrencies
a smart platform for professional investors, with high-end financial features
developed with security in mind
We will invite our users to be a part of our demo during our ICO in order to further Beaxy's mission of transparency, powerful built-in tools, and sustained performance. We will also use the demo period to take feedback from the community, and solve any problems prior to a full launch.
Features of Beaxy platform
user friendly
24/7 customer support and live chat
high throughput low latency database performance
the platform will provide new articles, tutorials and financial services
the platform will have a feature of providing "Instant Credit" for reliable users in certain countries.
smart platform service with high-end financial features (detailed graphs, portfolio management tools, price alerts, add-on features by third parties etc.)
loyalty and referral reward programs
high security (IP checking, PCI-DSS and ENISA security standards)
available monthly package payments for use of all the platform's features
mobile application for IOS and Android
During ICO there will be demo available and Q3 of 2018 is mentioned as a launch time of initial platform.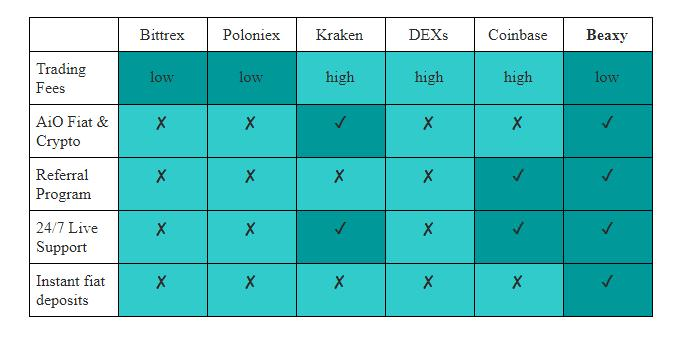 BXY tokens and ICO
Beaxy tokens (BXY) are the utility tokens for operations in Beaxy platform and for obtaining rights to numerous discounts as 50% of exchange fees, premium features and rewards for month-long depositing at Beaxy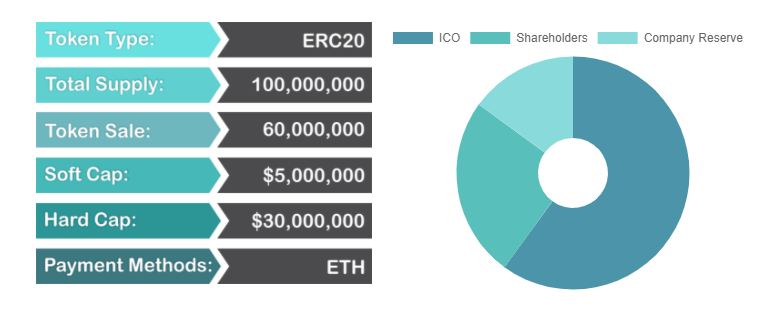 Ticker name: BXY
Price: to be determined
Presale: June 1st, 2018
Token standard: ERC20
Public ICO: June 15th , 2018 –July 14th 2018
Soft Cap – $5 million
Hard Cap – $30 million
Total supply: 100 million BXY
Tokens for sale: 60 million BXY
Shareholders: 25 million BXY
Company reserve: 15 million BXY
Payment method: ETH
Restrict area: China, USA
ICO
To enable different speculators to take dynamic part in the advantages natural in the stage, ICO is out on offer to the overall population. This will likewise enable the advancement to group to achieve laid out goals and make space for manageability. 100 Million Tokens have made in all-out supply yet will be shared among assorted zones. Out of the tokens made, just 60, 000, 000 will be offered available to be purchased while the remaining will be utilized the run the vital coordinations. The task's Hardcap is set at $30, 000, 000 USD while Softcap is settled at $5, 000, 000. The Presale will begin from the 1st of June, 2018 while the ICO will produce results from fifteenth June, 2018, in a specific order. The cost of the token is $0.60 per BXY token amid the presale. The diagram below show how the tokens will be allocated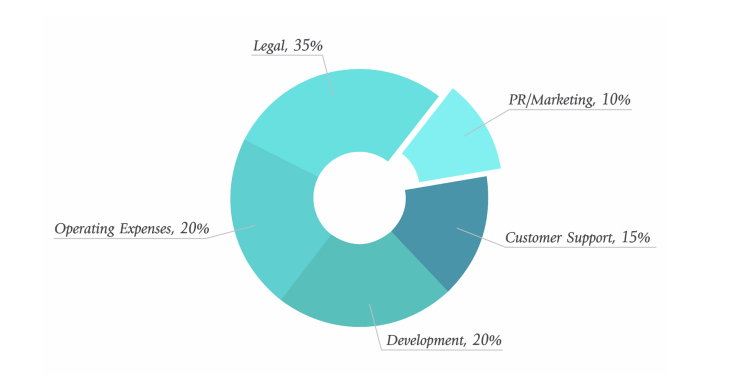 Outline
The stage was made with the chief motivation behind giving very surprising methods for embraced cryptographic money trade through tasteful innovation built by the Blockchain. From the guide, Pre-ICO is couple of more days to commence! To get tokens or subtle elements of how to take an interest, click https://beaxy.com/.
Web Link : https://beaxy.com/
Bitcointalk : https://bitcointalk.org/index.php?topic=2912122.0
Facebook : https://www.facebook.com/beaxyexchange/
Twitter : https://twitter.com/BeaxyExchange
WhitePaper : https://beaxy.com/docs/Beaxy%20Whitepaper%20v1.5.pdf
Telegram : https://t.me/Beaxy
By Arsenyo