Beaxy: Best Crypto/fiat currency Exchange Platform Ever
Hello everyone, lets speak about Beaxy project a little bit more.
I think that most of you have ever faced with buying or selling cryptocurrency on crypto exchanges. Nowadays the number of cryptocurrency exchanges is growing and most of them are very similar. They can't offer anything interesting for traders, that is why they remain unpopular. The developers of Beaxy are going to bring something new to the cryptocurrency exchanges. Let's have a look at this project in more detail:

Beaxy is the crypto exchange with a clear interface and at the same time with powerful functional. The developers have been watching long the crypto exchanges and have decided to create something simpler than modern exchanges. On our platform you can trade different crypto currencies; also there will be currency pairs, what traders really need. The team also have paid a lot of attention to the security of the platform, it can help
to protect traders' funds and avoid hackings, what have begun to happen more often and often in the world of crypto currency. (A good example is Coincheck, where has been stolen about 500 million dollars).
Advantages of Beaxy Platform:
Excellent referral program. 10% of the Exchange Commission and in contrast to other exchanges, it will operate indefinitely and will never be reduced.
If you use a Beaxy token, the commission for transactions will be reduced by half +also you can get a discount for trading volumes.
24/7 Support. This is probably one of the problems of all major exchanges that traders faced with. Beaxy promises to resolve all issues quickly and expand its staff in on time.
If you keep the tokens BXY, you will receive a reward
Possibility of replenishment with fiat money for verified users.
An excellent security, which is very important for a good exchange.
High productivity of the platform. The exchange promises to be very fast and withstand a high load easily.
Easy scaling.
The application for iOS and Android. In my opinion, a good exchange must have an application. Beaxy also has its own application.
Over-the-counter transactions will be available for large financial institutions.
The platform for holding ICO. Beaxy's reputation will be responsible for some ICO, interested investors and ensure developers listing on its exchange.
Distribution of funds collected for ICO:
35% Legal expenses
20% Operating expenses
20% Development
15% Support
10% PR, Marketing
Beken project token
Name of the token – BXY
Block – Ethereum (ERC-20)
Total number of tokens – 100 000 000
Pre-ICO project Beaxy
The timing of the Pre-ICO is from June 1, 2018.
The token sale for Beaxy begins in June with a goal to raise thirty million dollars. Their minimum target is going to be five million dollars. Funds raised from the sale will go toward marketing, customer support, development, operating expenses, and legal fees. The team has four co founders who are all very experienced in their fields. Follow the links provided here to learn more about the Beaxy platform.
Conclusion:
The Beaxy project is very promising both for big multinational companies and individuals in terms of high return on investments. The concept of the project and its implementation will give the possibility to resolve a lot of issues related to cryptocurrencies trading. The project is worth investigating in more details because the innovative approach to the optimization of the market services can really play a pivotal role in creating an all-in-one crypto exchange.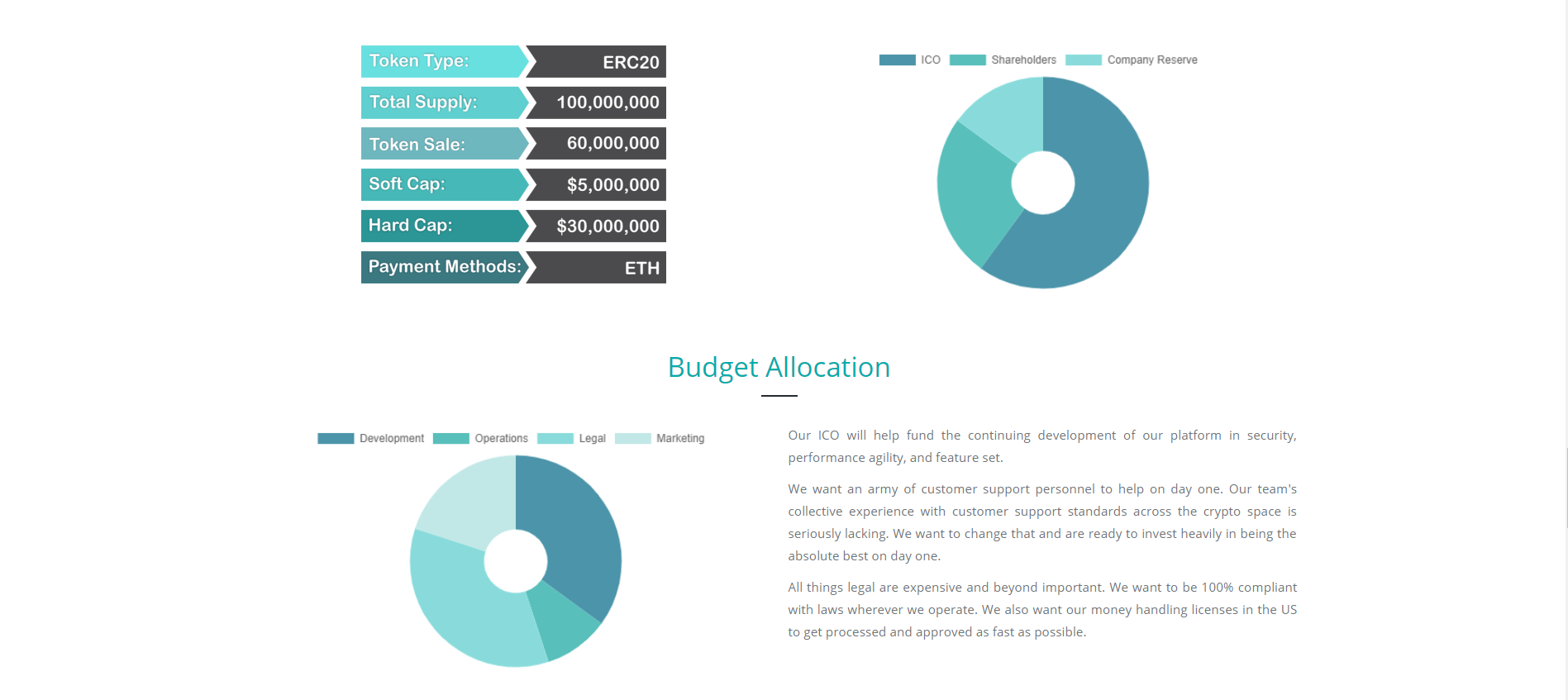 Please check following links for detailed information:
Website: https://beaxy.com/
Whitepaper : https://beaxy.com/docs/Beaxy%20Whitepaper%20v1.5.pdf
ANN Thread : https://bitcointalk.org/index.php?topic=2912122.0
Telegram: https://t.me/Beaxy
Twitter: https://twitter.com/BeaxyExchange
My profile Bitcointalk:https://bitcointalk.org/index.php?action=profile;u=1287882