Beaxy Exchange : All-in-One Cryptocurrency Exchange
he key Beaxy concept lies in creating a new All-in-One trading and portfolio management platform combining convenience and security. These features will enable facilitating the world of cryptocurrencies and make it as accessible as fiat currencies. The Beaxy exchange will serve as a one-stop shop for all cryptocurrency trading needs among which are as follows: news articles and tutorials, financial services, the abundance of tools, and many others aimed to assist all users in making market analysis and grounded decisions.
The main features of the Beaxy platform:
Simple interface with powerful functionality including advanced chart types and analysis, drawing tools, volume analysis and many other;
24/7 multi-language support with live chat;
Built-in portfolio interface wich including automatic Beaxy transaction records and price changes;
Security of the platform provides high standards of data protection;
Availability of supporting information: articles, discussions and video tutorials for new users;
Generous affiliate program which is profitable both for referrers and referral. Referred users will receive Platinum level membership (20% fee discount) and referrers will be able to earn 10% of transactions fees for the lifetime of referred accounts;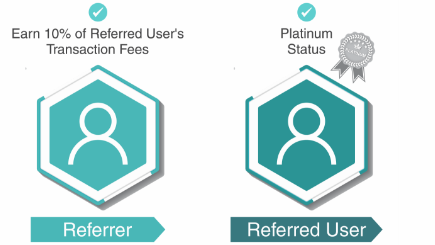 Discounted trading fees. Users will be able to receive a 50% discount on trading fees by using BXY tokens;
Instant deposit of fiat currencies will be available;
Mobile application with integrated price alerts as well as order fulfillment notification;
Unlimited coins accommodation due to low latency of the platform;
"Instant Credit" feature allowing users to take advantage of price dips by instantly getting a trading balance.
Token sale details (ICO):
The Beaxy team is planning to issue 100 million Beaxy coins (BXY) and they will be distributed in the following way:
60 % for crowdfunding participants (will be available during the ICO);
25 % will be allocated to the shareholders;
15 % will retain in the company reserve.

The token presale is scheduled to be started on June 1st, with a 20% bonus and the Public ICO – on June 15th. So we still have plenty of time to analyse the concept of this project and make more informed decision on crowdsale contribution.
More details about BXY token are as follows:
Token type: ERC20
Total supply: 100,000,000
Token sale: 60.000,000
Soft cap: 5,000,000 USD
Hard cap: 30,000,000 USD
Payment method: ETH (ETH:BXY ratio will be determined closer to the presale date).
The Beaxy project team:
The Beaxy project team members have good experience in the related fields: blockchain technology, software engineering and architecture, customer experience, data science, finances, and marketing. The team is quite large and well-organized that is why the cooperative work of team members should lead to achieving the scheduled financial results in due time. The list of the team members and their details can be found on the official website of the Beaxy project: https://beaxy.com/
Conclusions:
The Beaxy project is very promising both for big multinational companies and individuals in terms of high return on investments. The concept of the project and its implementation will give the possibility to resolve a lot of issues related to cryptocurrencies trading. The project is worth investigating in more details because the innovative approach to the optimization of the market services can really play a pivotal role in creating an all-in-one crypto exchange.
The Beaxy project contact details: