Beaxy is the most ambitious crypto-exchange project.
ICO of various cryptocurrency exchanges both already operating, and planned for start-up, already became a habitual phenomenon. However, most of them have rather modest plans – they promise their users transparency, security and low commissions – a standard set of crypto-exchange advertising slogans . But the Beaxy team decided to solve all the cryptocurrency exchanges problems in one fell swoop, creating an ideal trading platform.
Apart from the above-mentioned standard set , the project promises reliable operation without delay, built-in intuitive interfaces for creating a portfolio and conducting currency analysis, convenient and fast work with fiat, technical support working 24\7 and instantly answering user questions, effective feedback system, developed loyalty program and a whole section with training videos and articles.
Also, Beaxy plans obtaining licenses to work with fiat in the US and Europe, which will make the exchange universal not only in functionality, but also in geographical scope.

In general, each of these features separately is not revolutionary and has already found on other exchanges (except, perhaps, good support), but combining them on one platform really promises to do Beauxy "cryptocurrency exchange dreams." Provided, of course, that the team will be able to turn promises into reality.
A key figures in the team have more than 10 years of experience in software development, databases and network structures, so that the lack of necessary skills and knowledge is not observed. The issue is in focus and available resources.
BXY token
The BXY token, released on Ethereum blockchain according to the ERC-20 standard, is a kind of "blood" of the platform.
Commission payment for transaction conducting with BXY tokens will provide the user with a 50% discount (the standard fee is 0.2%, when paying with BXY – 0.1%). In general, this is a standard scheme for the internal tokens use on crypto exchanges. The ability to use tokens for voting on the platform is also quite a standard option.



But the loyalty program differs from all previously offered by crypto exchanges. Among the Bxy tokens holders , 20% of the exchange commission fees will be distributed.
In addition, tokens will be used to pay rewards, pay for some mobile apps features etc.
Thus, developers simultaneously create both incentives to spend BXY and incentives to keep them on the account, which will provide high demand for token.
ICO details
A total of 100 million BXY tokens were issued, 60 million of them will be sold during the ICO.
Currently, there is a presale closed stage, the open will begin on June 1, and the public stage will start on June 15 on their website.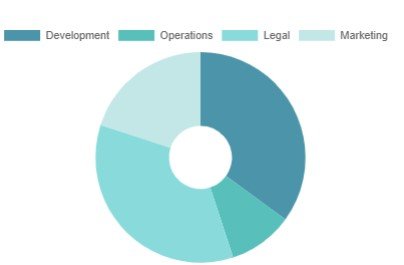 Especially noteworthy are Beaxy plans on the collected funds spending. Unlike many other projects, they don't plan to spend half of the budget in marketing and bounty programs. On the contrary, only 10% of the budget is allocated for marketing, which at present is almost abnormally low percentage.
The main cost item is legal support of the project. This is due to the plans of developers to obtain licenses in the US and the EU and they are well aware that this is a difficult and expensive task. Unfortunately, not everything in the obtaining a license issue depends on the developers and this point is a potential project "weak link".
Thank you for your attention and see you soon!
Don't forget that participation in IСO is a risky investment! Before deciding to participate, please review the project in more details.
Official website
Whitepaper
Facebook
Telegram
Twitter
My Bitcointalk:https://bitcointalk.org/index.php?action=profile;u=993052