BECENT – A brief review for the next exchange generation
Hello friends all are still with me Ade prayoga. This time I will provide information about a very interesting project for you to see, in a new cryptocurrency called BECENT. Before heading into the discussion I think we all agree that blockchain technology still requires efforts that encourage adoption to continue to grow and continue to grow in the future.
It is no news that the world of cryptocurrency has experienced phenomenal growth over the past few years. With this growth comes increased demand and supply of various forms of cryptocurrencies. Just like is the case with fiat currency where people need to change currency from one form to another depending on location, mostly. Cryptocurrencies need to be changed from one form to another depending on the use case of the particular cryptocurrency. This has led to the creation of several cryptocurrency exchange platforms to varying level of success. The rise in overall volume of crypto asset trading has largely surpassed the scale of legal tender exchange services which points to the need for a marked improvement in digital currency exchange services.
I will like to highlight some shortcomings of majority of the present digital exchange platforms which indicate the need for an upgrade, these include;
Poor Product Experience- The product experience offered by several digital currency service platforms is light years behind where it should be right now. Blockchain technolohgy being at the forefront of technology and finance should offer the optimum product experience to users by trying to apply the merits of traditional financial exchange market while keeping the ethos of the blockchain technology.
Lack of stability and Insecurity- Security should be at the forefront of priorities laid out by cryptocurrency exchange platforms, yet, there have been several cases of immeasurable losses of funds which badly affected the service platforms and users alike.
Introducing Becent
Becent is a comprehensive digital assets service platform which supports direct trading of mainstream digital assets among users. It also enables the platforms users to convert other assets which include various legal tenders to digital assets. In addition, it offers a stable and speedy digital asset exchange zone with an eye catching user interface.
There are also a number of services which Becent has planned out for the future of the platform, these include;
Provision of secured loans and leverage trading with the goal of greatly improving the utilization rate of digital assets.
Integration of multiple representative indicators, such as market value and liquidity to constitute an asset index by corresponding weight coefficients. This pattern will help users to avoid loss resulting from extreme single digital asset capitulation.
Provision of an experienced investment management team which will take responsibility for the management of your funds. The purpose of this is to provide professional funds assurance for users while helping them save a great deal of energy and time.
Becent Mobile App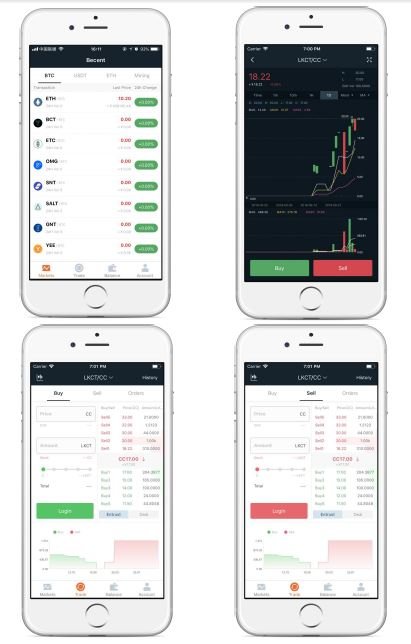 A mobile app has been developed for the Becent service platform with the goal of optimizing online experience and to give you an improved user interface. The mobile app enables you to participate in digital asset management at anytime and anywhere you find yourself.
BCT Token
BCT is the official token of the Becent service platform. You won't only be able to trade BCT in pairs with other tokens; you will also get rewarded at intervals depending on your percentage holdings of BCT.
Conclusion
Due to the increased utilization of cryptocurrencies over the past few years, users deserve the best possible exchange services and that is exactly where the Becent Service Platform comes into the equation.
For more information about the Becent ICO Project, you can see it below:
User: dey90
0x5c582DE6968264f1865C63DD72f0904bE8e3dA4a