BeEasy Platform: blockchain technology for cryptocurrency investments.
BeEasy platform built on Blockchain Technology to offer an integrated service where users can buy, sell and trade all cryptocurrencies with ease using the in-house exchange service, a fund management feature as well as a rig rental service. BeEasy platform hope to make every cryptocurrency available more accessible to users in the market of digital currencies. Each user just needs to create an account and set up a web-based software and an application to have instant access to all these services under a unified interface. BeEasy aim to support the growth and improvement of the decentralized economy within Blockchain systems. BeEasy suggests certain services and products for non-skilled users and provides a flexible environment of Blockchain technology to explain the concept of cryptocurrency and its advantages.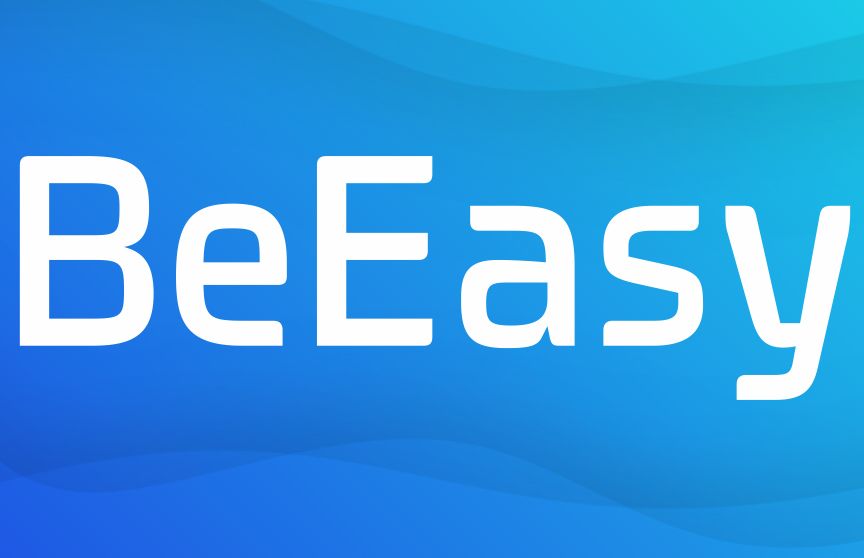 BeEasy provides user-friendly interface and simple management platform through a unique combination of services like mining, conversion, trading, good purchases, and investments. The platform suggests the method of one window which enables the user to utilize all services of the system at once.
BeEasy is also a full-fledged ecosystem for vendors, offline stores, game studios, and charity organizations that can benefit from using our product in their marketing and user outreach efforts with the API system integration. BeEasy platform mission is to encourage the development of decentralized economy of blockchain networks and cryptocurrency. BeEasy platform are offering specific goods and services, a source of income, and fulfillment of the need for social accountability to our non-professional users, while providing flexible and clear tools for solving professional tasks.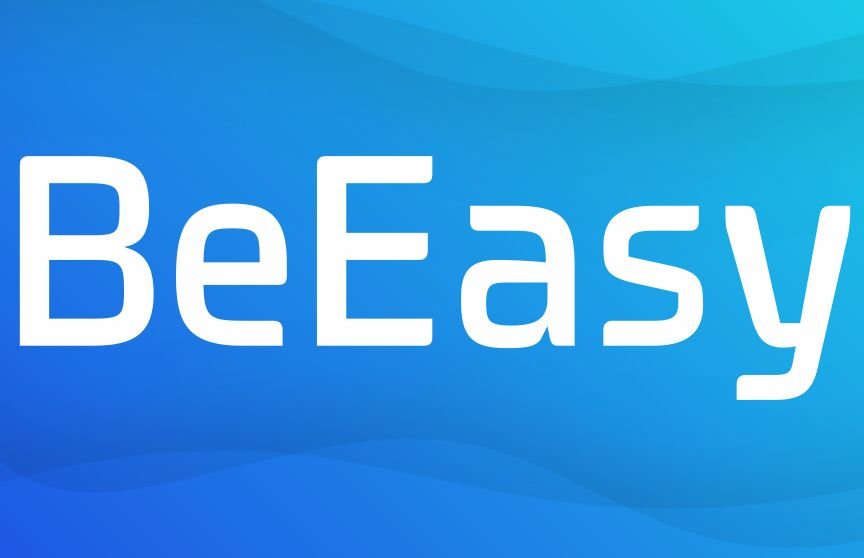 BeEasy platform objectives includes to: develop user apps and interfaces (all-in-one authorization, BeEasy personal account, mining clients, monitoring clients, telegram bots, among others); by developing service systems (multicurrency pool, conversion getaways, liquidity management systems, exchange); by building infrastructure (data center with its own mining equipment).BeEasy has a plan to achieve the long-sought acquisition of digital currencies.
FEATURES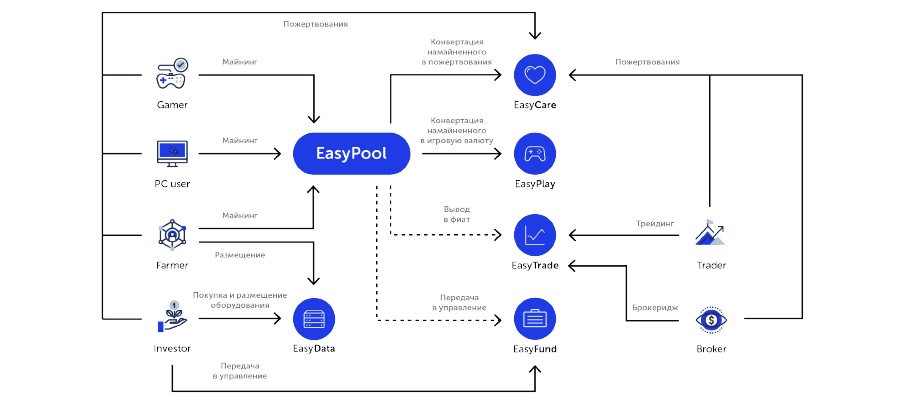 A mining pool for mining multiple cryptocurrencies paired with a state-of-the-art mining management system. Users will be able to choose from a wide selection of coins such as ETC, ETH, Monero, Decred and many others. The hardware mining solution employs the Stratum protocol which ensures a constant connection to the pool after receiving the mining work.
BeEasy introduces a cool new feature in the crypto world, and that is the "mining stuff" feature. Users can install the platform client, and thus they will have the chance to receive rewards and exclusive services for the mining work done on the platform.
This represents a data center solution made up of high-performance equipment that will serve high-demand calculations. This system will ensure that BeEasy ecosystem is fully operational. At its full speed, the data center will generate more than 2.5 MW.
Trading branch of the BeEasy platform where users will be able to trade stocks and cryptocurrencies. Easy trade will use the popular MT4/MT5 trading systems while also maintaining an open API client that users can use for automated trading. In the future, BeEasy will branch out to mobile devices as well as the platform users will need to check their investments even when they are on the road.
It is an innovative branch in the crypto industry where the users will be able to interact with charitable causes and charity foundations directly through the BeEasy platform. By performing trades through the EasyTrade exchange, users will have the opportunity to send part of their profits to charities directly they care about. Some of the featured causes that will be available: Environmental Protection, Healthcare Research, and Animal Extinction Prevention.
TOKEN(ETKN) DETAILS
The token ETKN used for exchange services was built using the ERC20 standard Ethereum protocols. Each unit is divisible by four decimal points, and while the company issued and sold 250,000 units of ETKN in their pre-ICO sell, they are keeping their actual number of available tokens on the lid for the time being. The cost of a single unit of ETKN is 0,005BTC at the present moment. BeEasy has stated that all the unsold tokens will be offered in the EasyTrade module of the platform after the launch of the service.
ETKN Token Allocation
Once BeEasy has raised funds, the money will be distributed as it follows:
30% will be used in further design and development of every single aspect of the platform.
25% will be used in the planned marketing project set to launch worldwide.
15% will be used to cover the legal costs of setting up shop in said markets as well as paying all taxes and legal fees related to it.
20% will be used to expand the operations of the mining equipment's as well as covering the costs of the data center.
10% will be used to open physical offices on the targeted markets in America, Europe, and Asia.
Kind Regards, ensure to join this incredible project.
FOR MORE DETAILS, CLICK/FOLLOW THE LINKS BELOW:
web: https://beeasy.io/en
Whitepaper: https://beeasy.io/docs/whitepaper_en.pdf
Facebook: https://www.facebook.com/icobeeasyeng/
Twitter: https://twitter.com/ BeEasy_ICO
Telegram: https://t.me/beeasyicoeng
Author : Maniecool
Bitcointalk profile link: https://bitcointalk.org/index.php?action=profile;u=1692995