Beyond Screen Terlihat 
Beyond Screen Terlihat
 Platform Solusi Deteksi Tautan yang Hilang antara Video dan Content Based Technology Blockchain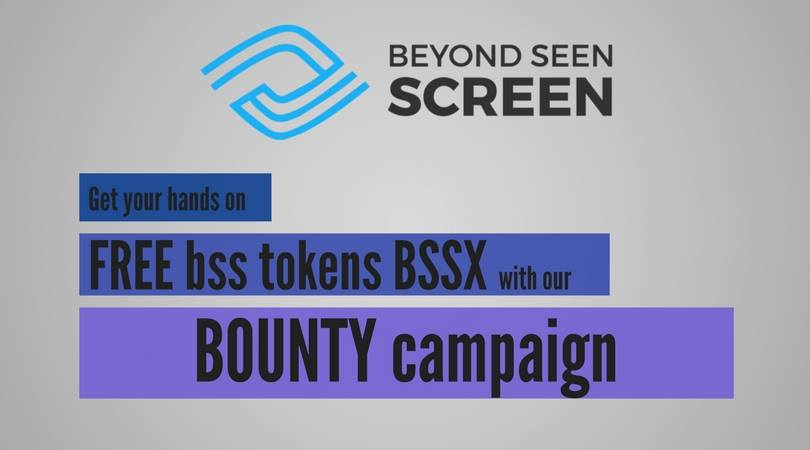 Idenya berasal dari keinginan untuk informasi tambahan yang terkait dengan konten video yang ditonton. Seringkali kita ingin tahu lebih banyak tentang aktor, produser atau cerita yang kita tonton di TV dan untuk mendapatkan informasi yang kita butuhkan untuk mencari secara online secara manual. Untuk menyederhanakan proses ini dan membuat menonton televisi lebih menarik, Beyond Sees Screen telah mengembangkan teknologi baru yang menjembatani kesenjangan antara sifat offline menonton televisi dan keinginan online untuk mendapatkan lebih banyak informasi yang terkait dengan konten.
Bayangkan Anda sedang menonton film, di layar apa pun, berdasarkan kisah nyata dan bahwa Anda tertarik dengan detail tentang peristiwa-peristiwa nyata tersebut. Bayangkan Anda sedang menonton video musik dan Anda ingin tahu di mana artis itu sedang tur dan di mana dapat membeli tiket untuk konser mereka. Bayangkan Anda ingin cepat sampai ke resep yang disiapkan koki di acara memasak favorit Anda. Jika Anda adalah orang yang percaya bahwa informasi ini harus mudah diakses, Anda berpikir seperti Beyond Seen Screen.
Beyond Screen
  (BSS) adalah platform digital baru yang memungkinkan pemirsa konten video untuk mendapatkan informasi tambahan dan hiburan terkait dengan konten video yang mereka tonton dengan cara yang mudah, tanpa perlu mencari informasi itu secara manual. Ini juga memungkinkan pemilik konten video dan agensi pemasaran untuk melibatkan pemirsa dari konten video mereka (atau klien mereka) dengan cara baru yang inovatif dan memberikan pengalaman menonton yang dipersonalisasi kepada pengguna. Ini memungkinkan TV menjadi jalan dua arah. Ini membawa langkah evolusi baru ke dalam industri pemasaran – dimana video menjadi billboard generasi berikutnya dengan informasi tambahan yang tersembunyi di luar apa yang terlihat di layar.
Beyond Screen (BSS) memungkinkan Anda untuk menggunakan smartphone atau tablet Anda untuk memindai konten video apa pun di layar mana pun untuk mendapatkan informasi yang terkait dengan konten itu dengan mudah dan cepat. Yang perlu Anda lakukan hanyalah memfokuskan perangkat seluler Anda ke konten video Anda dan mendapatkan informasi yang Anda inginkan. Sesederhana itu.
Hiburan dan informasi: Akses mudah ke konten terkait game, bloopers, wawancara, pengalaman VR / AR, dll. Perkaya konten langsung di layar kedua dengan scoreboards, replay, jajak pendapat, dll.
Bebaskan kreativitas: Dapatkan hadiah token dari platform untuk menyumbangkan konten berkualitas tinggi agar dapat dinikmati orang lain.
Belanja mulus: Produk dan layanan dari konten video tersedia untuk belanja online langsung.
Permission marketing: Engage your viewers through permission marketing and personalization, increase your marketing effectiveness and generate new revenue streams.
Beyond Seen Screen enables you to use your smartphone or tablet to scan any video content on any screen to easily and quickly get in depth information related to that content. All you need to do is focus your smartphone to your video content and get the information you want.
Beyond Seen Screen web application, content providers, such as video production companies, marketing agencies, etc., can link additional information to their video content and make that additional information layer accessible to content viewers. Content viewers can use the Beyond Seen Screen mobile app to scan the video where the platform recognizes the video and provides viewers with the information that content providers have prepared for them. Such as the following:
Scan the video: Focus your smartphone to the video content and let the app scan it.
BSS recognizes the video: Beyond Seen Screen platform processes the digital footprint of the video and recognizes it.
Get additional info: Information related to the video are sent back and displayed in the app.
BSSX is a utility token of the BSS platform. Main use of the token is paying for platform use and rewarding contributions to the platform. Beyond Seen Screen platform will have a utility token (token's symbol BSSX) in a form of an ERC20 token built on top of Ethereum. It will have multiple uses within and outside of the Beyond Seen Screen platform, from paying for Beyond Seen Screen service, through paying for merchandise in online shops to rewarding contributions to the platform that make the platform more interesting to general audience.
BSSX will be a fixed ratio to ETH. This may vary slightly with ETH volatility as we get closer to the contract deployment date. The exchange rate will be about 
10.000 BSSX per ETH.
The Beyond Seen Screen team is made of professionals, enthusiasts and creative explorers who dare to take big steps to dream about new inventions and technology that will improve our lives. The Beyond Seen Screen is charting a new territory in the world of the video content, interactivity and marketing.
First fully functional version of platform deployed to the cloud. Functional Android app developed.
Technical readiness level (TRL) 6 attained.
Attended IBC Startup Forum in Amsterdam.
Technical readiness level (TRL) 7 attained.
Preparation for ICO started
Platform publicly available, product marketing campaign.
Customer portal, improved social aspects of platform, improved shopping experience.
iOS app, analytics, geolocation based targeting
Smartphone screen as input
Interactions personalized to user preferences and traits, client based custom layouts, improved screen detection
Beyond Seen Screen linked to live video content.
For more information you can see the links below:
Link:   https://bitcointalk.org/index.php?action=profile;u=1929500