A blockchain is a digital ledger that keeps track of information about a transaction associating multiple parties. The ledger is decentralized and immutable. No one member can see all the information in the chain, nor they can change or delete data in the ledger. Blockchains setup a permanent and secure audit trail of all events, making it safer for participants to use the internet to conduct business.
Over 90% of the world trade is carried by the shipping industry. In a certain way, every individual is connected to the Shipping in some or the other way, whether they know it or not. Without shipping the imports and exports of goods on the scale necessary for the modern world would not be possible. A shipping order is normally sent along with the shipment of goods so that the person receiving them can check that the document correctly reflects the items that they received. Nowadays, a trend has been developing in the shipping industry about the implementation of the blockchain technology and how it is going to transform the industry. Blockchain technology seems destined to become the next big thing in supply chain management, and so is project Binautic.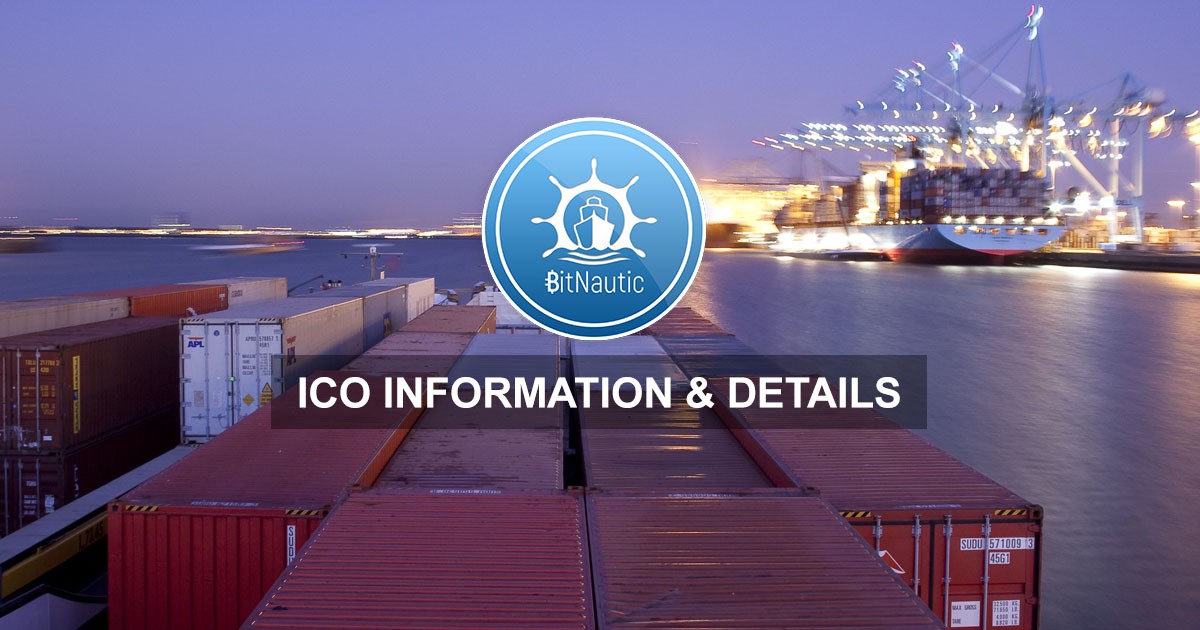 BitNautic is a decentralized shipping and cargo platform based on blockchain technology. new idea and remarkable from BitNautic deserves to be the winner in the convenience and security of blockchain-based technology.
BitNautic also introduces the digital currency (BitNautic Coin or BTNC) to support transactions that are fast and transparent. BitNautic acts as a market for goods and commodities where importers, exporters, end-consumers and producers are available to trade their products. and facilitate their trading practices around the world. BitNautic comes with distinctive features such as AI-based ordering systems (Artificial Intelligence), real-time ship tracking, e-commerce platforms, exclusive offers and discounts.
BitNautic acts as a marketplace for goods and commodities where importers, exporters, end-consumers, and producers are available to trade their products and ease their trading practices all over the globe. BitNautic has the potential to bring land, air, and ship cargo on one single platform, thus, reshaping the way transportation works and touching every aspect of our society.
Regardless of your industry, commodity or key market, BitNautic has a quick fix for both small and large businesses. It serves its customers with all major services for a true end to end experience.
BitNautic implements blockchain technology and smart-contracts making the trading process more transparent, secure, effective, less time-consuming and less vulnerable to cyber attacks. The goal of this decentralized platform, according to the official website, is "to help everyone, from end-consumers to the ship owners, Shipping companies to the Agents/brokers, small or large courier companies, Manufacturers, Producers (farmers), the traders, and the investors around the world to facilitate their ventures and ease the trading practices by connecting all the continents to one unique platform."
Benefits/Features of Bitnautic
E-commerce platform
A user-friendly digitized marketplace where they can buy or sell their products directly without the involvement of any middleman.
Exclusive Deals
BitNautic comes with tempting deals and exclusive discounts that are customized according to members. Notifications are given to members, so they never miss a deal again.
Global Shipping Currency
BitNautic allows users to exchange cryptocurrency or fiat money with (BTNT). Our global currency brings all the shipping community on the same platform.
Tracking System
BitNautic deploys a state of the art ship tracking and cargo tracking system for its customers in real-time. So, all your worries for cargo is going to vanish.
Shipping and Cargo Marketplace (SCM)
A platform bringing shipping associates at the same table boosted by intensely developed BitNautic core systems.
Bitnautic Token Sale
Token Symbol: BTNT
Token Type: ERC20
Total Token Supply: 50 Million
Crowdsale: 50,000
Token Price: 1 ETH = 500 BTNT
Minimum Transaction: 0.05 ETH
Maximum Goal: 50,000 ETH
Pre ICO Starts: Apr 15, 2018
Pre ICO Ends: May 15, 2018
Main ICO Starts: May 16, 2018
Main ICO Ends: Jul 15, 2018
No new tokens will ever be created
All unsold tokens will be destroyed
Be a part of this project and follow these links for more information,
Website: https://bitnautic.io/
Telegram: https://t.me/bitnautic
BitNautic ICO official post on Bitcointalk: https://bitcointalk.org/index.php?topic=2897114
Author
nugezmils
BITCOINTALK PROFILE
https://bitcointalk.org/index.php?action=profile;u=1729621