BITPROPERTY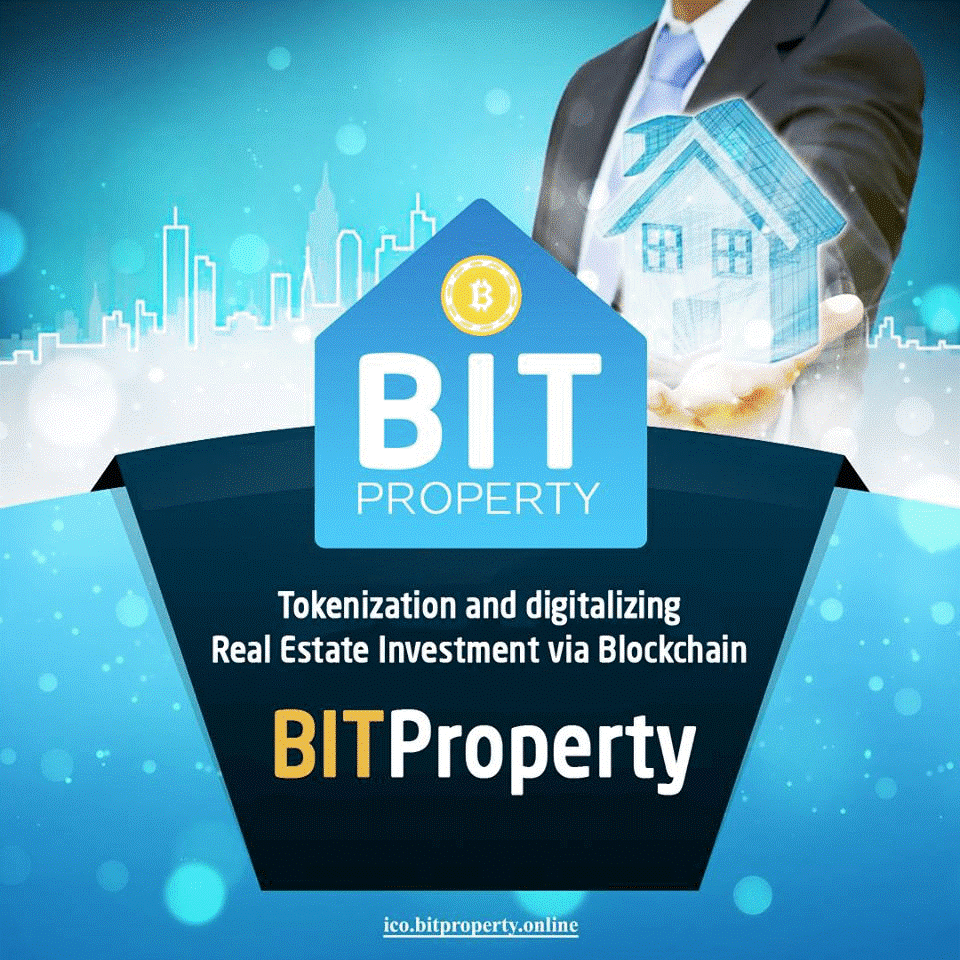 BitProperty
BitProperty Ecosystem is an ecosystem that fully covers the cycle of investing in commercial and residential real estate in the early stages of construction, by tokenization and digitalization. It helps investors to participate in investments from $ 1000 and receive up to 150% per annum, and developers can quickly and easily find investors.
The ecosystem is developed as a decentralized application (Dapp) on the Etherium platform and consists of two large subsystems:
BitProperty Fund (portfolio of real estate tokens) – where investors will invest
Services BitProperty Ecosystem, which solve the following tasks: Select the best real estate for investment, help objects tokenize and go on sale to investors, provide the necessary infrastructure for fast transactions from real estate tokens to Bitpro-tokens and to the Etherium crypto currency.
Mission
Provide anyone with the opportunity to invest in real estate, both commercial and residential, at any stage of construction without geo-referencing. Our goal is to make this process as quick, transparent and safe as possible.
Problem
One of the main problems of the modern real estate market is closeness and conservatism at the initial stage of construction, when the developer most in need of initial capital. An outdated model of monitoring and monitoring of the construction industry often leads to increased construction costs and time-limits for delivery of the facility, making this industry accessible to far from everyone. This problem is exacerbated by the lack of a unified database of construction sites that require additional funding, as well as limited public access to this information. This solution gives an opportunity to all – both large companies and individuals to take advantage of the opportunity and take part in the construction in the early stages without geo-referencing. At the same time, this platform opens the possibility for developers around the world to attract finance from a variety of different and unrelated sources, thus increasing the pool of participants. Such a system creates an atmosphere of competition and adequate pricing.
Expertise
Our experts have the experience of successful investment in real estate and know the criteria of a profitable project.
High profitability
In single cities, such as Dubai, Moscow, Sochi and others, real estate is a highly profitable, reliable method of investing.
Reliability
All payments are protected by smart contracts Ethereum ERC20.
BitProperty Platform is now the leader
The BitProperty ecosystem fully covers the cycle of investing in high-yield projects and helps prospective real estate objects from around the world to find funding for the first participants.
In future, will be developed a decentralized application (Dapp) on the Ethereum platform.
Why BitProperty?
Hedging of risks. BitProperty Fund carefully selects real estate objects and monitors them in 24/7 mode. You can monitor the progress of construction on-line,
Expert community. Organized access to the chat with experts in real estate investment. Security.
Implemented a protective mechanism against fraudulent transactions. Tokenization is absolutely transparent.
Professionalism. We have accumulated a wealth of experience in investing in real estate at an early stage of construction
The Ecosystem of the BitProperty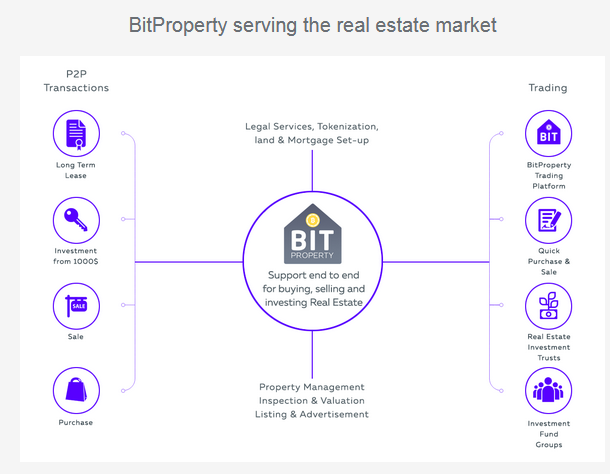 The algorithm of the P2P platform. The working process of the BitProperty platform can be described as follows:
BitProperty Fund and the Developer introduces the object description to the BitProperty Ecosystem
The buyer finds a property that meets his criteria.
The buyer provides an offer through a smart contract to the subject of the register on the appropriate legal conditions.
The seller accepts the offer by signing it with a digital signature.
Intermediaries realize their functions (analysis of the contract, notarial actions, etc.).
After the conditions mentioned above are met, the smart contract launches a payment system that allows customers to make payments in the crypto currency.
A smart contract monitors payment and transfers ownership to the new owner in the BitProperty registry after all the conditions are met.
BitProperty Token [BPS]
One BPS token is equal to 1/80 000 000 part of the BitProperty platform. Now the cost of the BitProperty platform is minimal, but already in 2019, due to the increase in the number of commissions for transactions, we will generate revenues of more than $ 500,000 per year, and the expected growth of the platform can reach up to 4900%.
In 2021, it is expected to reach the revenue targets, in the form of commissions for transactions, according to our plan of $ 23.695 million, which should increase the cost of the platform by 58,500%.
The figures given above are preliminary and based on the calculations given by the competent team members and the comments of specialists.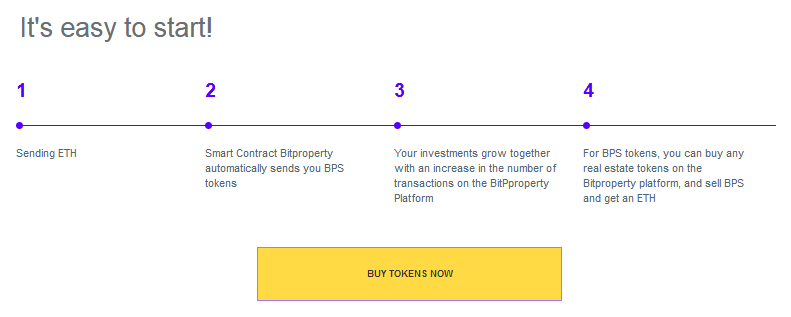 Token Details
Token BPS
PreICO Price 1 BPS = 0.25 USD
Price 1 BPS = 0.5 USD
Bonus – 35% pre-ico
Platform – Ethereum ERC20
Accepting – ETH, BTC, LTC, fiat money
Soft cap – 800,000 USD
Hard cap – 25,000,000 USD
Country – Hong Kong
Whitelist/KYC – Whitelist
Pre-ICO and ICO
Date pre-ICO: 01 may 2018
End of pre-ICO: 31 may 2018
Date ICO: 11 June 2018
End ICO: 11 July 2018
On what expenses will be attracted funds
32% IT Development
20% Marketing and Sales
15% Acquisitions and Partnerships
12.5% International Expansion
10% Admin and Operations
5% Development Fund
5% Legal
0.5% Bug Bounty Program
RoadMap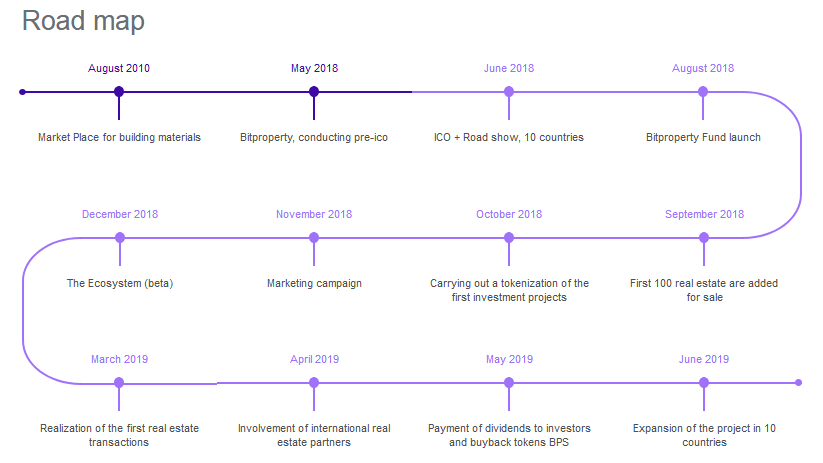 BitProperty Ecosystem Project Team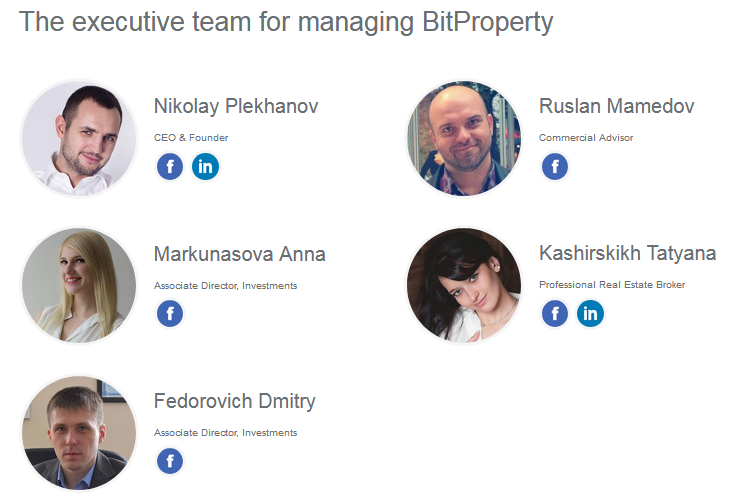 Nikolay Plekhanov CEO and founder BitProperty Fund and BitProperty Ecosystem
Ruslan Mamedov Commercial advisor and founder Prosperus Sochi Invest Group
Markunasova Anna Associate Director, Investment. Founder Mark Invest Group Sochi
Kashirskih Tatyana Professional Real Estate Broker
Fedorovich Dmitriy Associate Director, Investment. Founder WarmHouse Moscow
Professional consultants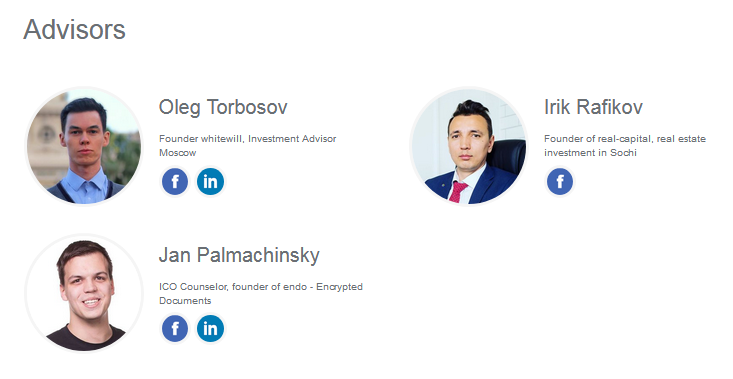 Oleg Torbosov Founder WhiteWill Real Estate Moscow, adviser on investments
Irik Rafikov Founder Real Capital Sochi, adviser on investments
Yan Palmachinsky ICO advisor, founder Endo Encrypted Documents
Technical team for project implementation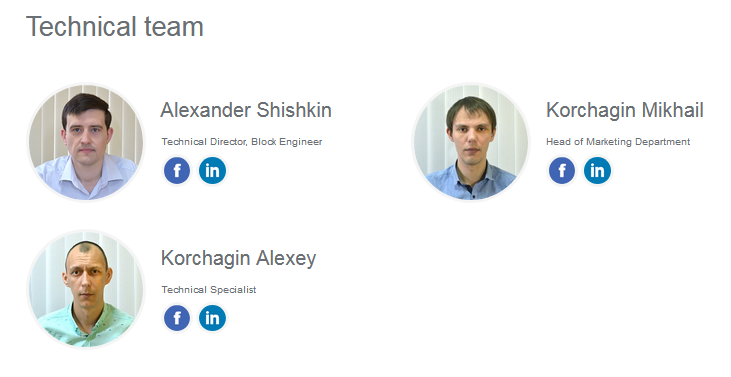 Alexander Shishkin Technical director, specialist in blockchain
Michail Korchagin Head of marketing department
Aleksey Korchagin Technical specialist
Be a part of this incredible project. Download the whitepaper for the full scoop.
Till next time…
For more information, please visit:
Website: http://ico.bitproperty.online/
Whitepaper: http://ico.bitproperty.online/doc/white_paper_en.pdf
Bitcointalk: https://bitcointalk.org/index.php?topic=3129052.0
Telegram: https://t.me/bitproperty_online
Facebook: https://www.facebook.com/BitPropertyPlatform/
Instagram: https://www.instagram.com/nnplekhanov
Author : Maniecool
Bitcointalk profile link: https://bitcointalk.org/index.php?action=profile;u=1692995