BITPROPERTY ~ Ecosystem for Real Estate
What is BitProperty?
BitProperty is an open, decentralized ecosystem for buying, selling and investing in real estate, which is based on a Ethereum blockchain.
BitProperty Ecosystem is an ecosystem that fully covers the cycle of investing in high-yield projects and helps prospective real estate objects from all over the world to find financing. With the help of the bitproperty platform you can also buy, sell and invest in real estate all over the world easily and comfortably with the help of crypto currency.
Reliable partners are always needed in any country in the world. The team of Bitproperty is professionals in real estate + IT technologies + Legal partners. You will always be sure that buying, selling or exchanging real estate can be easily and comfortably with reliable partners, proven on practice. BitProperty plans to release a functioning beta with multiple real estate projects after completion of ICO.
Features
Expertise
Their experts have the experience of successful ITproect and know the criteria of a profitable project.
High profitability
In single cities, such as Dubai, Moscow, Sochi and others, real estate is a highly profitable, reliable method of investing.
Reliability
All payments are protected by smart contracts Ethereum ERC20.
BitProperty Fund is the first and most important element of the BitProperty Platform. BitProperty Fund in cooperation with the developer that places the construction site on a platform to attract investment. BitProperty Fund monitors compliance with legal documents, project documentation, permits, regulatory documents and legal acts, compliance with the laws of a country, and also introduces the project tokenization platform.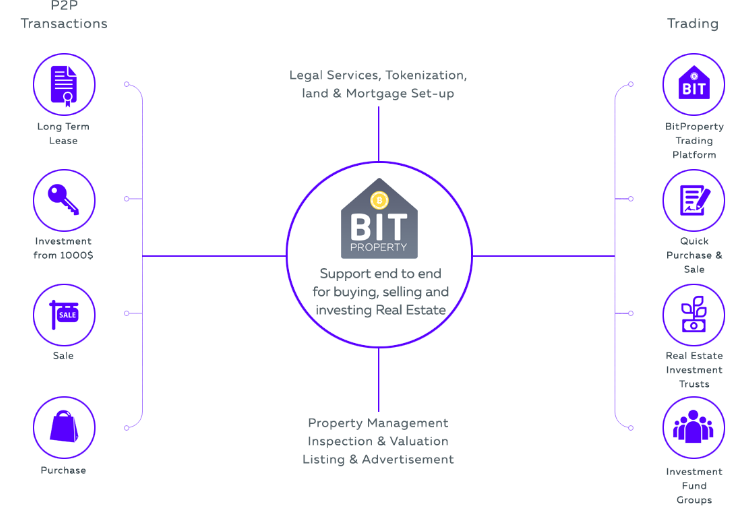 How it works
BitProperty Fund and the Developer introduces the object description to the BitProperty Platform.
The buyer finds a property that meets his criteria.
The buyer provides an offer through a smart contract to the subject of the register on the appropriate legal conditions.
The seller accepts the offer by signing it with a digital signature.
Intermediaries realize their functions (analysis of the contract, notarial actions, etc.)
After the conditions mentioned above are met, the smart contract launches a payment system that allows customers to make payments in the crypto currency.
A smart contract monitors payment and transfers ownership to the new owner in the BitProperty registry after all the conditions are met.
Token Details
Name: BitProperty Token
Symbol: BPS
Platform: Ethereum
Total Supply: 80,000,000
Soft Cap: $1,000,000
Hard Cap: $5,800,000
Country Hong Kong
Accepted Currencies: ETH, BTC, LTC, fiat money
ICO
Pre-ICO
Start date: 1st may 2018
End date: 31st may 2018
Price: $0.5 + bonus 35%
ICO
Start date: 11th June 2018
End date: 11th July 2018
Price: $0.5
Distribution
IT Development -32%
Marketing and Sales – 20%
Acquisitions and Partnerships – 15%
International Expansion – 12.5%
Admin and Operations – 10%
Development Fund – 5%
Legal – 5%
Bug Bounty Program – 0.5%
Road Map
August 2010
Market Place for building materials
May 2018
Bitproperty, conducting pre-ico
June 2018
ICO + Road show, 10 countries
August 2018
Bitproperty Fund launch
September 2018
First 100 real estate are added for sale
October 2018
Carrying out a tokenization of the first investment projects
November 2018
Marketing campaign
December 2018
The Ecosystem (beta)
March 2019
Realization of the first real estate transactions
April 2019
Involvement of international real estate partners
May 2019
Payment of dividends to investors and buyback tokens BPS
June 2019
Expansion of the project in 10 countries
Meet the Team:
Find out more visit
Website: http://ico.bitproperty.online/
Whitepaper: http://ico.bitproperty.online/doc/white_paper_en.pdf
Facebook: https://www.facebook.com/BitPropertyPlatform/
Telegram: https: // t.me/bitproperty_online
Published By: Chinedum
BTT Profile: https://bitcointalk.org/index.php?action=profile;u=2010004