BitRewards
The New Face in Shopping with Loyalty Blockchain Technology
Loyalty is a trust. Trust given by the company to its customers for their loyalty using the services provided. Even in this digital era, trust is considered as a new currency, similar to bitcoin and other altcoins. Because the truth that differentiates the advantages between one company and its competitors is the amount of money that each party will generate.
Every year, millions of retailers spend more than 20,000 million dollars in software to increase the confidence of their customers in order to be competitive in today's crowded market.
These loyalty programs are not only expensive, but they also consume a lot of time and inconvenient to install. Frequently, customers become more frustrated when they participate in the program, they find a difficulty of getting points or bonuses and redeem them. This translates to the fact that most loyalty programs simply do not pay for themselves, and disappear in less than 12 months.
We are building BitRewards as a spin-off from this business success, as blockchain technology makes it possible to introduce new approaches to loyalty and market rewards, which will create new value for customers, traders and the wider community. BitRewards is a blockchain loyalty platform and ecosystem that enables retailers to reward their customers 'purchases, friends' invited and other configurable actions with crypto-currency. So, how BitRewards can solve a problem in regards to loyalty program.
BitRewards has consolidated merchants into the integrated open-loop loyalty system and provides them with an easy and comfortable user interface with a customer-centric approach. All users will have a single wallet, accessible from the website of all participating merchants, or from a web or mobile application. You do not need to register for any loyalty program of each retailer, and the acquired tokens can be exchanged with the other members of the network.
The customer-oriented approach in BitRewardsNetwork
Lower refund percentage
BitRewards will transfer the value in tokens and credit it directly to the client's portfolio. The amount of the bonuses expressed in crypto-currencies will increase with the rise of the crypto-economy and the market share of services and infrastructures based on the block chain, which will allow customers to invest their tokens in additional purchases. On the other hand, customers will receive regular reports and opportunities from the different stores where they have made their purchases, which will allow them to encourage new actions.
Increase in costs for customer service.
The merchant can make free use of the BitRewards platform. It can be installed and configured in a simple way and it is not necessary to have special technical knowledge.
The work around receiving and spending the BitRewards tokens will be a standard among all participating customers, and the questions will be answered by the BitRewards service operator, who provides technology guidance, support and quality assurance.
Less motivation for the bonuses offered.
Consumers perceive the crypto-currency they receive as "free". Their increased interest in crypto currencies and the demand for value rewards from the sites where they will buy will be stimulated.
The advantages of BitRewards
The experience of new customers
The decentralized system of decentralized loyalty of BitRewards provides the client with a unique and pleasant opportunity for the user:
The client's console becomes a true cryptographic portfolio connected to hundreds of commercial establishments.
The bonuses of different merchants in the form of BIT will be accumulated through a customer account, which is connected to the entire BitRewards network.
The tokens could be used with all merchants within the BitRewards Network and associates that promote their businesses with bonuses and other additional discounts for BIT token holders.
The client's crypto-wallet BIT balance will also be connected to the plastic or virtual bank debit card, which users can use as if they used their normal Visa or Mastercard.
Great flexibility and rewards security: tokens do not expire unlike points; they can not be lost, or cease to exist if the merchant goes out of business.
A simple way to make purchases in crypto currency: Ethereum and Bitcoin could be credited to a BitRewards account of the client and be used as payment with participating BitRewards stores.
The price of the token is established for the estimation by the growing demand of the retailers and the generality of the dominant bull market of the crypto-markets at this moment.
Benefits for merchants
The merchants that connect to the BitRewards Network will acquire new marketing strategies and build customer loyalty:
It is a free loyalty program that is flexible and powerful for all businesses, brands and services.
Exceptional opportunity to reward its customers and satisfy the needs of crypto currency enthusiasts.
A great opportunity to stand out among the competition and encourage a brand or store.
Important advantage for customers: the BitReward business model suggests a constant perception of BIT. (When a client has a BIT as a reward for an establishment, the value may increase over time).
The seamless conversion of BIT into Bitcoin, Ether and any other crypto-currency in the user's portfolio of the websites of the merchants, or in any other portfolio or exchange.
Great incentive to customers when their reward increases, which allows commercial establishments to communicate good news and get many benefits.
BIT cross-accreditation: Participants can exchange BitRewards Tokens with affiliated establishments or any other participating operator. Something that will make them feel much more valued than when they receive standard points.
Operation of BIT
The objective is to develop a platform of loyalty and rewards that extends to the online shops of all its modalities, measures and that allows them to connect with their customers through the BIT tokens.
Technology
With the birth of the block chain, the fractured loyalty industry has to change. The big ones convinced that intelligent contracting and cryptocurrency are the central engine and the fuel for the new era of customer loyalty. Ethereum allows to implement an elegant technical solution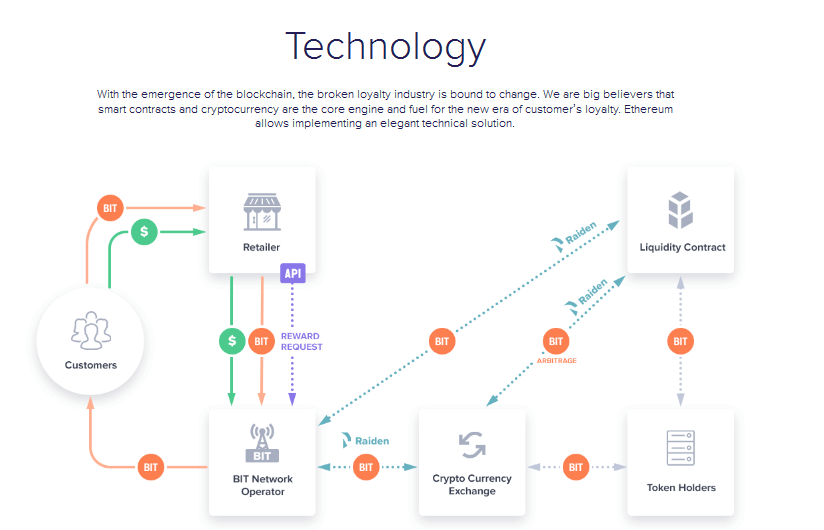 Project roadmap
About the Token
Token issue volume Up to 2,000 million
Symbolic sales volume Up to 1.28 billion
Start date of the presale: December 25, 2017
The sale closes on April 30, 2018
Launching of the smart interchange contract on May 11, 2018
Issue date Token May 10, 2018
Stop Min $ 3 000 000
Top Max $ 15 000 000
All unsold chips will be burned.
Use of funds Product development and global scale
Minimum purchase amount of BIT 1000 chips
Symbolic price
1 BIT 0.00003472 ETH
1 ETH 28 800 BIT
ICO
ICO Utama BitRewards will commence from 1 April 2018 while the ongoing ICO is coming to an end. For an upcoming ICO whitelist and find out more about platform features and technologies, visit https://bitrewards.network/
BitRewards team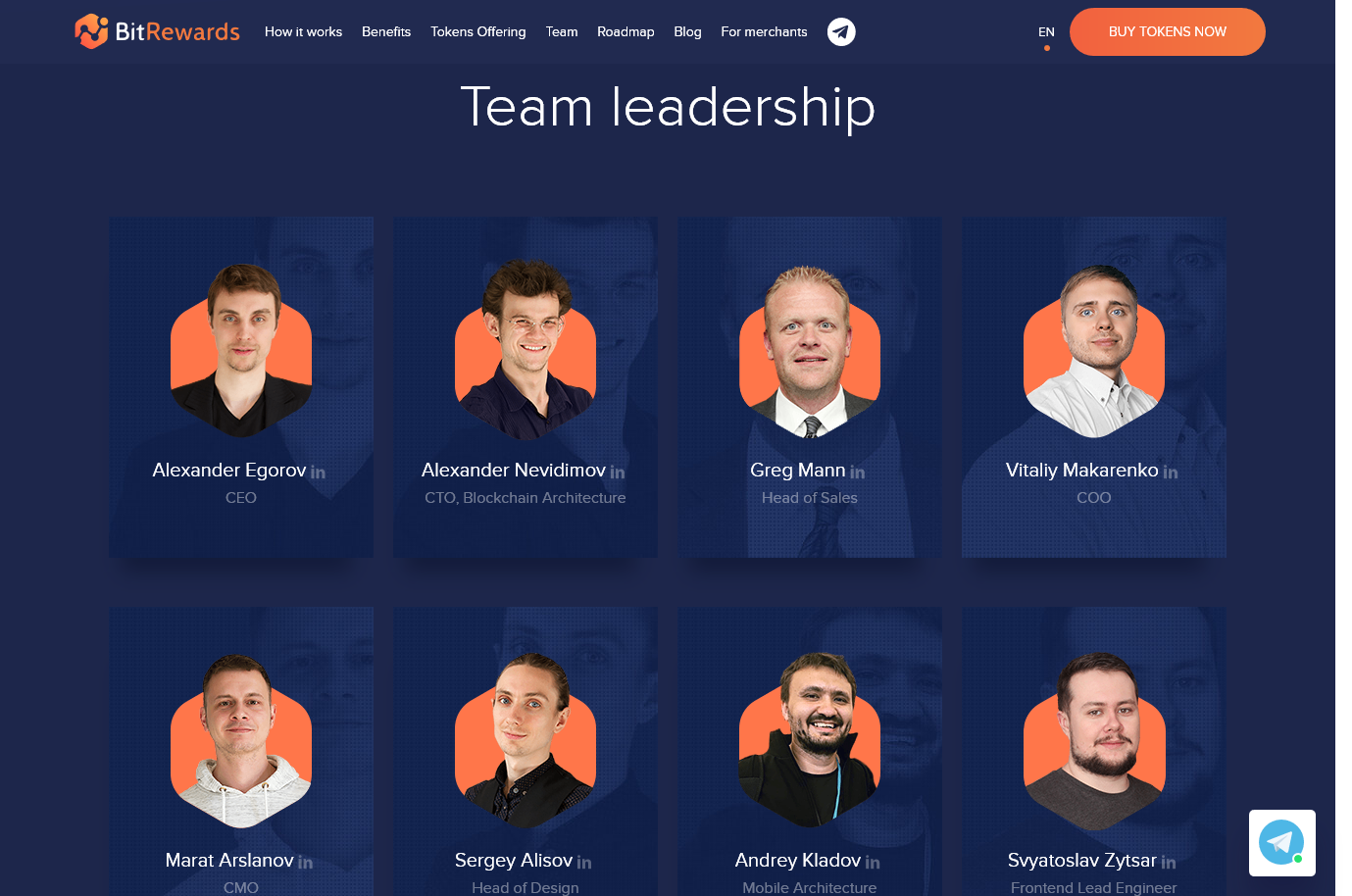 For more information on how to participate in the sale of chips, go to the following link:
WEBSITE|WHITEPAPPER|TELEGRAM|TWITTER|FACEBOOK|ANN
MEW: 0xE2D461B41fADB9491BA19420D08E63d4A01e6B90