BITSCHOOL has created an AI-based platform for learning which allows each student to select their choice of courses and provides instant quality feedback. With adaptive assessment and instant feedback, it allows each student to demand personalized learning environment that tracks the progress of the learning. Utilizing the AI technology to monitor and design the learning path for each student on the platform, they intelligently identify the gap in the learning behavior and improve the module. For analysis of strength and weakness of a student, an on-demand assessment test and tutors for the learners is available on the platform.
Features of the platform are below
Adaptive AI assessment
Adaptive lesson plans
Adaptive video technology
Tracking and insights
Dynamic marking system
Gamified learning
On-demand tutor service
BITSCHOOL Bidding system
GoGreen Funds
Technology
Blockchain technology will help in the transaction transparency and help in the process of decentralization. I think it is the right time for the education sector to integrate the technology advancement and move further in the transparent & open environment of learning. People are going to adapt to the change sooner or later if it fits their goal, and BITSCHOOL is the perfect choice for a modern learning platform.
Token
Name: BITSCHOOL
Symbol: BSCH
Total Token Supply: 400,000,000 BSCH
Max cap: 300,000,000 Tokens
Min cap: 4,000,000 Tokens
Price: 1ETH = 6,000 Tokens
Pre-sale
Token price: 4,000,000 tokens
(19/03, 2018 ~ 16/04, 2018) 35% bonus
Crowdsale
Token Price: 296 million tokens
Crowdsale bonus plan:
1st week (14/05 ~ 21/05) 15% bonus
2nd week (21/05 ~ 28/05) 10% bonus
3rd week (28/05 ~ 04/06) 5% bonus
4th week (04/06 ~ 11/06) no bonus
The token will be distributed among investors wallets 15days after the completion of Token sales.
Token Distribution
Public Fund – 75%
Team – 8%
Founder – 6%
GoGreenFund – 5%
Advisor – 3%
Reserve – 2%
Bounty – 1%
Fund Distribution
AI Products – 50%
Marketing – 23%
Operation – 10%
Platform – 10%
Legal/Consulting – 3%
Reserve – 2%
Security – 2%
Road Map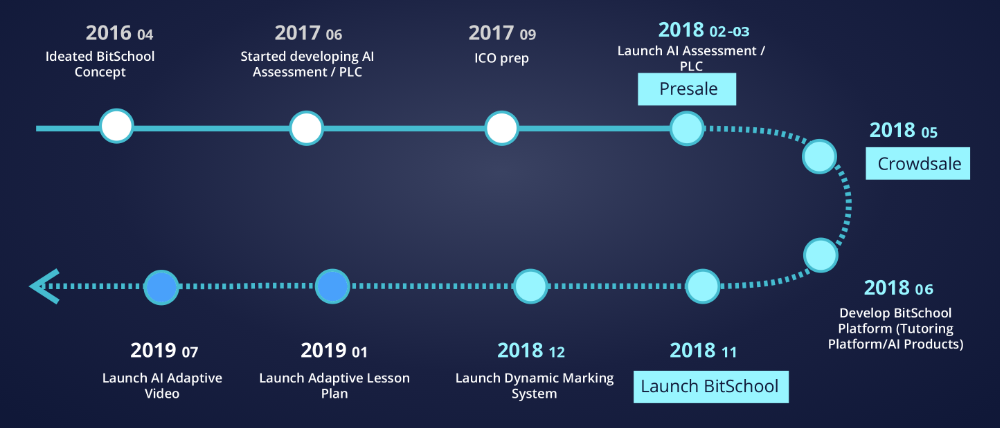 Founder


More Info
Website: https://bitschool.io
Whitepaper: https://bitschool.io/files/whitepaper_en.pdf
Btt: https://bitcointalk.org/index.php?topic=2886666.0
Twitter: https://twitter.com/@BitschoolAI
Facebook: https://www.facebook.com/BitschoolAI/
Reddit: https://www.reddit.com/r/Bitschool/
Medium: https://medium.com/bitschool
Telegram: https://t.me/BitschoolAI
Author: Hurricanecol
My Profile link: https://bitcointalk.org/index.php?action=profile;u=1576406