BitSong, The First Blockchain Music Streaming Platfom
This project is dedicated to musicians and efforts to solve serious problems for beginner talent. Through Bitsong, musicians will be able to make their own songs, and listeners will enjoy and hear new content from whatever device they have. In addition, musicians can also receive donations from fans who can contribute to the next album. Ads will be downloaded by advertisers and every time an ad is heard, the artist and listener will receive 90% of the profits from the advertiser.
BitSong will provide an opportunity for users to use the platform in several ways: from free streaming to donations, payments and insertion of ad sponsors. The project aims to overcome bureaucratic and economic barriers in this industry and respect artists and users for simple platform use. The BitSong platform is unique both in terms of details and additional services it offers.
This is different from other music streaming platforms, helping to fund music and video artists and giving tokens to users, from music / video fans to those involved in commercial activities.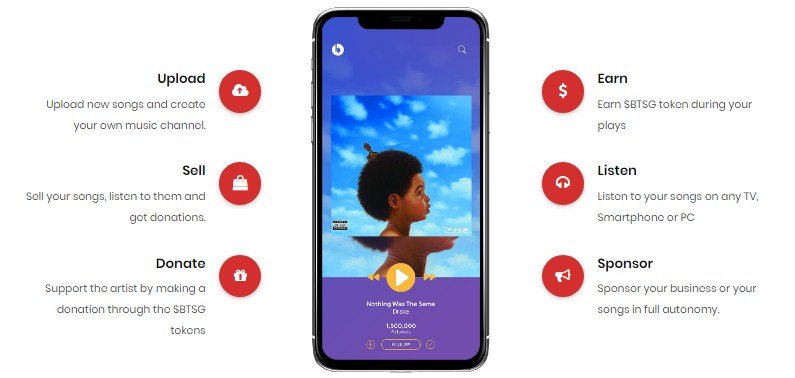 Vision
Using Blockchain
BitSong will become a new benchmark for the music market and will be fully developed using the technology available in the block space. Using Blockchain allows BitSong to be decentralized and more community-based than its competitors (when watching music videos on YouTube, listening and streaming through Spotify, iTunes or marketing on Beatport and advertising on social networks). BitSong tries to solve this problem once and for all.
Web-radio/Tv
It was planned to make an official radio / TV website, which would broadcast the best songs on the platform, also a music competition where actors would promote their music (preferences can only express users with BTSG tokens). Besides official Web / TV Radio, it is also possible to open streaming channels where anyone can broadcast their programs, or broadcast live on the platform.
Blockchain Charts
Today, music ratings are easily influenced or modified by external sponsors. BitSong will offer to store all user reactions (for example, streams, comments, etc.) on its own block, thus creating the first auditable and, most importantly, the actual music classification for ranking.
Token Informations
BitSong Token (symbol: BTSG) will be used as a currency on the platform and, therefore, will be used for sponsors, donations, purchases and votes. By using the Ethereum block system, the community will be able to receive payments safely and quickly, thus eliminating the troublesome problems and slowness of the currency. BitSong is a long-term project, all calculations are carried out to ensure a "uninterrupted" production flow, (all this despite the various market fluctuations). Tokens will be important for:
Sponsorship
Contributions donations
Buy songs
Voting Results
Ticket purchases
Ico Details
The Bitsong platform starts ico as follows:
1.PreIco Time : 2018-05-14 – 2018-07-02
Ico Time : 2018-08-10 – 2018-11-20
For more information about the bitsong platform, read the whitepaper and official website find more interesting details. Come on join now or will regret it later !!
Author: sirnasudah
Profile: https://bitcointalk.org/index.php?action=profile;u=2259916