Today, let us all learn and experience together all about BITSTASH. If you don't know anything about them, don't run away, that's why I'm here, to change that within the next few minutes. Before I begin, I just want to quickly mention that I will be including LINKS so that YOU can do your own research or whatever you feel you need. I feel it's best to have all of the information in one place, in an organised manner, rather than dotted about the page making what you want hard to find or confusing. All these links will be put at the BOTTOM of this page to keep things easy.
OVERVIEW
BitStash is a peer to peer (P2P) crypto commerce marketplace which enables buyers and sellers to purchase or list products, goods or services.The BitStash platform provides a simple and secure marketplace for users to freely transact between each other seamlessly and with the trust and protection our escrow system provides. The BitStash marketplace is where members can buy or sell new items for Cryptocurrency. It is 100% FREE to join the BitStash marketplace. As a member on BitStash, you will have a secure Bitcoin and Ethereum wallet to use at your leisure. BitStash aims to be the primary solution for sourcing trusted vendors that accept cryptocurrency and STASH Tokens as payment. All vendors will offer quality productions on the website to ensure consumers have a quality experience on the platform. We have a 100% working platform that is currently live and accepting vendor applications all across the globe.
Some of the features of BITSTASH Platform are;
SECURE ESCROW AND DISPUTES
Every transaction is placed within our Secure Escrow System until an order can be verified as completed.
ORDER MANAGEMENT
Easily manage all your orders on BitStash, plus receive in-depth analytics and reports on your available products.
SHIPMENT OPTIONS
As a seller you set your shipping locations, pricing, and options. Including your return policy (which is recommended).
EARN AND SPEND CRYPTO
With BitStash you can easily earn and spend cryptocurrency from your wallet within the My Account section.
HOW IT WORKS
Utilizing the BitStash Marketplace is extremely easy to use for both vendors and members. Simply create an account, select whether you are a vendor or consumer. After the registration has been completed, you will have an active account on BitStash. This means you now have a secure Bitcoin and Ethereum wallet (more coins are to be added soon).
To complete a purchase, you will need to fund your Bitcoin or Ethereum wallet. Once funded, simply browse the online marketplace and view vendor products. Simply choose a product you like and add it to your cart, or continue to checkout. During the checkout process, you will be offered delivery options, and the cryptocurrency you wish to complete the transaction in.
That's it! The vendor will receive a notification regarding your order and will begin their shipment process and delivery of the purchased items. To avoid any problems that may arise, we have set up an internal escrow system to ensure both the buyer and seller funds are safely secured during the entire process.
BITSTASH WALLET
The BitStash Wallet is the core of our entire Marketplace. It falls hand in hand with the escrow service and provides account security with 2-factor authentication. Using the BitStash wallet, you can receive and send cryptocurrency from any device anywhere in the world in a matter of minutes using an internet connection. You can Join our ICO here https://bitstash.co/ico/
The reason why BITSTASH stand out is because of some of these great advantages which other synonymous project does not have. These advantages are;
Lowest possible marketplace fees;
BitStash current fee rate will never increase. In fact, they will only decrease over the course of time. The marketplace seller fees will not be a monthly subscription, but will pay a maximum of 3% of the total order.
Product Advertising and Placement;
Ads can be slightly annoying at times, however, we have created a sustainable model where advertisement occurs seamlessly within this marketplace. Advertisers will be able to purchase what will be called "ad slots". Advertisers will need to utilize STASH Tokens to start advertising.
Resolution Center / Returns & Refunds;
The security of your cryptocurrency is something we prioritize and take very seriously. There is a lack of trust on the internet, especially within the cryptocurrency space; which is why we have designed and implemented our cutting-edge escrow system. This ensures delivery of product orders and payments.
TOKEN AND ICO DETAILS


Token Name: BitStash
Symbol: STASH
Total Supply: 36,000,000,000 STASH
Protocol: ERC20
Sponsor Sale: May 2018
Pre-ICO: June 2018
Crowdsale: July 2018
Token Price: 1 ETH = 600,000 STASH
Bonus Levels: Level 1 30% Bonus (First 100 ETH); Level 2 20% (First 500 ETH); Level 3 10% (First 1,000 ETH); Level 4 5% (First 10,000 ETH); Level 5 3% (First 20,000 ETH) You can Join our ICO here https://bitstash.co/ico/
The STASH Token is an ERC20 utility token on the Ethereum Network. STASH can be used for marketplace transactions, exchanges, paying for fees, paying for advertising, and there's more to come. The Benefits of the STASH Token are numerous, and are listed below;
Receive discounts at checkout when purchasing with STASH Tokens.
STASH Token holders receive quarterly airdrops from marketplace fees (10%).
STASH soon can be used to buy items on the marketplace.
STASH will have it's own internal cryptocurrency exchange.
STASH Tokens will be listed on top exchanges after ICO.
The Payments accepted are Bitcoin, Ethereum, STASH, & more.
You can Join our ICO here https://bitstash.co/ico/
ROADMAP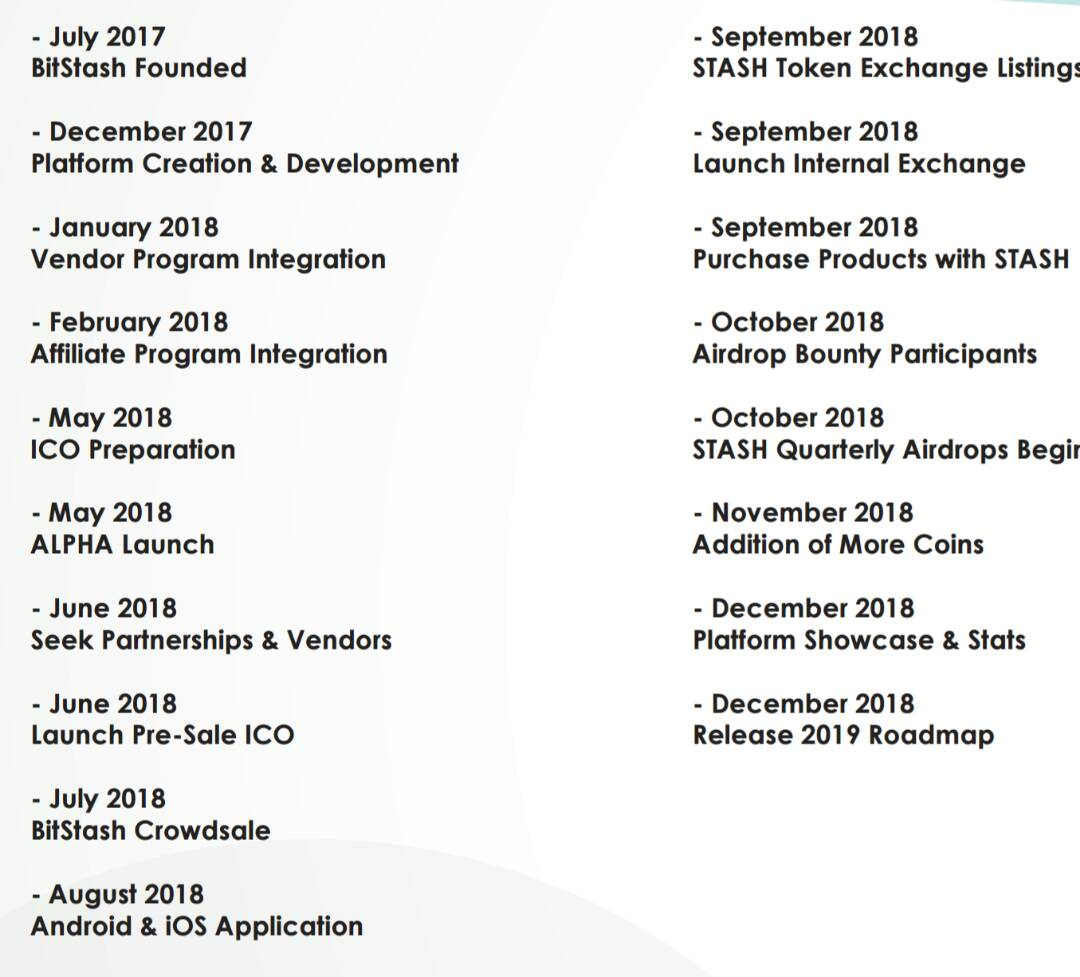 The primary goal of BitStash is to create a substantiating eco-system and marketplace.The seller fees are at the bare minimum it would take to maintain operation at only a 3% transaction fee and 1% withdrawal fee. We believe that the buyers, affiliates, and vendors will shape BitStash into one of the most used and advanced marketplaces available for Bitcoin and Cryptocurrency.
I hope you have enjoyed today's review and my company along the way. Thanks for taking the time and will hopefully see you all in the next one.
Website: https://bitstash.co/
whitepaper: https://bitstash.co/bitstash-whitepaper.pdf
Bitcointalk Thread: https://bitcointalk.org/index.php?topic=3735106.0
Twitter: https://twitter.com/bitstashco
Telegram: https://t.me/bitstashmarketplace
You can Join our ICO here https://bitstash.co/ico/

Author
funkyies
BITCOINTALK PROFILE: https://bitcointalk.org/index.php?action=profile;u=1971452