Bittwatt: The Decentralized Service For Energy Supply, Billing and Balancing
Hi friends, let me let you on an incredible news.. It's Bittwatt!!! The Decentralized Service For Energy Supply, Billing and Balancing!!!
PRESENTATION
Bittwatt is a matchmaking platform that connects all market players (from DSOs to consumers) and provides a standardized blockchain protocol for sharing relevant business information, all the while creating a decentralized service for energy supply, billing and balancing.
The Bittwatt Platform is built to make do without useless bureaucracy by syncing consumption metrics and other relevant information within the blockchain. Bittwatt streamlines current-day operations by removing operational costs and transfer fees, all this within an automated workflow that also optimizes energy transfers on an hourly basis: it transforms normal consumers into smart consumers.
Vision
Envision a world of smart-consumers in a sustainable energy system with minimal costs for all parties.
Mission
mission is to be the first international platform to integrate and facilitate cooperation between all market operators for the benefit of the consumer.
Goal
• creating a blockchain enabled energy trading market that is simple, transparent and delivers more value to all its users.
• expanding globally (London, Bucharest and Singapore being already under development).
On top of that, Bittwatt is built with sustainability in mind: as yield on energy is increased through the Bittwatt blockchain for all participants, energy waste and misuse are stamped out.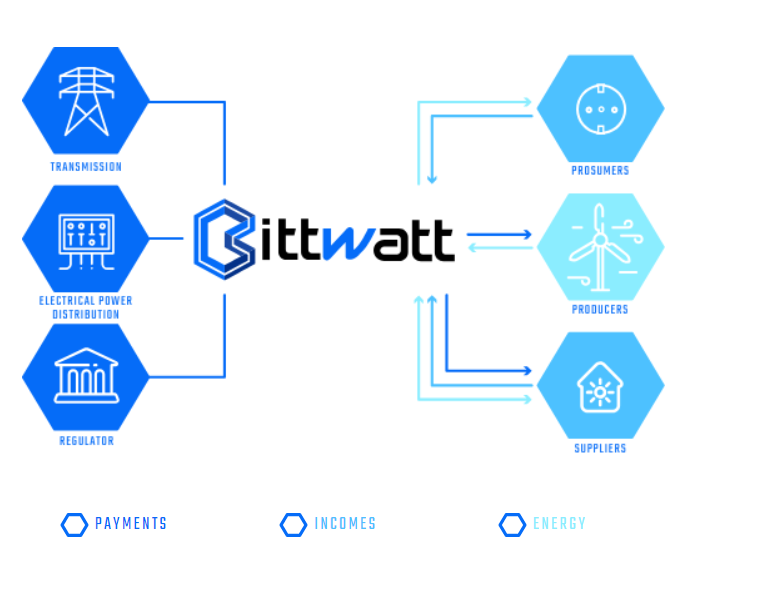 platform streamlines demand-response mechanisms in the grid through seamless transactions that aren't subject to issues of trust – all that thanks to blockchain technology.
Bittwatt encapsulates a series of core capabilities that enable scaling around the needs of each brand or each location in its network. With Bittwatt, power plants, suppliers, consumers and other operators can contribute in ensuring energy is no longer wasted.
The system also empowers all participants in creating sustainable and environment-friendly energy practices, that don't compromise on modern-day human comfort.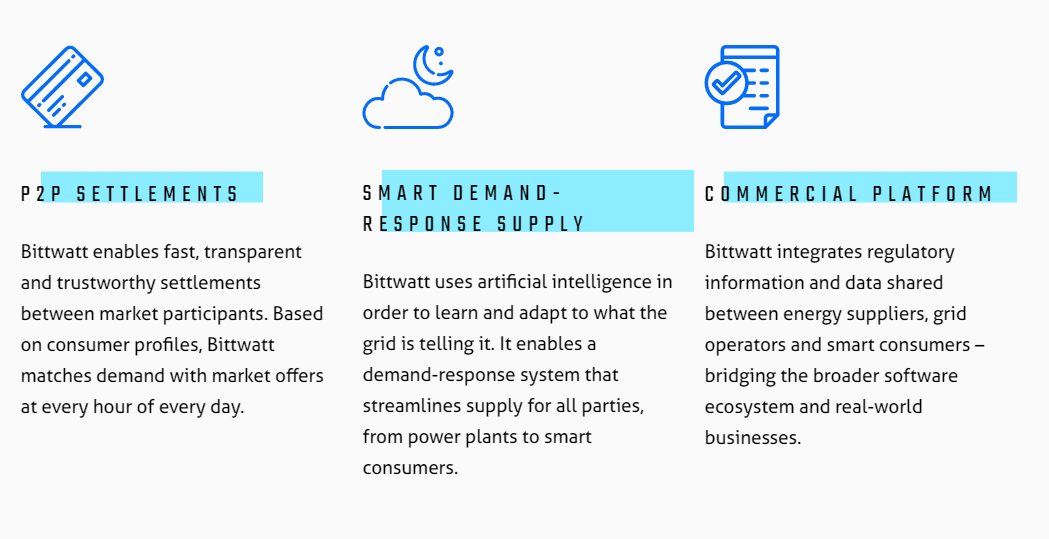 Bittwatt Ecosystem
BLOCKCHAIN WILL REVOLUTIONIZE HOW WE HANDLE ENERGY
The Bittwatt platform as well as its app suit are built from bottom-up into a robust structure,combinining the need to measure the energy output, whilst measuring its price.
Therefore Bittwatt enables the following:
Peer-to-Peer Transactions
A secure multilateral framework for international energy cooperation (in areas such as production, conversion, transportation, distribution, transaction settlements based on smart contracts, and use of energy).
Energy Arbitrage and Exchange
With their energy wallet the users can leverage their energy storage capabilities by buying cheap and selling at peak prices with the use of the Bitwatt online cryptocurrency, exchange and trading system.
E-Mobility and Energy Roaming
A single cross-border European charging network for electric vehicles tat enables smart consumer identification and Bittwatt wallet settlement.
Token Sale
Bittwatt introduces the BWT tokens that will be used for the payments for the services as well as products.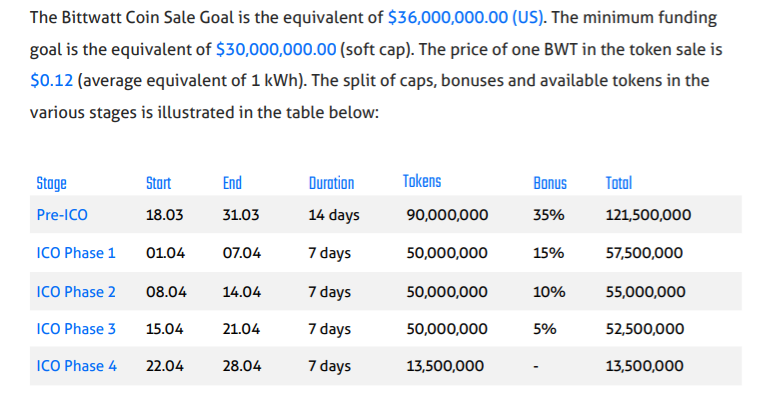 ICO

BUSINESS
The Bittwatt platform breaks bureaucratic barriers through a transparent and efficient solution that makes use of blockchain technology to eliminate operational costs and transfer fees, as well as make use of insights from real-time energy supply and demand data. Bittwatt is built to transform ordinary, everyday consumers into smart consumers, that know and make use of the information the network can give them.
The system works by analysing smart contracts that link production and/or demand data with energy wallets available on the network. Those smart contracts are the rules by which Bittwatt matches parties with best possible partners, making the legacy energy model a thing of the past. At the same time this new paradigm makes for vastly reduced redundancies and inefficiencies in energy consumption and production, creating an eco-friendly and sustainable outlook for the energy sector.
Key takeaway: We have created a match-making system based on blockchain that both decentralizes and streamlines energy trading. This also create a proper electrical power balancing system, and a fully transparent, 100% secure ledger of transactions and costs for all parties involved.
Pre-ico
Mar 18th — Mar 31st
90,000,000 tokens
35%
Total: 121,500,000
Ico phase 1
Apr 1st — Apr 7th
50,000,000 tokens
15%
Total: 57,500,000
Ico phase 2
Apr 8th — Apr 14th
50,000,000 tokens
10%
Total: 55,000,000
Ico phase 3
Apr 15th — Apr 21st
50,000,000 tokens
5%
Total: 52,500,000
Ico phase 4
Apr 22nd — April 28th
13,500,000 tokens
Total: 13,500,000
ROADMAP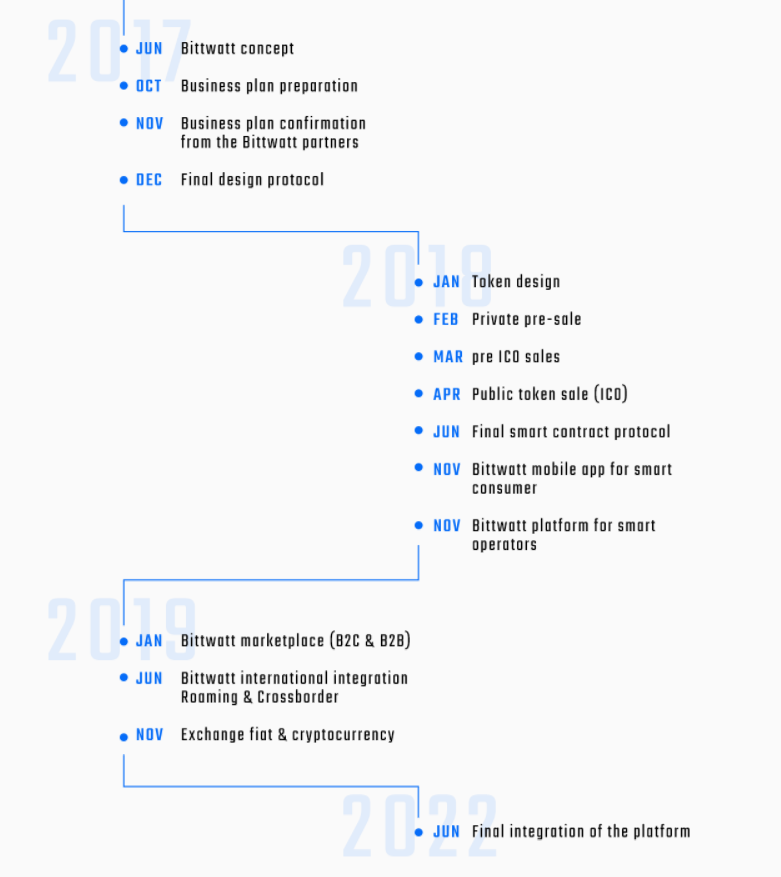 TEAM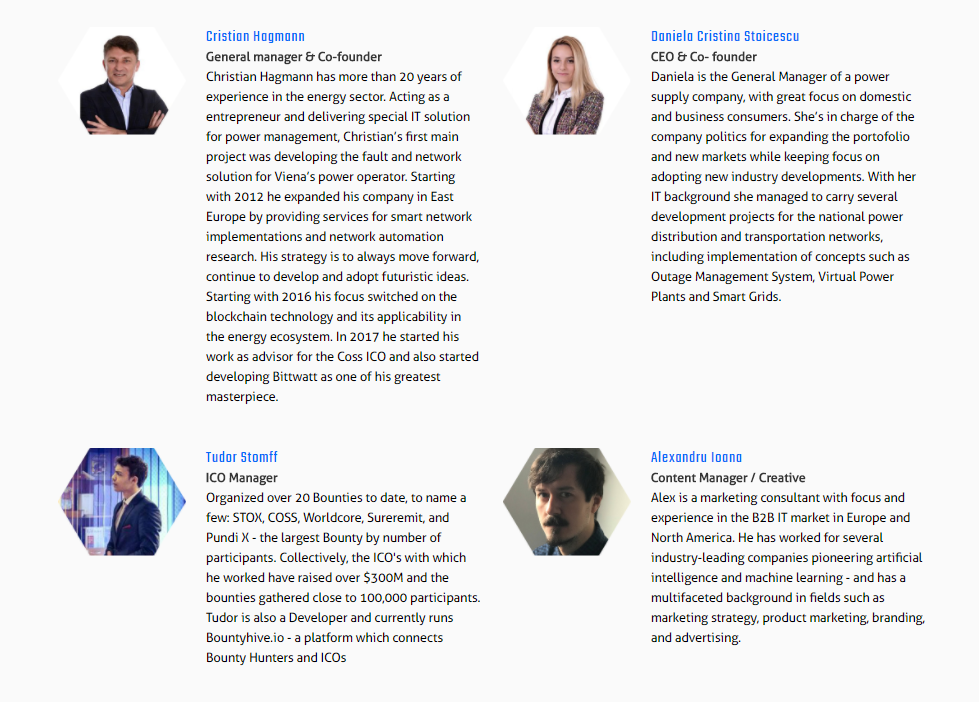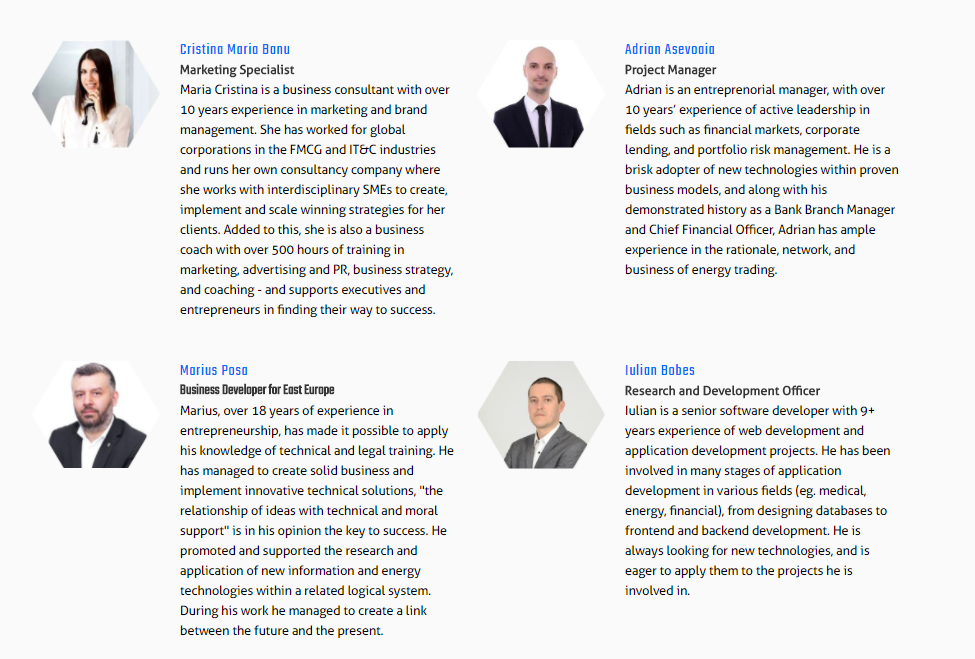 Be a part of this incredible project. Download the whitepaper for the full scoop.
Till next time…
For more information, please visit:
Website: https://www.bittwatt.com/
Whitepaper: https://www.bittwatt.com/static/files/Bittwatt-Whitepaper.pdf
Facebook: https://www.facebook.com/energyforthe21century/
LinkedIn: https://www.linkedin.com/company/bittwatt-pte-ltd/
Twitter: https://twitter.com/BittwattPteLtd
Youtube: https://www.youtube.com/channel/UChYWjiPk7lS6DBuaXgsIy4A
Telegram: https://t.me/bittwatt
Bounty: https://bountyhive.io/join/Bittwatt
Bounty: https://bountyhive.io/join/Bittwatt
Author: TheMichaelMatch
My BitcoinTalk Profile: https://bitcointalk.org/index.php?action=profile;u=1326035
Disclaimer: This article was published in terms of the bounty campaign. I am not a project team member or its representative but a supporter of this incredible project.