Bixtrim: Because Everyone Deserves To Benefit From Crypto Financial Services

You've probably heard nothing about virtual coins until the birth of Bitcoin in 2009. Back then the price of 1 Bitcoin was only $.01; several years later, its value soared to as high as $16,000 before falling a few thousands back to around $7,000. Notwitstanding, this incredible rise is a shoutout to everyone – you can make (or lose) money in cryptocurrency. Well, the pros definitely outweigh the cons, as we can see how everyone is trying to get into the crypto business, some more desperately so than the others. Many have joined the bandwagon, but there are still plenty of wagons ready to take you in for the ride of your life.
Well, that's just the thing. Many would have wanted to go for the ride, too, only that, they are unable to do so. It may be that they have limited or no access to crypto technology, or it may be that certain restrictions are rendering them not qualified to avail themselves of the crypto financial products and services. Either way, it is not fair. As far as Bixtrim is concerned, everyone must be given a fair opportunity to enjoy the crypto business, hence the revolutionary Bixtrim platform.
Bixtrim is an exchange platform designed to make the cryptocurrency business accessible to everyone and at the same time, offer solutions to the problems and challenges of the business.
One specific concern is the difficulty to convert cryptocurrencies to cash. Isn't it ironic that despite being around for a number of years, cryptocurrencies are still difficult to be exchanged for real cash? There are platforms that enable this, of course, but usually, they take a long time to convert the coins to fiat money, and they charge a hefty amount for the transaction, too. Bixtrim hopes to solve this, first thru its partnership with a microfinance organization that will allow instant cash-outs at cash desks, and second, through networking with banks and financial institutions that will allow many forms of money transfers.
Later on, Bixtrim will make available a debit card that will make transactions easier, while at the same time taking care of taxation issues since transactions are cashless and not considered income. The debit card will become your daily partner as it may be used in shops with POS terminals and online stores, as well as in ATM machines.
Another challenge faced by coin holders today is the volatility of the cryptocurrency. One moment the value is up; in a blink of an eye, it's down. This can be scary for a neophyte trader. The Bixtrim solution for this will come in the form of a pawnshop. Yes, a pawnshop. Why not, indeed? Pawning will allow the availment of FIAT loans with crypto coin as collateral. This means the coin holder will be able to receive 80% of the coin's current value instantly, and then possibly earn so much more by the end of the commitment term, depending on the value of the coin by then. What's great is that coin holders are already assured of at least 80% of the value of their coins right here, right now, and not worry about losing so much more when the value of the coin depreciates.
The current crypto trading setup is also a hindrance to brokers. The current platforms are not supportive of transactions that are pre-defined. Bixtrim will be a game-changer in this case as it will empower its platform with an exclusive feature, a futures contract supporting pre-defined transactions. This will allow brokers to participate and traders to play with relative ease.
It is also quite frustrating to know that at present, the speed of processing transactions is incredibly slow. This means, the basic act of transferring cryptos from one wallet to another can take up to several days. This does not make sense, as this is the digital age already.
Nevertheless, Bixtrim will have a ready answer for this – a new coin! The new coin is set to become a global cryptocurrency with the power to process 100k transactions every second! This is the coin that will bridge the gap between the crypto market and the retail market. It will also resolve security issues as it will have a multi-factor authentication feature. It will be innovative, as well, in the sense that it will have the ability to guarantee prepaid deals, something that is not yet being done by any current exchange platform. This will give coin holders the assurance that the goods that they will be paying for with their hard-earned coins are guaranteed.
Meanwhile, Bixtrim's native token, BXM, will play a major role after the launch of the Bixtrim Platform. First of all, it will be used to pay for transactions at a discount, thereby encouraging platform growth, and consequently fuelling the demand for the token, increasing its value. BXM will also be exchanged for other cryptocurrencies.
The Bixtrim platform will take crypto trading to the next level with a simplified and highly accessible crypto-fiat exchange platform, made more powerful by the BXN token, and its very own pawnshop, Futures Contract, new currency with Escrow support features, and debit card facilities. All these will be implemented in four stages, begining with the exchange platform.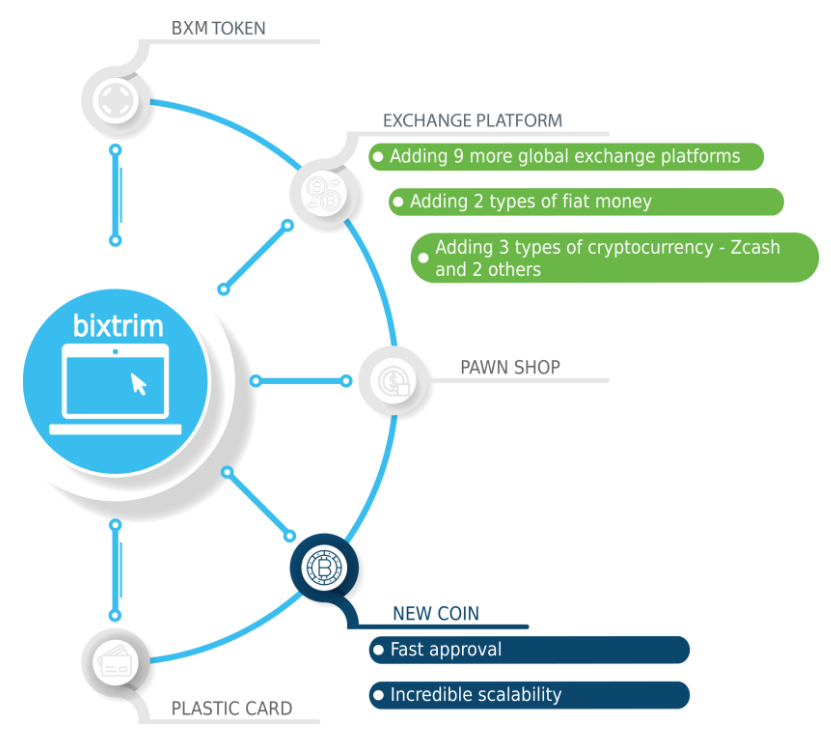 Token Details:
Token: BXM
Price: 1 BXM = 1 USD
Platform: Ethereum
Minimum investment: 30 BXM
Soft cap: 6,000,000 USD
Hard cap: 51,000,000 USD
Country: Georgia
For more information, visit the following pages:
Whitepaper: https://www.bixtrim.com/en/whitepaper.html
Bitcointalk ANN Thread: https://bitcointalk.org/index.php?topic=4417058.0
Website: https://www.bixtrim.com/en/
Telegram: https://t.me/bixtrim_ico
Twitter: https://twitter.com/bixtrim_llc
Facebook: https://www.facebook.com/bixtrim/
Medium: https://medium.com/@bixtrim
Youtube: https://www.youtube.com/channel/UCVXmlGo6wDMsG_kkYFWZwvQ
Jackolantern
0x77b722E6efE94A9FAA2123CCFf6733e6d6eB0B84