The future is in crypto currency. Unfortunately, the market is far from being perfect (just yet).
Today, there are over a million token holders all over the world and reportedly the Bitcoin daily transaction is valued at 2 billion USD. The global rate of increase of crypto currency utilization is exponential and along with this growth is the dire need for a new platform that will make life easier for token users.
Without flowery introductions or bloated promises, Bixtrim is the all-encompassing exchange, investment and cash-out solution for the present-day token utilization problems.
Token economy as imperfect
Many people are led to believe that tokenizing an industry is as easy as ABC and as silky smooth as the concept is often advertised. No, the world of crypto currency is far from being perfect. It has its set of own problems, especially on the part of the token users.
First, there is the difficulty of converting the digital assets into cash. Particularly, the difficulty can be spelled out in terms of time, tax, and charge constraints. Because cash conversion is still tied up with banks, the processing time may still be long and the charges may still be high. Given that cash advances are credited to bank accounts, processed through remittance centers, or required by some governments to be disclosed as personal income, taxes may still apply.
Bixtrim recognizes the strong need to resolve the cash-out problems. To facilitate shorter lead time, Bixtrim establishes and maintains a solid network of select banks that offer low rates and prioritize crypto currency transactions. To avoid unnecessary tax impositions, Bixtrim introduces its unique Bixtrim plastic card that allows users to avail of retail purchases without necessarily declaring their account amount as part of personal income.
Second, there is the problem of limited number of merchants, thus restricting purchases. Liquidity is extremely important nowadays for what good will the tokens serve if they cannot be used to pay for the necessities in the physical world. For instance, during those hours when banks are closed, crypto currency holders may not be able to use their digital assets, only because their wallet provider fails to maintain an extensive network of merchants.
Bixtrim is different. Through the Bixtrim plastic card, users will now be able to shop anywhere, anytime. Tourists, who are not familiar with a foreign country's banking hours and policies, will no longer be at the mercy of restricted bank schedules and longer processing periods. Other blockchain platforms also offer cards, yet the limit is usually low and the card is available only in a few stores. Bixtrim cards, meanwhile, can be availed even at internet shops and ATMs that operate 24/7. It accepts not only Bixtrim tokens (BXM) but also other crypto currencies.
Third, there is the existing problem on possible profit loss. Remember that the token market is far more volatile than the stock market. One day your token is worth almost a thousand, the next it can be less than a hundred. Timing, as with any other trading activity, is essential. Bixtrim then introduces the first of its kind crypto pawnshop.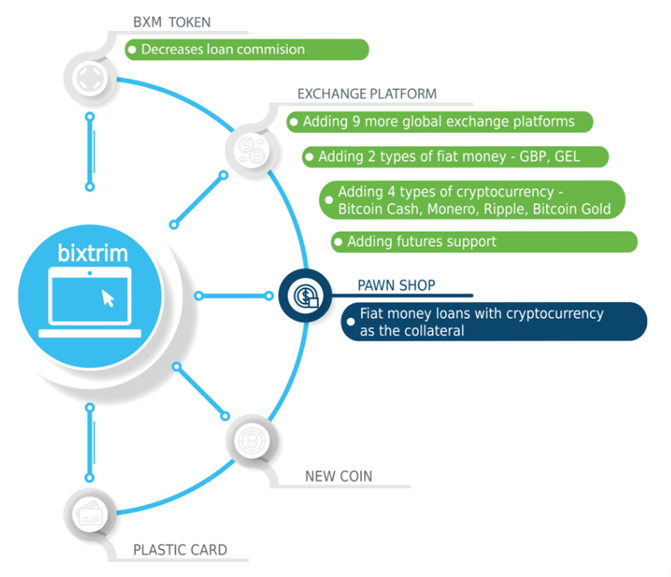 To put the value of crypto pawnshops in a context, look at the financial need during emergencies. From time to time, emergency situations may arise, forcing you to shell out cash. But you know very well the potential value of your crypto coin, so you do not want to lose it by entirely cashing it out. The solution: you avail of the service offered by the Bixtrim crypto pawnshop. For a minimal fee, you can leave your coin for a given period and claim it when your financial situation has improved or when you think the market is picking up. In the long run, this arrangement enables you to maximize profits strategically.
Fourth, most exchange platforms do not have the capability to facilitate token exchanges with anticipated time periods. Futures contracts are valuable investment instruments in the physical world, however, this has not been entirely explored in the crypto currency world yet. Bixtrim sees the important role of futures contracts in the profit maximization of token holders. As such, they are introducing this new functionality (along with other acceptable trading instruments like escrows) in the platform which will benefit the users significantly.
Investing in BXM Tokens
Investing in Bixtrim is worthwhile for the following reasons:
Practical approach to finding solutions. The ultimate goal of Bixtrim is to make the lives of BXM holders easier, thus the developers designed features such as but not limited to the Bixtrim crypto pawnshop, Bixtrim futures contracts, and Bixtrim plastic card. Bixtrim is a practical platform, suffice it to say.
Responsiveness and innovativeness. Bixtrim solutions are also innovative, proving that the developers indeed are creative and responsive enough to the existing problems of the crypto currency market that have been overlooked by other blockchain platforms. With creativity and adaptability, surely Bixtrim will be able to anticipate future problems and present new solutions.
Team Diversity. Most teams of developers pride themselves of the level of expertise of their members. While this is indeed an advantage, the Bixtrim team is not only composed of experts but also of members coming from different walks of life. The diversity enables the team to look at a problem from different viewpoints, thus the platform solutions they come up with are better-rounded.
Security. Of course, any blockchain-based exchange platform is relatively more secure than the traditional setup. The distributed ledger technology prevents data alteration. Bixtrim particularly has multi-stage verification process that stands out from other platforms, which commonly employ 2-stage verification.
For investors interested in participating in the ICO, here are the basic sale details you need to know:
Ticker: BXM
Price: 1 BXM = 1 USD
Platform: Ethereum
Minimum Purchase: 30 BXM
Soft Cap: 6,000,000 USD
Hard Cap: 51,000,000 USD
For more information and details on the project, find them by visiting their official website or reading their whitepaper. Be updated as to the current events happening during the ICO by visiting their social media pages.
Bitcointalk Thread: https://bitcointalk.org/index.php?topic=4417058.0
Website: https://www.bixtrim.com/en/
Whitepaper: https://www.bixtrim.com/en/whitepaper.html
Telegram: https://t.me/bixtrim_ico
Facebook: https://www.facebook.com/bixtrim/
Twitter: https://twitter.com/bixtrim_llc
Medium: https://medium.com/@bixtrim
Author Link: