BLOCKBID: TRADE WITH CONFIDENCE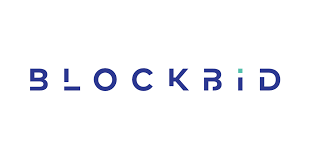 A cryptocurrency is a digital or virtual currency designed to work as a medium of exchange. It uses cryptography to secure and verify transactions as well as to control the creation of new units of a particular cryptocurrency. Essentially, cryptocurrencies are limited entries in a database that no one can change unless specific conditions are fulfilled.
Blockbid is an ultra-secure cryptocurrency trading platform with the goal of facilitating the highest volume of trades from most cryptocurrencies on one platform. Blockbid provides trade with the highest number of cryptocurrencies available on one exchange, it has low cost transaction fees and all cryptocurrency assets are insured. Our developers stay up to date with the latest technological advances and are at the forefront of innovation. We are committed to providing our users with cutting-edge utility and scalability.
TOKEN SALE DETAILS
Blockbid tokens will be made available for sale on the 22nd of October, and can be purchased through Ether. The funds raised from the ICO are for the purpose of platform development and funding expansion due to user growth. Blockbid tokens can be used on the Blockbid exchange to reduce the transactional costs of trading on our markets by 100% during year 1, and a 50% discount thereafter. The Blockbid tokens will give you a time window whereby you will permitted to trade as many times as you like for a discount. The discount period: 1Blockedbid = 30 minute window
Week 1: 1 ETH = 360 BID
Week 2: 1 ETH = 340 BID
Week 3: 1 ETH = 320 BID
Final Week: 1 ETH = 300 BID
Soft Cap – 1 million Blockbid Tokens
Hard Cap – 30 million Blockbid Tokens
TOKEN ALLOCATION
Bounties – 8%
Founders – 12%
General – 80%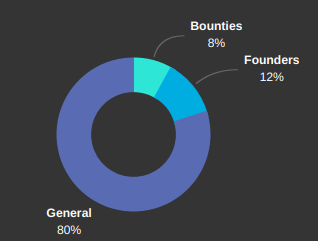 USE OF PROCEEDS FROM ICO
Marketing – 12%
Software – 35%
Misc – 5%
ETH Reserve – 15%
Operations – 8%
Legal – 5%
Security/Infrastructure – 20%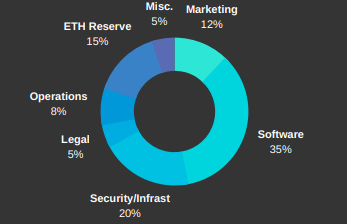 ROADMAP
ICO (October): Blockbid is an ERC20 compliant token based on the Ethereum blockchain. Blockbid smart contract and tokens will launch on 22nd of October 2017
Early Access Q4 2017: Beta testing and product refinement stage. Early access members will receive 0% transaction fee as a reward for joining. To sign-up for early access, subscribe on the Blockbid website
Mobile Exchange Q4 2018: Launch Blockbid app as a exchange platform with personal private key wallet
Fiat Trading Q3 2018: Blockbid will support trading of a widerange of mainstream fiat currencies for ease of access
Mobile Exchange Q4 2018: Launch Blockbid app as a mobile exchange platform with personal private key wallet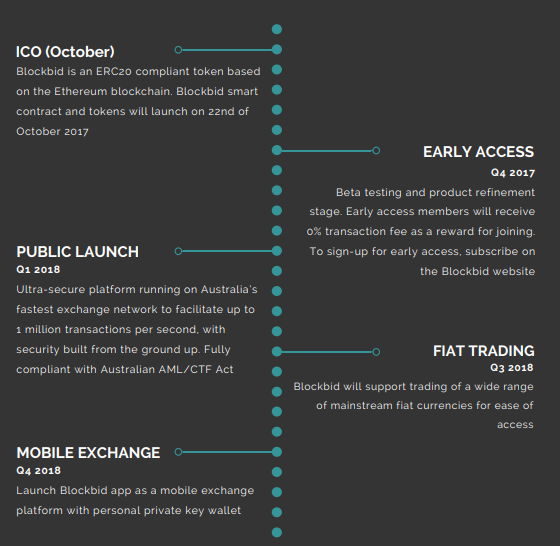 TEAM
Ben Sapper – CEO
Gabriel Govinda – Director
Matt Youill – CSO
Toby Tremayne – CTO
Emma Hoffman – Chief Marketing Officer
Benard Peh – Blockchain Technologist
Rudi Yardley – Front End Team Lead
Chris DeMaria – Network Security Engineer
Daniel Mechaea – Data Scientist
Hunain Aslam – Web Developer
Jeremy Kinstlinger – Brokerage Specialist
For more details on this project, please feel free to click on any of the following links:
Website: https://blockbid.io
Whitepaper: http://www.pressat.co.uk/media/uploads/b1fab2d4dcd51e76c71f6bfdd3eb4cd1.pdf
Telegram: https://t.me/joinchat/C5go9A9sMT8ss14UOkPIHA
Facebook: https://www.facebook.com/blockbid
Twitter: https://twitter.com/blockbid_io
Medium: https://medium.com/@blockbid
Reddit: https://www.reddit.com/r/Blockbid/
Linkedin: https://www.linkedin.com/company/11260032/
Join the beta now: https://blockbid.io/beta
Published by: tszone
Bitcointalk URL: https://bitcointalk.org/index.php?action=profile;u=1742409
Ethereum wallet address: 0x684c9d1c004AB2023E1d3ae9aEb902B514B703d1