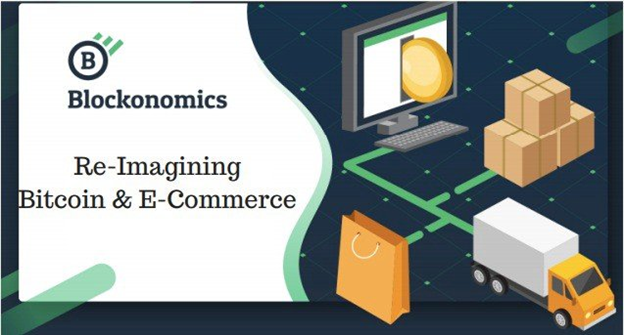 Blockonomics is a decentralized Bitcoin payment solution that provides specialized transactional tools that enhance BTC use. Their service enhances the wallets you already own. The payment lets you accept Bitcoin payments on your WHMCS installation with ease. There are no security risks; payments go directly into your own bitcoin wallet. The complete checkout process happens within your website; customers never leave your site. All major HD wallets are supported, as well as all major fiat currencies. No approvals of API key are required, installation is fast and simple.
MISSION
Blockonomics is an industry-leading payment processing system for merchants accepting Bitcoin. Our aim is to provide our users truly decentralized, trusted and secure, completely permissionless, straight to wallet Bitcoin payment solutions. We view ourselves as strong believers of decentralization and cryptography.
FEATURES
Bitcoin Wallet Watcher
Keep tabs of your Bitcoin addresses/xpub all in one place. Receive email notification of transactions. View graphs of your balance history and separate wallets by tags.
Peer to Peer Invoices
Easiest way to send a Bitcoin invoice without worrying about the fluctuating price. Your invoices are also encrypted, enhancing privacy.
BlockExplorer
One of the popular and reliable Blockexplorers in Bitcoin. Lightweight, fast, and allows user to query multiple addresses. Pioneer and leader in Bech32/Segwit adoption.
Directly To Wallet Merchant Service
Allows merchants to accept bitcoin directly to their HD wallets. No approvals/KYC required. Plugins for popular e-commerce platforms like Woocommerce, Prestashop
Send Bitcoin Via Email
A decentralized way to send Bitcoin to your friends and family via email. No Bitcoin keys are stored on our servers. Uses split key generation to achieve distributed trust.
BENEFITS OF BITCOIN
• Freedom in payments
There is no restriction on the amount of money sent globally and instantly. Users do not need to be over 18, or live in a developed economy, have a regular income, or even have an ID. Bitcoin user does not need to worry about bank holidays or the timelines of banking services.
Payments go through under any circumstances and users are always in control of their digital money. These functions can actually let the user "be their own bank", or "have a bank in his or her pocket" by way of a smartphone. Additionally, it's extremely simple for anyone to create their own Bitcoin "bank account", as long as he/she has a computer with access to the Internet.
Lastly, users do not have to worry about a bank selling transaction history to a third party, or having their personal data hacked.
• Low transaction fees
Digital currency users enjoy zero or low transaction fees compared to other online payments methods, such as PayPal, Western Union, and credit cards. In fact, Bitcoin fees are significantly low (between 5 to 10 cents of the US dollar), while transactions fees via other methods like credits cards, PayPal, and Western Union in some occasions may reach the level of 9-10% of the transaction. The larger the amount of the transaction processed, the higher the fees deducted proportionately. This is an opportunity for merchants to see their customers embrace Bitcoin as a payment option. Low Bitcoin transaction costs are also important for merchants because it permits them to remove fees they pay to companies like PayPal and Visa. In fact, some online stores notice profit margins of one or two percent due to the high volume of purchased products, and the fact that Bitcoin can remove the 2-3% discount rate charged for accepting credits cards.
• Security
Many PayPal users believe that PayPal is a safe way to pay with a credit card, as it offers an extra layer between themselves and the online merchant, limiting their card details from being stored directly on a merchant's site. For this to happen, users must provide the receiver with full access to his/her funds, and trust that they will keep this information secure and not to abuse it.
However, PayPal and credit cards have become a frequent target of phishing emails, which tricks users to reveal their PayPal account detail. On the other hand, during a Bitcoin transaction, users supply the information necessary to send the amount for that transaction without sharing personal information, as users can only see the public address, which is completely secure. Provided that no sensitive information is contained within Bitcoin transactions, the possibility of fraud on payments or theft of coins is also eliminated.
• No chargebacks
Credit cards chargebacks is a scenario when the buyer disputes the transaction in a case of a defective product or any other possible reason. Merchants are losing a considerable amount of money at the end of each financial year. The irreversibility of Bitcoin transactions allows no chargebacks or returns, unlike credit card dealings. The adoption of Bitcoin as a payment method could save a large amount of money for the merchant, as customers should be extra careful in making sure that the party they are paying is trustworthy.
• Speed
Another significant benefit of using Bitcoin is that Bitcoin transactions are confirmed very quickly, in a matter of seconds or minutes, as opposed to days as with banks. This speedy verification is essential for small and medium businesses, which require a steady cash flow to maintain their operations. A usual process time takes 10-20 minutes from start to finish or up to an hour if the network connectivity is below par. This time is exponentially less than that of credit card transactions or wire transfers, which usually take days to complete.
• Global Access
There are many countries around the globe where PayPal is not supported, among them Iran, Afghanistan, North Korea and Haiti. While PayPal does not deal with these countries due to mostly political reasons, Bitcoin does not discriminate in such ways and all that is required for access is hardware and a data connection. In countries where Coinbase does not yet exist, Localbitcoins does facilitate a Bitcoin economy anywhere in the world.
BLOCKONOMICS TOKEN
The Blockonomics Token Platform is planned as a token good erc20 on the Etheric and exploit blocking innovation. Target group of onlookers Blockonomics is an aircraft, a movement specialist of a market pioneer, and online stores everywhere throughout the world. If there should be an occurrence of E-trade buys to Blockonomics controlled E-business destinations, clients close by Bitcoin will have the capacity to utilize BCK tokens, profiting rebates on the bought things.
Sales Information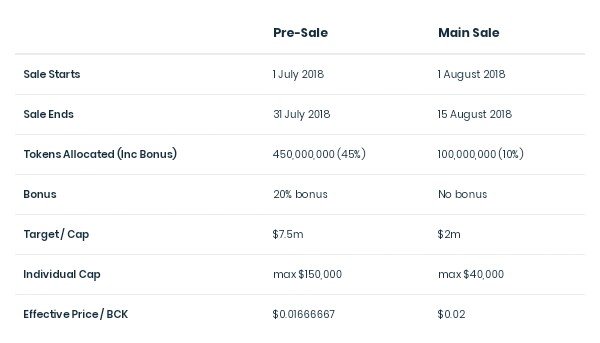 Blockonomics Token Details

Token Distribution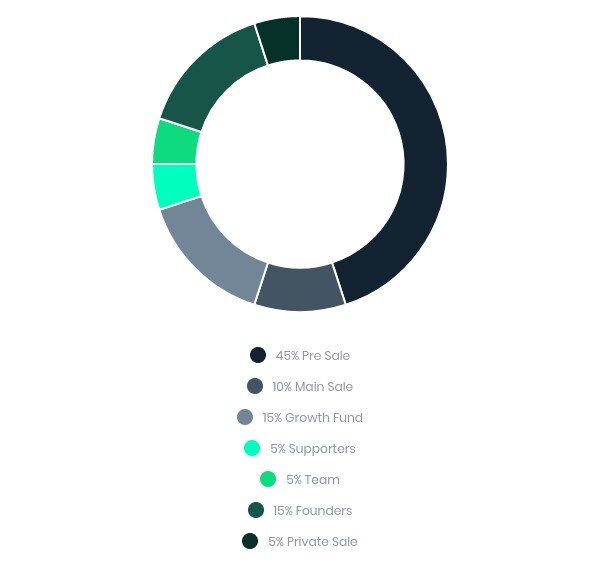 Use of Funds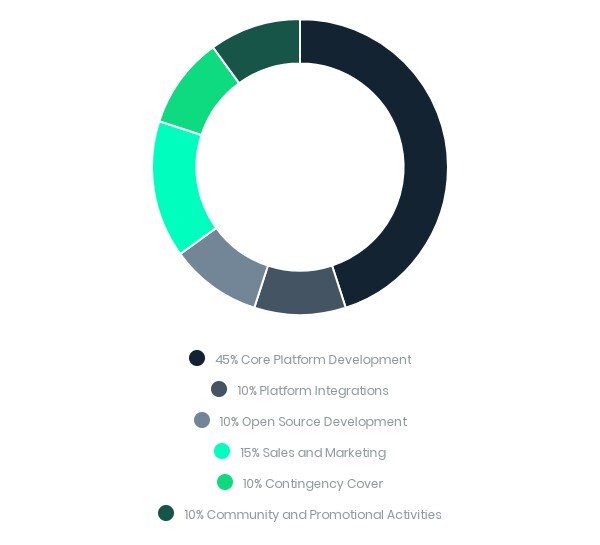 ROADMAP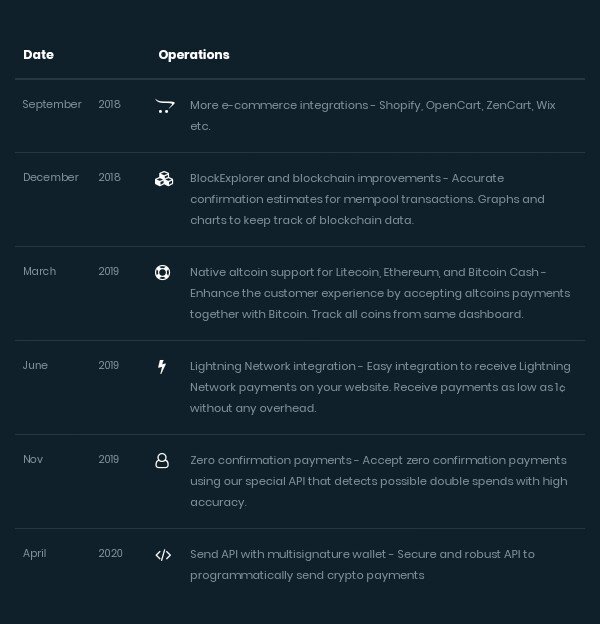 TEAM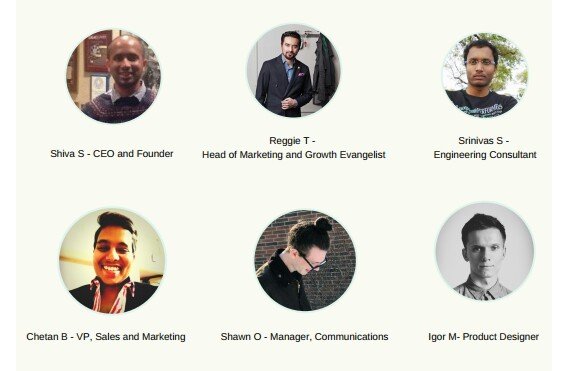 ADVISORS

For more information, please visit:
Website: https://ico.blockonomics.co/
Whitepaper: https://ico.blockonomics.co/docs/Blockonomics_Whitepaper.pdf
Twitter: https://twitter.com/blockonomics_co
Facebook: https://www.facebook.com/Blockonomics-1619324884975855/
Telegram: https://t.me/BlockonomicsICO
Reddit: https://www.reddit.com/r/blockonomics/
Ann Thread: https://bitcointalk.org/index.php?topic=4421484
Author: Crator Touch
My Bitcointalk Profile: https://bitcointalk.org/index.php?action=profile;u=1612381