BLUPASS: CHANGING THE WAY CONSUMERS INTERACT WITH THEIR HEALTHCARE PROVIDERS AND CARRIERS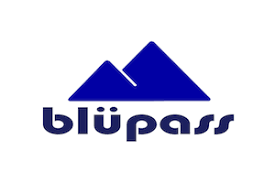 The importance of good health can't be overstated. As we know, poor health has a lot of personal and economic impact on our world. So is the healthcare industry. The healthcare system is very important to the daily lives of people as it helps to cater for our health needs which, when bad, can have economic effects. However, the healthcare sector is faced with challenges that are crippling it. The difficulties in accessing healthcare services is alarming. Also, the cost of healthcare services is now a rip-off. Participants of the healthcare industry face challenges that range from the constantly rising price structures in the healthcare system, and the number of days that outstanding invoices remain on their accounts receivable based on average. Also, healthcare carriers are faced with increased undetectable fraud and false documentation which raises their expenditure. Healthcare carriers are also faced with issues of false documentation and undisclosed health records by consumers, identity verification and insecure ledger which all cause hindrances to healthcare access. All these lead to a surge in cost of healthcare and customers are left to bear the brunt. To top it off, health data from consumers are not transparently handled which raises the issue of distrust, plus mishandling of data could result in fraudulent activities where identity thieves exploit health records in a bid to get expensive treatments at the expense of other consumers. These issues call for a solution, hence Blupass. Blupass was developed by professionals in the healthcare industry and leverages blockchcain technology. Blupass offers a robust solution to the participants (healthcare providers, carriers, consumers) of the healthcare industry. The following are benefits of the Blupass to healthcare participants:
• Providers: They will benefit from reduced billing and will have prompt payment compared to the previous system.
• Consumers: They gain complete control over their data and the decision to exchange their data is on them.
• Carriers: With the Blupass, carriers will be able to instantly obtain their claim void of error or fraud.
It is important to note that, Blupass leverages the blockchain technology and Ethereum for its smart contract. Blupass has two smart contracts, firstly, between service providers and carriers, and secondly, between carriers and users. The Blupass token (BLU) will give users access to the Blupass platform as well as enable exchange from BLU tokens to Fiat and vice versa. In essence, Blupass want to rebuild the broken interaction between consumers, providers, and insurers in the healthcare industry, as well as enable consumers to control their data while its being transferred between providers and carriers for electronic health records, claims service, policy and premium verification, etc. In its solution, Blupass saves time. It is the only platform that does this.
BLUPASS BENEFITS
• Instant claim service
• Instant payment of medical invoice
• Elimination of provider administration
• Scalability
• Prevention of fraud
• Portable benefit utility
• Industry experience
• Secure ledger
• Self-regulation
BLUPASS REVENUE SOURCES
The following are sources from which Blupass generates its revenue:
• Factoring claims to providers
• Contracts with Carriers
• Processing Fees
• Sales to Consumers
BLUPASS TOKEN DETAILS
A total of 6 billion Blupas token (BLU) will be created. Note that, BLU tokens are ERC20 compliant. These tokens can be purchased during the ICO and on exchanges at market value. The BLU tokens have to be purchased by non-Blupass consumers in order to gain access to the Blupass system.
ICO duration: 15th May, 2018 – 15th July, 2018
ICO Price: 1 BLU = 25 US cents
Accepted currency: ETH
Softcap: $ 3million
Hardcap: $ 30 million
Please, visit this link https://blupass.co/#tokensale for more details on the token sale.
TOKEN DISTRIBUTION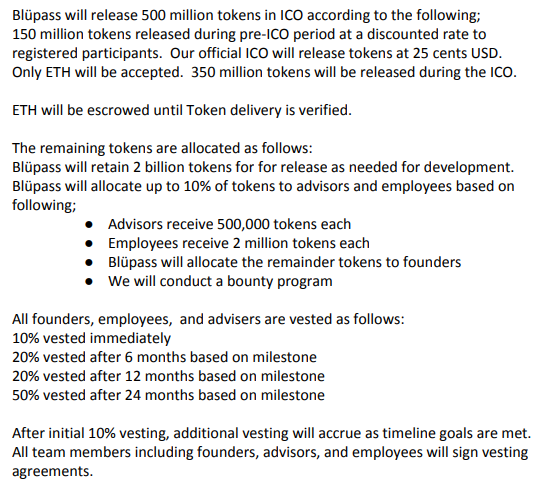 ROADMAP
Q3 2018 – Finalize team placement
Revamp HRaspirin to include in-app partitions for PBU qualified reimbursements.
Q4 2018 – Release Consumer app including Bluwallet for HIPPA secure data transfers.
Q1 2019 – Announce carrier private label division Release POS system for 1.0 for clinicians Announce first participating carrier.
Q2 2019 – Field distribution team for POS system Launch in-app sales for PBU qualified benefits.
Q3 2019 – Release POS system 2.0 including Telemedicine app integration.
Q4 2019 – Launch BluMarket for coordinating products on our platform.
TEAM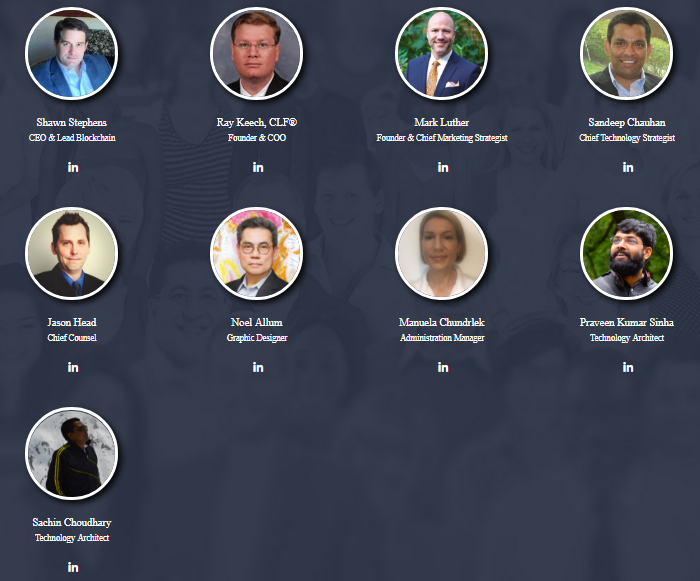 Shawn Stephens – Chief Executive/Founder
Ray Keech, CLF – Founder/Chief of Operations
Mark D. Luther – Founder/Chief Marketing Strategist
Sandeep Chauhan – Chief Technology Strategist
Jason Head – Chief Legal Counsel
Myles Stephens – Marketing
Benjamin Hansen – Software Development
Adam Arrington – Software Developer
Kyle Ritter – Advisor/Director, Sales Strategy and Development- UNUM/Colonial Life
Ryan Beck – Advisor Vice President, Northwest Retirement Services
Vicki McMillan – Advisor/Dental Provider
Ryan Curtis – Advisor/Clinical Perfusionist, Michael E DeBakey VA Medical Center
Laura Ortiz – Advisor/Physician General Practitioner
Matt Nosler – Advisor/Business Owner & Entrepreneur
Brandie Stillman Cockrell – Advisor/Nurse Anesthetist (CRNA)
There isn't a better solution than what Blupass offers the healthcare industry. The healthcare market will be greatly revolutionized and users of this platform will be in great benefit. I, therefore, urge everyone to participate in this ICO event and share in its benefits.
Should you require more information on this project or want to connect with other unique participants across the globe, please feel free to click on any of the following links:
Website: https://blupass.co/
Whitepaper: https://blupass.co/img/Blupass_Whitepaper.pdf
ANN thread: https://bitcointalk.org/index.php?topic=3339249
Facebook: https://www.facebook.com/theblupass/
Twitter: https://twitter.com/theblupass
Telegram: http://t.me/blupassICO
Youtube: https://www.youtube.com/channel/UCPk3P-dyFRpkVbjLpbUITAQ
LinkedIn: https://www.linkedin.com/company/bl%C3%BCpass
Published by: charleyles
Bitcointalk URL: https://bitcointalk.org/index.php?action=profile;u=1344011
Ethereum wallet address: 0x69C516900e939e97C7c60Ca59bdaF15295556838