BM Tokens: Economy Drivers for Bitcomo Platform

Bitcomo is a decentralized affiliated marketing network which has been designed with the concept of eliminating all types of middlemen (all bigger and dominating advertisement companies) and directly link the two main parties involved in the system. The professional tools provided by Bitcomo helps the advertisers to analyze the data collected from the web users and clients to enable them to precisely target the audience and offer them with the personalized offers. The Bitcomo platform is anchored by blockchain technology to make the system safer and the securest than all other systems. Bitcomo has been introduced with the vision of providing the solutions of issues in existing platforms. transparency enhances the confidence of both parties and internet marketers get their reward in fair way for their marketing campaigns and efforts. Blockchain technology protects user's data while ensuring simplified interactions between the components of the platform. Unnecessary intermediators are eliminated so that businesses and companies can invest wisely and profitably. Moreover, CPA network is integrated with Bitcomo platform which means that clients or businesses will pay only when they will see the results and publishers get the payments in the form of platform's internal token "BM Tokens". BM tokens have been generated using Ethereum platform resources and will be listed at exchanges after the ICO event ends. Availability of BM tokens for transaction process will simplify the payment procedure as BM tokens are the main currency of Bitcomo platform. Anyone can invest in our system after buying the BM tokens with any currency including US dollar, Russian Ruble or may be any major cryptocurrency. All components, parties and participants of the system are bound to a pre-defined smart contract to make the process legalized and smoother to carry out.
BM tokens are the main currency to be used in Bitcomo systems for transactions and online payments. These tokens have been generated using Waves and Ethereum platforms with integration of smart contracts. Any token owner can use a partner store, integrated with the main Bitcomo store, to generate BM tokens for investment or transactions purposes. These tokens will be available for exchange after end of ICO (Initial Coin Offering) event. The integrated token store with ICO platform is known as MetaHash where BM tokens can be purchased or exchanged or converted into fait currencies. BM tokens ensure the security of ads' campaigns and the value of BM tokens are dependent upon the investments of token holders. BM tokens are generated with correlation of services provided and goods offered online by the retailers. The main advantage of using BM tokens is that the token holders are enabled to pay for using BM platform services in the form of BM tokens at the current traded exchange rate of their relevant tokens. Ad Publishers get their payments in the form of BM tokens by the businesses and can convert their payments into fiat currencies or any other crypto-currency using Bitcomo system. Use of Smart Contract technology makes the system more reliable as Bitcomo has been designed using Ethereum platform and has the ability of registering all the transactions after fulfilling the pre-defined terms and conditions in Smart Contracts. Our team is trying harder to collaborate with our valuable partners to design and bring out a more secure and transformed system model for easier and faster transactions. The innovative idea will help to create a new marketplace to trade in a convenient and safer environment. It will not only help in providing maximum security level to token holders' accounts from cyber-attacks, hackers or virus attacks but also will help to establish a perfect marketplace or hub for investors and traders to run their ad campaigns online (https://ico.bitcomo.com/).
Our vision is to develop an affiliated marketing network which is free of all frauds and payments issues. We are on our way to success and expect an immediate adaptation of our network by users all around the globe.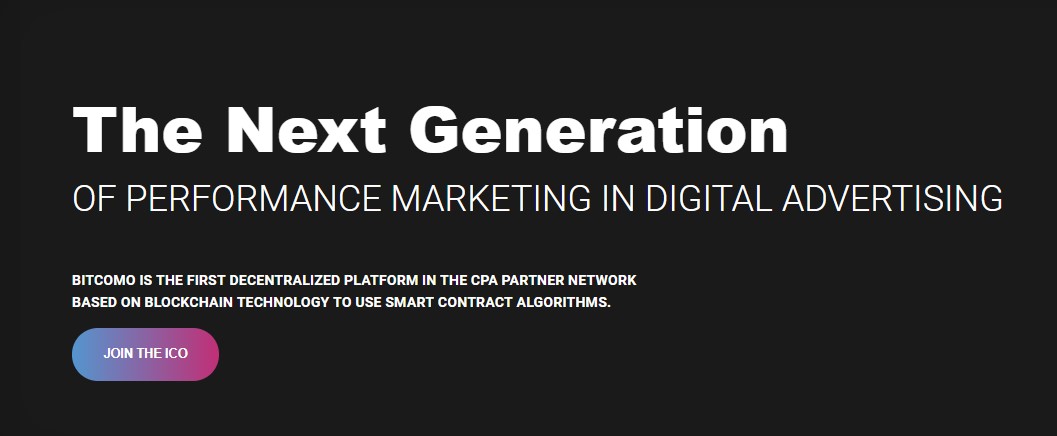 Website: https://ico.bitcomo.com/
Whitepaper: https://ico.bitcomo.com/storage/source/1/SGw7HeEcWWleZrmZ6I1brn93wi2WbfRl.pdf

My profile Bitcointalk:https://bitcointalk.org/index.php?action=profile;u=1098584