BQT
BQT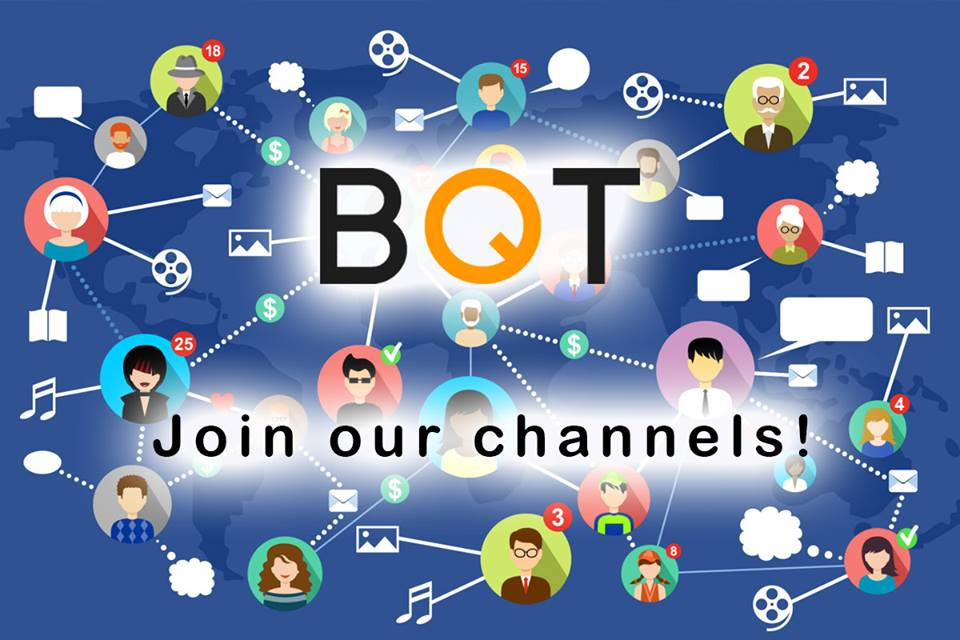 About the project
The aim of BQT is to build a community and culture of Crypto Traders utilizing the Platform, helping the community and benefiting from the community. BQT Exchange Platform provides secure, interactive and flexible P2P Trading Environment and user-friendly interface for its community to manage various types of transactions consisting of many crypto assets. BQT platform allows traders globally to negotiate their Crypto Asset trades directly interacting with each other and sharing their experience with the community.To leverage holdings of various Crypto Assets, BQT introducing the revolutionary Hedge Trades system. Unlike Margins and Futures Trading, BQT Hedge Trade system is a flexible method for Traders of acquiring Crypto Assets for a short-term period by means of escrow of their existing Crypto holdings. This revolutionary approach allows Crypto Traders leverage their Crypto Holdings to acquire a significant number of additional Crypto Assets they believe in without a need of a traditional margin trade.
CRYPTOCURRENCY MARKET
The cryptocurrency market is evolving, and its market capitalization was estimated to US $268.23 billion on March 31st, 2018.
Since the introduction of Bitcoin in January 2009, thousands of cryptocurrencies have existed at some point and today, there are hundreds of cryptocurrencies with a market value that are being traded. Still, Bitcoin is the undoubtful leader representing approx. 45% of the total market capitalization.
ESTIMATED NUMBER OF UNIQUE ACTIVE USERS OF CRYPTOCURRENCY WALLETS
The current number of unique active users of cryptocurrency wallets is estimated to be between 2.9 million and 5.8 million, according to the latest report by Cambridge Centre for Alternative Finance.
Although it is almost impossible to know precisely how many people use cryptocurrency, using data obtained from study participants and assuming that an individual holds on average two wallets, Cambridge Centre for Alternative Finance estimated that there were between 2.9 million and 5.8 million unique users actively using a cryptocurrency wallet in 2017.
P2P CRYPTO EXCHANGES: A GROWING MARKET
P2P Exchanges carry one unique advantage — People deal with People. It provides unmatched flexibility in decentralized trading environment.
Ability to negotiate trades with people directly, rate and share their trading experience delivers upmost trustful and competitive trading edge. That is a precise reason more traders are shifting towards P2P brokerage type exchanges.
Market of today's traders demands even more flexibility and creativity of the P2P trades, as well as, deeper social interaction between traders and possibility of hedging various crypto assets against each other.
BQT SYSTEM WORK-FLOW
BQT P2P Platform utilizes secure and decentralized benefits of the Blockchain delivering flexible functionality for Traders world-wide.
Every module and database is programmed using various methods of encryption and ensures confidentiality and protection for Traders. 2FA configuration is a required setting for every Trader Profile.
BQTX TOKEN STRUCTURE AND ICO BONUSES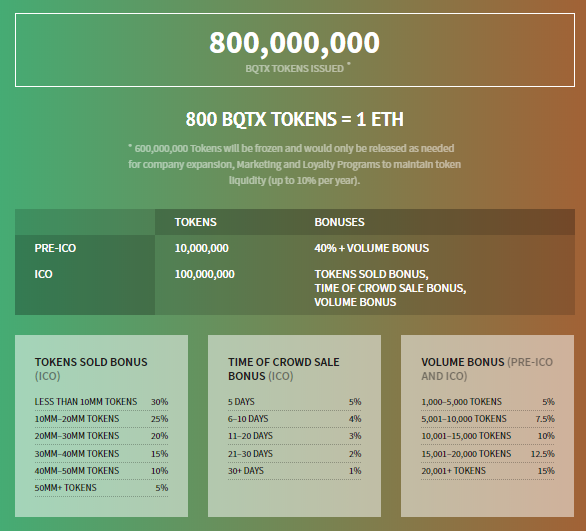 ROADMAP
MAR 17 Market Research
MAY 17 Feasibility Study
JUN 17 Prototype Design
JUL 17 Development Environment Setup
Start Implementing Existing System Modules into Blockchain Environment
AUG 17 Start P2P BQT Exchange Development
SEP 17 Phase I: Module Testing and Q/A
OCT 17 Finish P2P BQT Exchange Development
NOV 17 Start Mobile Application Development
Start Phase II: Project Development
AUG 18 Finish Phase II: Project Development
Start Phase III: Project Development
PRE-ICO / White-Listing
SEP 18 Start ICO / White-Listing
BQT Hedge Exchange Closed Beta Release
DEC 18 Finish ICO / White-Listing
Finish Phase III: Project Development
Exchange Listing Initiative
JAN 19 BQT System Testing Q/A
FEB–MAR 19 BQT Hedge Exchange Closed Beta Enhancements and System development
APR 19 BQT Hedge Exchange Beta Release
Start EMEA Marketing Expansion Campagn
JUN 19 BQT Hedge Exchange v. 2.0 Release
AUG 19 Finish EMEA Marketing Expansion Campagn
SEP–DEC 19 APAC Marketing Expansion Campagn
JAN–MAY 20 North America / Iberia / Latin America Marketing Expansion Campagn
For More Information: