Bubbletone blockchain – global telecom ecosystem
Hi, today I would like to review a different project that can be essential for each of us.
Most of us travel outside the country. Whenever we are out of our domestic mobile service we have several options as:
Using roaming which is very expensive especially if you stay for a relatively long time
Using only wifi and connecting people through internet applications. But this is quite uncomfortable as you can be online only being in the hotel, cafes and some other social places.
Using the local SIM card. This is the best option but it creates some difficulties and takes time to find the needed shop, to find place to replenish the balance and to obtain a good service provider for good price.

What is Bubbletone Blockchain Telecom?
Bubbletone is an ecosystem that can provide a new solution in this situation: a possibility to connect with your SIM to the local providers for local service price.
The team already has ready operational platform uploading mobile profiles on subscriber's SIM card, an operational applet for determining guest network and automatically swapping to an appropriate mobile profile. There is also Bubbletone messenger with more than 100 functions and available in Apple store and Google Play Market.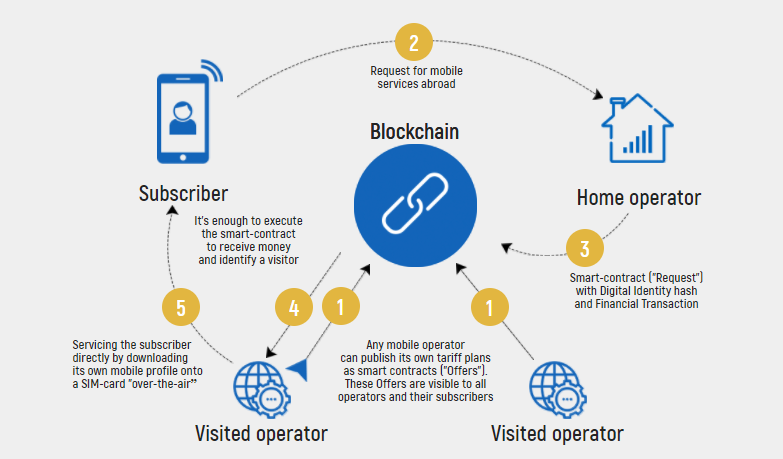 How does it work?
The mobile carriers and service providers will create smart-contracts. This will let crypto-miners to process these smart-contracts for rewards on the base of "Proof of Importance". The contributors will be represented by Super Nodes (high performance servers working according to SLA (Service Level Agreement)) and by Mini Nodes (any computing devices assisting Super Nodes).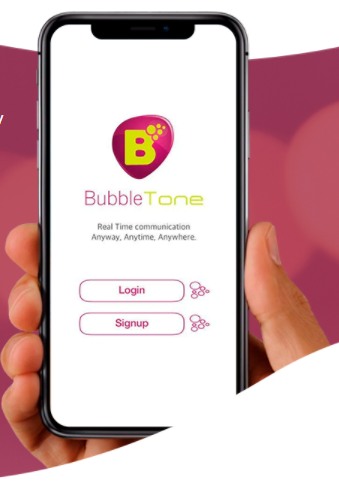 The transaction fees will be distributed among Super Nodes (45%), Mini Nodes (30%) and Community Development Fund –NDF (25%). Super Node holder will receive share from the daily payment from NDF until there will be enough transactions for their profit. Telecom blockchain will be developed on Graphene Framework in order to be able to execute over 10 000 transactions per second guarantying fast and high-quality service.
The simple version of protocol includes 4 stages of SSC (special smart-contract) –offer of service, request of service, charge, refund. The first stage initiates smart contracts and the following transactions include the signatures of the previous transactions. Only transactions corresponding to previous ones and having right state, values and signatures are valid.

UMT and SDR tokens
In order to insure stable prices of operator and provider services SDR token is developed. UMT token is developed to link the system to crypto market and to provide crypto-miners with payments for transactions processing.
SDR token are the stable tokens equal to 1 SDR (Special drawing rights) a unit used in accounting of provided service by mobile carriers.
UMT (Universal Mobile Tokens) – tokens used by smart contracts of the system during transactions.
ICO information:
Ticker name: UMT
Token standard: ERC20
Total Cap: 1 000 000 000 UMT
Tokens for sale: 500 000 000 UMT (50%)
Token price: 1 ETH = 4000 UMT
Hard Cap: $25 000 000
ICO start: 20.04.2018
Accepted currencies: ETH, BTC
Minimum purchase: 0.1 ETH
Unsold token will be burned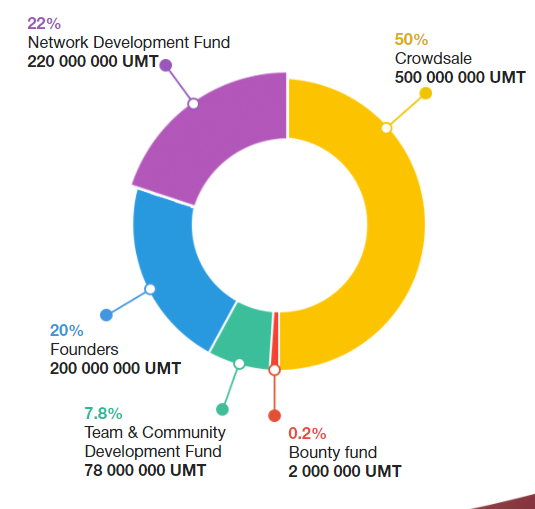 For more information, please visit links below :
WEBSITE · WHITEPAPER · TWITTER · TELEGRAM · ANN
MY BITCOINTALK: https://bitcointalk.org/index.php?action=profile;u=915728