With the popularity of the crypto world soaring high every day, we can see at least a 100 product in the market every day. With new coins coming in ICO and Airdrops happens the crypto world is too messy these days. In these times it is hard to differentiate a fake project from a genuine one. And at the start, most of them are very new with no background to test or check for us. It is very hard to find a project and be sure about it's success. And at these testing times comes in BUDDY. Buddy is blockchain platform built on the ERC 20 Platform that helps you with the development and deployment of apps. It takes away all hardship and pain you go through on app development and eases your work.
The app development industry in the next four years is supposed to grow 3times. From its current economy of $110 billion to something around $345 billion, which is just huge. And at time of such massive growth, we need people to step up, companies to set up and organize and find a better way to do things and remove all the slow and lethargic process. Buddy just does that for you.
Buddy is a decentralized development automation platform through Buddy it is very simple for app developers to develop and deploy, as it takes away all the unnecessary and time taking work that they have to do. Which makes their work a lot easier and help them invest more time in doing the creative part and bring out the ultimate quality.
Most of the project that comes up on ICOs are very new and have rarely stood the test of time but Buddy is not one of them. The company was first established in 2015 and in its 3 years period it has partnered with some of the pioneers of the industry like Microsoft, Amazon, Google Cloud, Shopify, Github etc. These, as you all might know, are the best of best of the industry. They also have a very wide consumer base which includes over 30 most reputed companies dealing in several businesses. The model that Buddy is providing is a working one. It has been working there for over 3 years now. For the developers, it has turned out to be a boon.It's user the developers have had so many great things to say about it . You can check all that on the Buddy website.
The Buddy token wishes to bring all the automated app development industry tokenized.In its own words "BUD is a utility token based on Ethereum (ERC20). It creates a community-driven, decentralized economy in Buddy, the application development automation platform made for developers by developers. It unites developers, experts and users, both SMB and enterprise, in their goal to ship applications safer, faster and of better quality. It's a disruptive approach to the $110 billion market—a market which is currently rapidly growing to an estimated $330 billion5 in the next 4 years, as customers are looking to scale their development automation operations."
THE BUDDY TOKEN USERS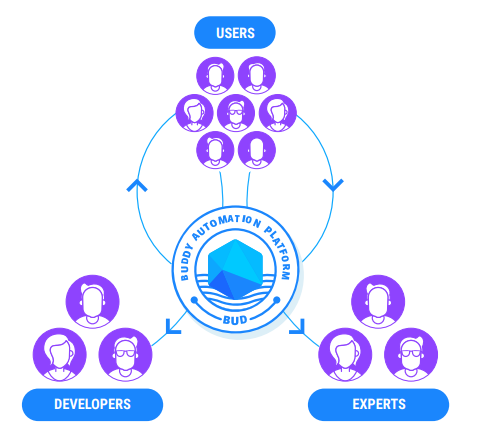 See now we can see that users of Buddy coin are those that are actually connected with it. The users for whom the apps are made and holding buddy token will certainly lower theirs over all cost. The Developers, it helps them get all the there unnecessary redundant work to be removed so they can work on the interesting part like creativity.The whole idea of buddy is that to remove the unneceasry work of developers using all that work that can be automated.The Experts, "Provide semi-automated services such as manual code audits and certification that can be easily integrated with the ContinuousDelivery pipelines of the platform users".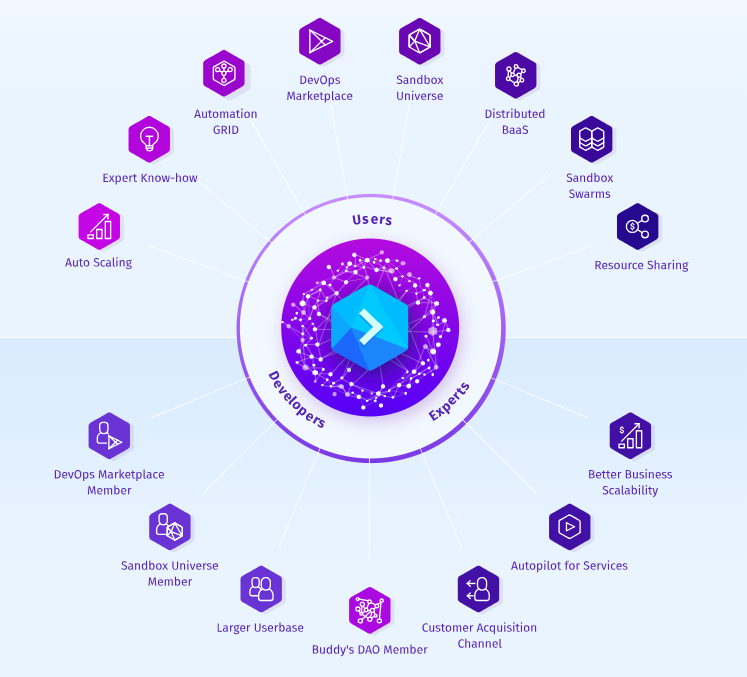 ABOUT THE ICO
The Buddy token is built on ERC 20 platform. It's current price is 0.0002ETH which is very good price if you are planning to invest as this is a project that has been tested in the market and succeded. There are 470 million BUD tokens up for sale in the ICO. The total supply will be anywhere between 500 million to 670 million. The Hard cap amount for this 60000 ETH. After the initial coin generation, there will no longer be any new coin generation.Over 60% ofmthe coins will be distibute in the initial coin offering and the Airdrop amount be 1% for currently paying Buddy customers.
A few words about ICO Token: BUD
Platform: Ethereum
Standard: ERC20
Quantity: 500,000,000 BUD
Price: 1 BUD = 0,0002 ETH
Payment:
ETH
Soft cap:
Hard cap: 60,000 ETH
PreICO
Quantity: for the sales
Beginning: 23.07.2018
Completion: 30.07.2018
Bonus:
ICO
Quantity: 300,000,000 BUD
Beginning: 01.08.2018
Completion: not defined
Bonus:
14 days 20%
14 days 15%
14 days 10%
14 days 8%
14 days 5%
14 days 0%
Road map :
Q4 2016——-Buddy beta launch
Q1 2017——–First payments to customers
Launching Buddy Enterprise
Q2 2017—————Further development of Buddy, weekly releases of new features
Proof of concept for BlockchainOps using Buddy automation
Q4 2018————–BlockchainOps
Q1 2019————-Private grid automation
DevOps Marketplace
Q2 2019 ——-Distributed blockchain as a service
Expert services in the DevOps Marketplace
Q3 2019————DAppOS & Sandbox Template Universe
Q4 2019———–Grid automation
More info in:
https://token.buddy.works/
https://files.buddy.works/ico/BuddyWhitepaper.pdf
https://bitcointalk.org/index.php?topic=3798597
https://t.me/buddytoken
https://files.buddy.works/ico/OnePager.pdf
https://twitter.com/buddygit
https://www.facebook.com/gitbuddy/
Author: