Introduction:
With the rapid technological growth, computers, tablets and smartphones are essential objects in our everyday's life. With that comes different kind of apps we use, that help us manage, communicate and create things. The currently existing problem with the "app-store era" is that, it turns software features into standalone native apps, which usually do not communicate with each other. For example there are different kind of apps for chats, photo and media, social network, transportation, personal finance and much more. Users need to to choose between multiple overlapping features. With the software moving into the cloud, users also need to manage multiple subscriptions and optimize all the expenses for using the features.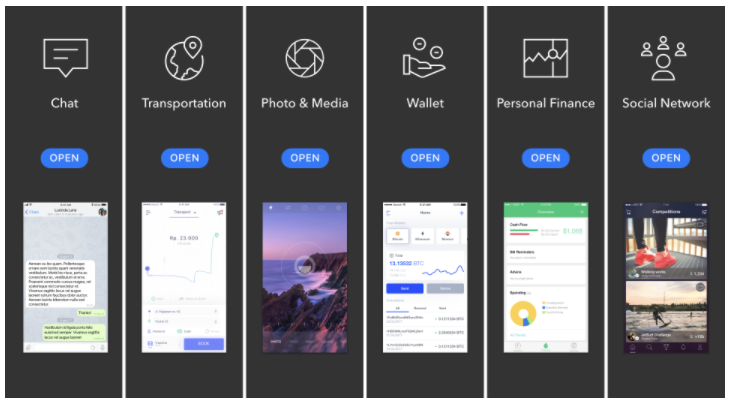 As the blockchain technology has established in the past few years, there might be now a solution for this problem, introduced by a project called "Cardstack".What is Cardstack?
"Cardstack is an open-source framework and consensus protocol that makes blockchains usable and scalable for the mass market, creating a decentralized software ecosystem that can challenge today's digital superpowers."
Basically what this means is that with Cardstack, the end-users are able to mix and match all the features of the app they use, without needing to pay attention for cloud based subscriptions anymore. The goal of Cardstack therefore is to combine cloud apps, such as apps from the Google App Store, with decentralized customizeable apps to create a better user experience of using multiple apps for a single workflow.
How will that work?
In order to achieve that, Cardback wants to break down every feature of every app or dApp you are using into their basic components. Each component is defined as a "Card". As an example the messenger function of Whatsapp, which represents a card can be combined with the soccer liveticker/newsfeed, which represents another card. By doing so, Cardstack is creating one simple all-in-one solution for every kind of app feature. Users then can choose and pay for the features they really want to have and leave unnecessary ones out.
Benefits of Cardstack:
One token to for everything, there is no need anymore to run different kinds of tokens for each of the services you are using
Only pay for the features you actually are using, no more useless/overlapping features and overpayment
All-in-one solution, there is no need for switching between apps anymore
Security and transparency thanks to the blockchain technology
The project itself does not only include the end-user, but also other parties, namely the developers and the analytic miners. To see all the benefits for each party, the following graphic is really accurate: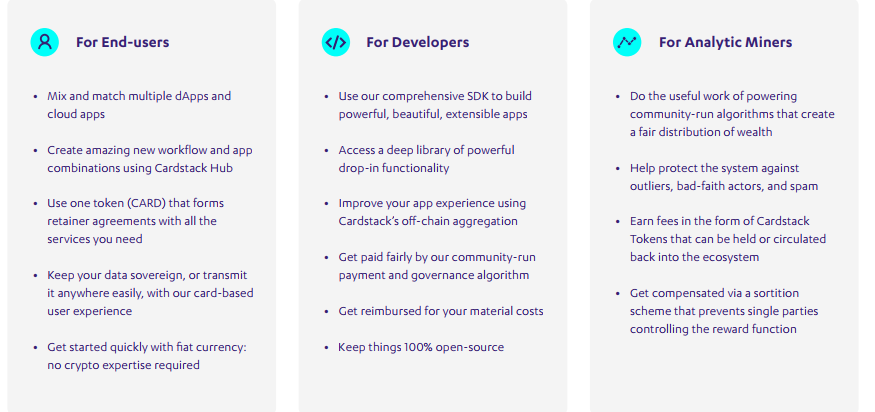 The Card-Token:
Cardstack is using "Card-Tokens" as their own cryptocurrency for their ecosystem. The Card-Tokens are based on the ethereum-blockchain and therefore are ERC20 compatible. Card-Tokens are utility tokens.
The total token amount created at TGE is 6.000.000.000 CARD
Of that 2.400.000.000 CARD will be available for sale
Through mining, additional 4.000.000.000 CARD will be distributed over 10 years
Softcap is set at 10 million USD and Hardcap at 35 million USD
1 Card is estimated at a price of 0.017 USD at TGE
Contribution method is Ethereum
TGE Date is at the writing of this article not known yet, but somewhere in Q1/2018
The tokens are used for/by:
End-users beeing able to use the platform and to pay for the card stack features they desire to use
Developers who are paying their fees to be able to offer their cards on the plattform and also later beeing able to get rewards, if the end-user decides to use the offered card feature.
The Team:
The team behind the Cardstack project currently is 18 members big and is lead by Chris Tse. The Team has quite a lot of experts in the blockchain, IT and development segment, but also has great graphic designers. What is currently missing, but will come for sure according to the CEO Chris Tse is a marketing team. If you want to check out the team members and are interested in what they are exacly doing, go check their profiles on the official website: https://cardstack.com/contributors
My opinion:
I'm using quite alot of apps myself and by far I don't need all the features. For many of them I am paying a fee and it's hard to keep track on everything. With Cardstack I really have high hopes that their idea can fix the problem. Although the idea behind the project really sounds complicated, I truly believe that the team has all the resources they need to realize this project. The project overall seems very promising and really could boost up the user-experience. I'm very excited to see how the project will develop.
Further information:
If you are interested in the project, kindly check out their official website, their whitepaper for more detailed information and their official communication channels to be updated on news, also regarding the upcoming token sale.
Website: https://cardstack.com/
Whitepaper: https://cardstack.attach.io/HJaZkzgn~
Twitter: https://twitter.com/cardstack
Facebook: https://www.facebook.com/cardstackproject
Telegram Chat: https://telegram.me/cardstack
Bitcointalk ANN: https://bitcointalk.org/index.php?topic=2768237.0
Bitcointalk Bounty: https://bitcointalk.org/index.php?topic=2805234.0