CAREONCHAIN
1 . What is CAREON and what problem does it solve?
CAREON ERC20 (Ethereum) platform is develop for interaction between researchers, developer and hybrid vehicle manufactures. Thus making whole world a RESEARCH AND DEVELOPMENT centre for this upcoming technology.
CAREON chain platform will unite all the research work from throughout the world and provide the best of it to automotive sector manufacturers. It is decentralize network that allows storage of all research work from college projects to Scientifically proven research for development of hybrid technology in automotive sector
2 .The Concept: CAREONchain is the first ERC20 (Ethereum) Operating Platform for Hybrid Car Technology & its Research & Development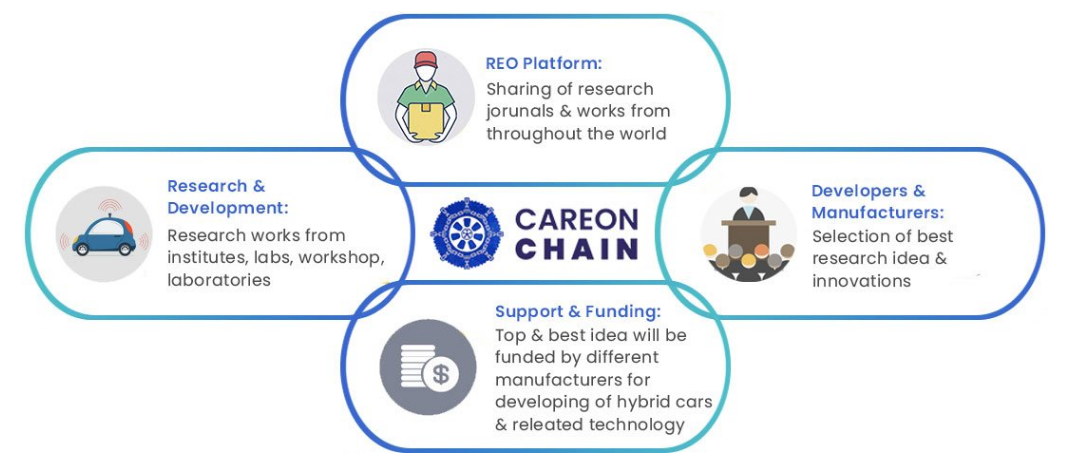 3 . How This Data Will Be Useful: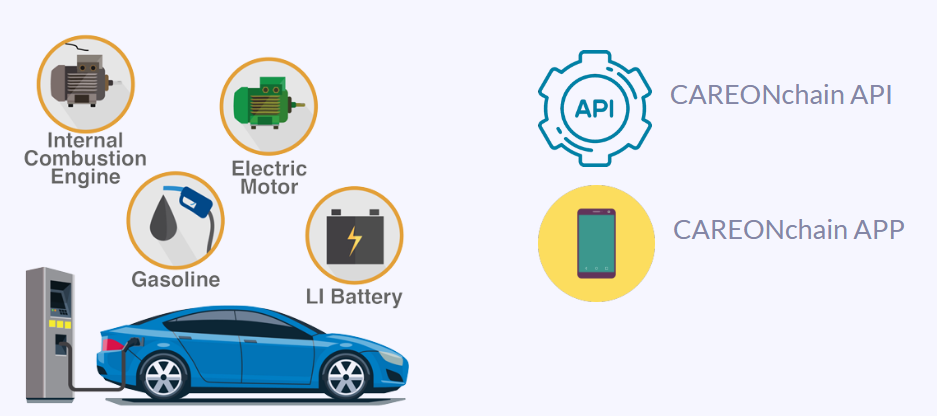 4 . Our Vision: Hybrid Cars Market Estimated to Reach US $200 BILLION by 2020; Global Industry
5 . Why will the demand for the REO Coin grow?
CAREON is focused on the hybrid vehicle sector and its importance in our everyday lives. We all need to travel to different places from day to day for different purpose and many do easily 4 – 5 times per day, 365 days per year, for an average of 80 years.
We believe that fuel (diesel, petrol, coal, etc) drives the different vehicles and thus causes 85% of earth air pollutions which is directly or indirectly affecting human life and atmosphere and causes global warming.
Apart from clean water, access to adequate CLEAN air is the primary concern for most people on the Earth.
The governments in various countries are also encouraging the adoption of hybrid cars by mandating stringent emission standards and providing various incentives and subsidies to buyers, which is likely to reflect positively on the sales of these vehicles in the near future. The global market for hybrid cars, which stood at US$102.88 bn in 2015, is anticipated to touch US$398.90 bn by 2024, rising at a CAGR of 16.50% between 2016 and 2024.
6 . CAREONchain business model: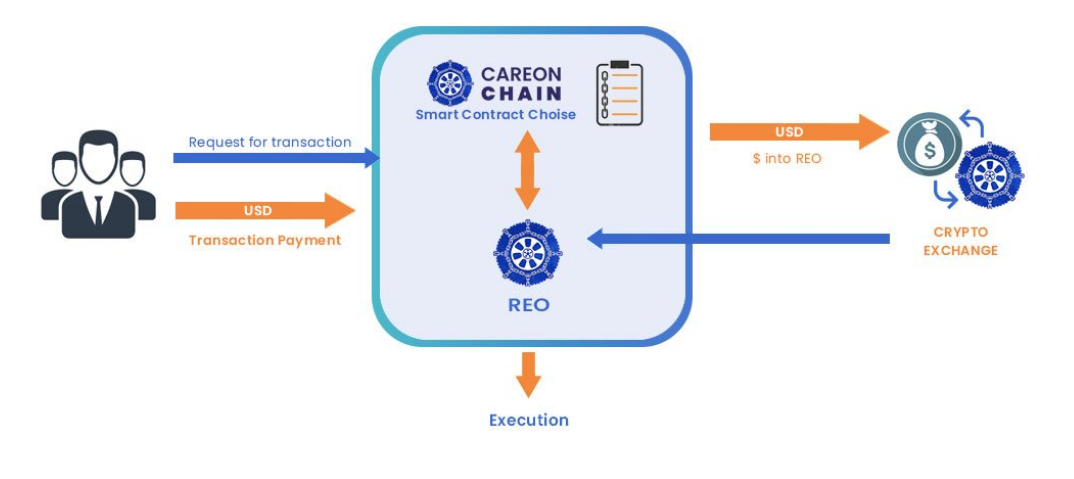 7 . Features of CAREONchain:
Fast Transactions: Unique platform which can make transaction with a blink with help of Fast Transactions
Exchange Money: Exchange between all popular currencies with a couple of clicks. Instant send from one currency to another.
Investment: Improved system of borrower's verification. Providing verification services for other services.
Online Wallet: Keep your money, exchange your money, invest your money, pay services and make purchases.
We Accept ETH & BTC: You can purchase our coins using your favorite currency Ethereum & Bitcoin.
8 . Advantage of the Project:
ERC20 (Ethereum) Technology
Advanced Security System
Multicurrency Coins
Internal Exchange
Safety Fund
Cooperation With Arbitration
9 . Road Map:
Q2 2017: Concept Development
Q3 2017: White paper and project concept approval
Q4 2017: Planning for Pre-ICO
Q1 2018: Development of Website and ERC20 (Ethereum)
Q3 2018: Coins Pre-Sale To Early-Stage Investors and Public Sale Launch
Q4 2018: Coins Will be Unlocked And Launch in Some Exchanges in Future
Q1 2019: Alpha version of the CAREONchain ERC20 (Ethereum) will start the execution
Q1 2019: January coin burning will starts
Q2 2019: Launch of API Mainnet& Mobile App for Android/iOS
Q2 2019: Launch a Platform ,To develop a software and a website where all the research for hybrid technologies can be shared from throughout the world
10 . Token info:
Token:REO
Platform:Bitshares
PreICO price:1 REO = 0.09 USD
Price in ICO:1 REO = 0.24 USD
BONUS
Bonus for Pre-Sale: Time Bonus Price Week 1 50% $0.09 Week 2 40% $0.10 Week 3 30% $0.11 Week 4 20% $0.12 Bonus for ICO: Time Bonus Price Week 1 50% $0.18 Week 2 45% $0.18 Week 3 40% $0.19 Week 4 35% $0.20 Week 5 30% $0.21 Week 6 25% $0.22 Week 7 20% $0.23 Week 8 15% $0.24
11 . Investment info:
Min. investment: 0.01 BTC
Accepting: ETH, BTC
Distributed in ICO: 70%
Soft cap: 2,000,000 USD
Hard cap: 20,000,000 USD
12 . Team: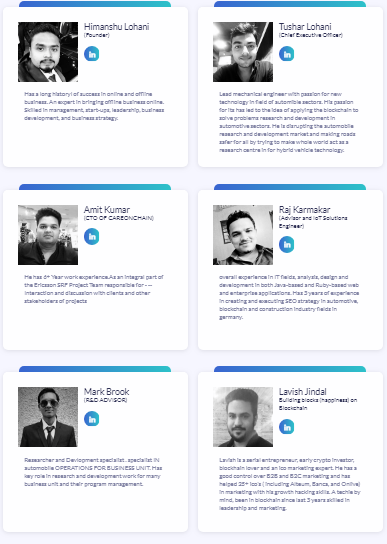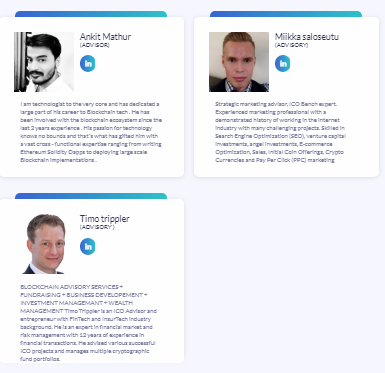 13 . Development & Marketing Team: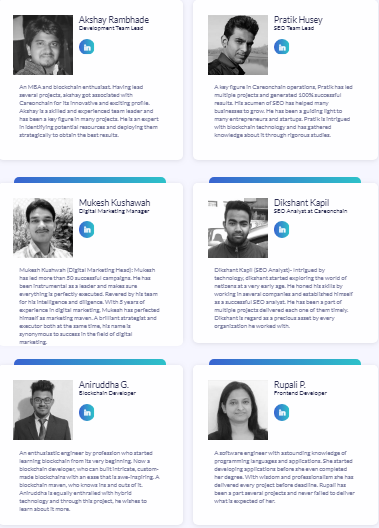 FOR FURTHER INFORMATION, PLEASE FOLLOW THE LINKS BELOW:
My BTT Profile: https://bitcointalk.org/index.php?action=profile;u=1530135