CARGOCOIN : GLOBAL TRADE AND TRANSPORT BY DECENTRALISATION.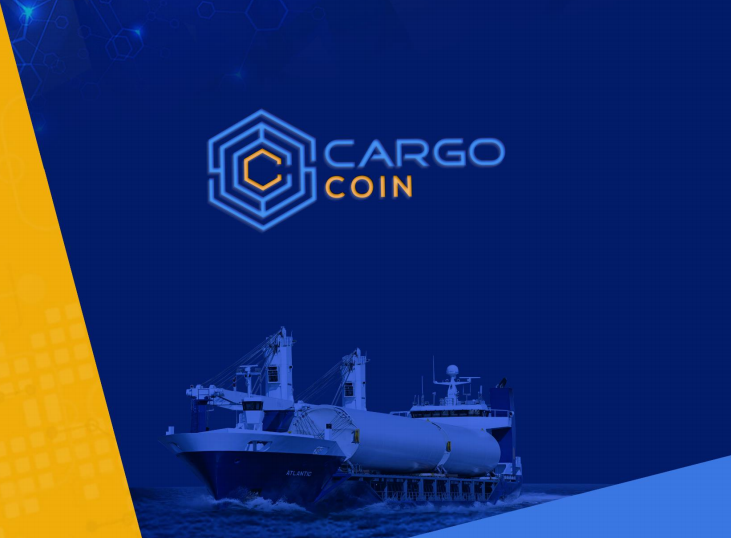 CargoCoin is designed to be a smart contract, crypto currency platform, decentralising global trade and transport. The platform target is to facilitate and optimise the interaction amongst traders, freight forwarders, shipping lines, booking agents as well as all other parties involved in the international trade and transport of commodities and cargoes. The platform users experience outlines well-balanced ecosystem based on cutting edge crypto security and frictionless interaction.
CargoCoin objective is to provide a global marketplace environment and utilities for facilitation of trade, transport, exchange of documents and payment options at low cost in real time. The platform architecture is based on the principles of high level of security, transparency, traceability and accountability. It is set up in a way that the participants can take advantage of any part of it alone, or in combination with other sections. It can be used as a very simple platform or as a complex smart contract utility with various payment options. The link between physical trade and transport with online crypto technologies delivers the opportunity for implementation of a large scale project and allows for further expansion.
CargoCoin is designed to utilise the platforms, both as a secure transfer and storage method by the means of smart contracts, as well as a payment unit for services, freight and cargoes. The CargoCoin concept fully unleashes the potential of block chain crypto currencies to act, not just as a means of payment and store of value, but also as an interactive way of sending, receiving, approving, rejecting and signing documents through the process.
CARGOCOIN OBJECTIVE
The objective is the creation of synergy between the commodities and cargo traders with all transport means on a global scale. The integration of all participants and tools delivers unique, one of a kind eco-system.
The CargoCoin blockchain technology delivers revolution of the trade and transport by fostering optimisation. It will eliminate a number of problems: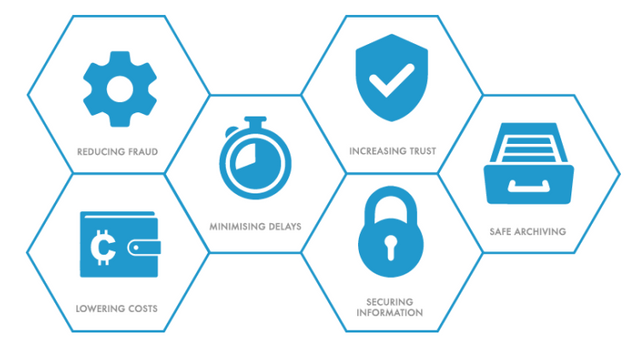 Reducing Fraud :
CargoCoin minimises the risk of fraud and in many cases completely eliminates it, by not releasing any payments until the counter parties' pre-set conditions are met and publicly available proof of the payment has been made or secured in a smart escrow utility. Payments will be guaranteed by default.
Lowering Costs :
CargoCoin will significantly reduce costs, compared to high percentages and other fine print fees that are charged through the whole process by banks, couriers, insurers, brokers, agents, lines, etc.
Minimising Delays :
CargoCoin avoids the delays by providing instant exchange, review and approval of documents and payments between the parties involved.
Increasing Trust :
CargoCoin relies on the public infrastructure of the Ethereum blockchain, backed by thousands of people in a peer-to-peer decentralised infrastructure. Using a proven and trusted technology speaks for itself.
Safe Archiving :
CargoCoin, not just allows but fully relies for full historic storage of all transactions ever conducted, thus avoiding risks of physical loss or destruction of paper documents, while at the same time allowing for easy searching and reviewing past information stored in the cloud.
Securing Information :
CargoCoin is naturally secured. It relies on the blockchain's proven hashing algorithm technology. There is no possibility of sensitive commercial information leakage by intermediaries, such as banks, brokers, agents, etc.
HOW CARGOCOIN PLATFORM OPERATE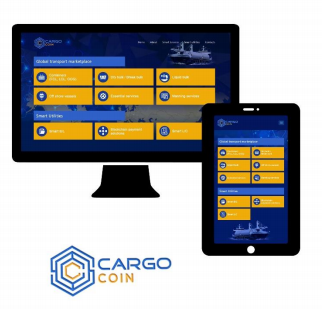 CargoCoin smart platform objective is to create a global market place for trade & transport services supported by smart contracts and crypto payment methods. The Core is a Global marketplace platform (SERVICES) facilitating the supply and demand for transport of all cargo types, including other essential services that are vital for shipping and trading. The use of the free services naturally implements the platform's SMART UTILITIES. The Marketplace is designed to be FREE for all users. The CargoCoin objective is maximum number of users, participants and enhancement of their interaction.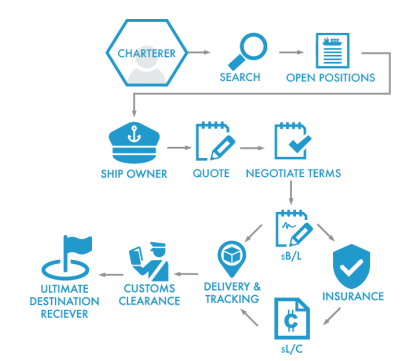 The market for trade and transport cargo platforms is non-saturated and has an easy entry. Becoming a market leader is a matter of offering free services in combination with the right marketing mix to promote and reach out potential users. Currently no platform exists on the market that offers full smart contracts abilities and covers all types of transport. CargoCoin is set to create a circle that encapsulates all types of transport and cargoes into a single platform and then connect it to the traders of goods. This objective will be achieved by the two founding pillars of CargoCoin : the services platform & the smart contracts, utilising Blockchain technology of Ethereum.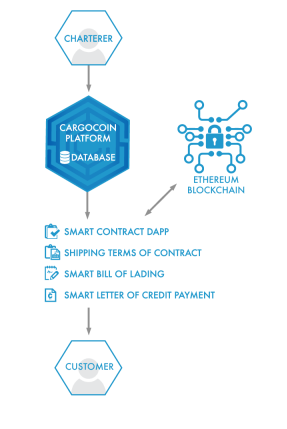 CARGOCOIN PLATFORM SERVICES
The Shipping Industry :
This is the market place which facilitates the Ecosystem participants with added value for FREE. The Sea Transport Platform is the foundation of the Eco System. It brings the users ON BOARD the CargoCoin vehicle and build up the grounds for services that create value to the ICO Supporters.
Containers (FCL, LCL, OOG) :
Platform users place their cargo order and receive offers and bid from forwarders, booking agents, NVOCCs, container lines, etc. The order goes to subscribed participants, smartly selected, by region, by past destination coverage etc. NVOCC, Freight forwarders, Booking Agents, Container lines. Offers are presented with details – freight cost, transit time, equipment availability etc. The importer proceeds to the chosen bid via the CargoCoin platform. Transparency is a priority. Full background and past performance of both parties are available. Communication via the smart platform is secure & instant. Once transport terms and additional services are confirmed, the participants have options to facilitate the Smart UTILITIES. These include Smart B/L, Crypto Transactions (payments) and smart L/C escrow payments.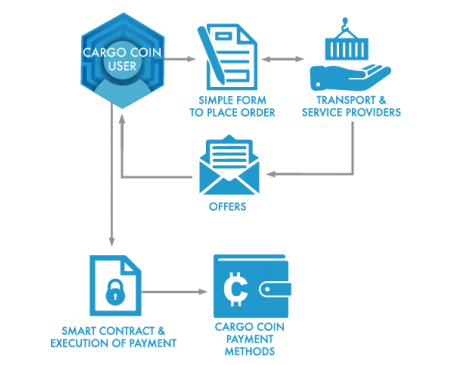 Dry Bulk/Break Bulk :
The CargoCoin Team knows exactly what online environment ship brokers, ship owners, charterers and traders would anticipate. The platform allows for a range of communication channels. It emphasizes on simple forms in order to keep it straight forward and save time. Detailed, optional fields-on-demand allow for in depth interaction, as the main terms negotiations develop.
Example of how it works : Ship broker, ship owner, booking agent inputs a vessel position in the platform: (simple form)
Vessel description / type / size etc.
Vessel open position dates or vessel liner schedule
Trader/Charterers can find the vessel by simple search: Type/Size/open dates.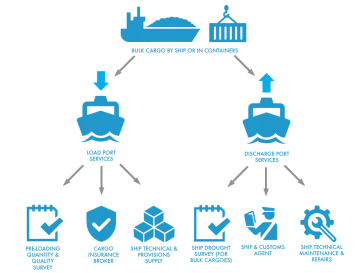 Liquid Bulk (tankers, chemical carriers, LNG, LPG) :
Liner shipping is the service of transporting goods by means of high-capacity, ocean-going ships that transit regular routes on fixed schedules. There are approximately 400 liner services in operation today, most providing weekly departures from all the ports that each service calls. Liner vessels are primarily muti-purpose and roll-on/roll-off ships.The liner services platform is designed to allow the booking agents to input the liner schedules and dates. The importers and exporters can search, compare and book suitable service for their parcels.
Essential Services to the trade & transport :
Most of the essential services are ordered on short notice and require prompt payments by the ordering party. Additional expenses arise in connection with the process.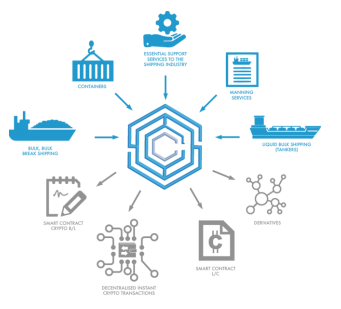 Manning services (seafarers / crew for ships) :
There are millions of seafarers virtually from every country working on all kind of vessels with different skills, experience and qualification, ranging from yachts to super tankers and oil rig platforms. The service allows them to promote their CVs, contact shipping lines or manning companies and maintain their attestations and references transparent and safe for future employment contracts. The crew management of a vessel is a complicated process due to strict international regulations in combination with human factor risk.
Cargocoin platform Attract a big user base through the free usage of the platform,sustaining rapid grow of users. Optimisation of the booking and chartering process through smart contracts, by minimising delays in document exchange and payment delays, thus increasing profitability and decreasing opportunity costs. Reduction of fraud
by certifying issued documents and making it impossible to forge documents through the public blockchain, while retaining full archive of all transactions made.
To learn about this project visit :
Bitcointalk pofile : https://bitcointalk.org/index.php?action=profile;u=2038051