CASHBAG: credible ICO shopping/trading platform.
CashBag.co is a transactional cash back platform that rewards customers with cash back when they shop at participating merchants and do online transaction. CashBag platform ensures token sale in order to enable instant settlement of cash back rewards by leveraging the Ethereum Blockchain for settlement. Benefits of CBC token includes: instant settlement, lowered cost of operations, immutable record keeping and global reach and adoption.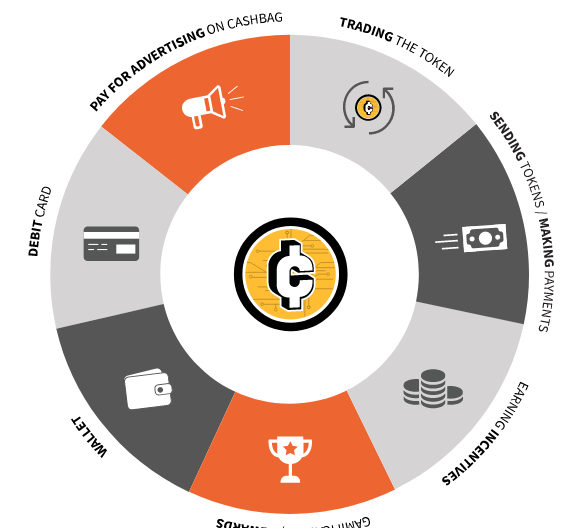 CashBag is creating the CBC Token (CashBagCoin) which is used to reward members for transacting through the platform and enable advertisers to instantly reward members for approved transactions. Customers earn the CBC tokens by engaging with advertising and transacting online. Advertising services are sold through the redemption of tokens. These tokens are earned by the members who transact with merchants through the platform.

Cashbag has an objective to create a single, stable platform through which we could harmonize our reward issues, track our member token allocation and ensure transparency and accountability with seamless immediate execution.
BENEFITS OF CASHBAG PLATFORM
For each transaction concluded CashBag members earn cash back which is collected by CashBag from the participating merchant, accrued to the member wallet and paid out in fiat to linked bank or PayPal accounts.
CBC token which has an ERC20 features like fiat / token conversion, advertising purchases, member rewards accumulation and redemption, instant transfers and the ability for members to transact both within CashBag and with any other ERC20 compliant wallet. CashBag members can request / send CBC between members and pay for services on the platform.
CashBag to empower its members to own, earn and trade tokens without requiring them to understand any of the underlying infrastructure. This will drive up adoption and use of the token, increase market liquidity and enable tradability.
Non-technical consumers can earn and use these currencies without having to understand the fundamentals of mining, cryptocurrency, blockchain or any other deeply technical terminology.
CashBag will not only revolutionize its transactional capability but enable instant settlement, disrupt the market and speed up consumer mass adoption.
Helps savvy, savings conscious shoppers earn cash back and secure discounts on any online purchase. It's used by active online shoppers, businesses in saving when shopping online.
CashBag has an Android Application and a Desktop Helper App (Firefox Safari Chrome) which once installed automatically alert consumers to savings when shopping online.
Cashbag multi-currency wallet tracks shopping activity and cash back rewards across all supported currencies and allocates cash back to members in their base currency.
Users can earn CashBag sponsored incentives based on their activity, transaction volume and social sharing of the platform.
Merchants and advertisers offering services and products on CashBag can pay their advertising fees using CBC token.
Cashbag users can earn CBC for acting on and sharing curated advertising content ranging from news stories to videos, movie or product launches.
Cardbag linked VISA / Mastercard debit card will enable members to transact globally, using CBC to purchase at real world merchants, withdraw cash and instantaneously access their funds using just in time (JIT) funding.
TOKEN SALE DETAILS
During the presale send Ethereum (ETH) to the presale address to secure your tokens and bonus. Tokens will be allocated after the crowdsale is completed. During the crowdsale, tokens are purchased by sending Ethereum (ETH) to the smart contract address. The Sale Period will begin on 12 March 2018 and continue until either (a) 120,000,000 tokens are sold or (b) 30 days from token sale launch. A smart contract will deliver the tokens during the token sale.
TOKEN DISTRIBUTION
Kind Regards, please ensure to join this great project.
For more information, please click the links below:
Official website : https://tokensale.cashbag.co/
Ann Thread: https://bitcointalk.org/index.php?topic=2311052.0
White paper: https://tokensale.cashbag.co/documents/CB_Token_Sale_Whitepaper.pdf
Twitter: https://twitter.com/CashBagco
Facebook: https://www.facebook.com/Cashbag.co/
LINKEDIN : https://www.linkedin.com/company/cashbag.co.za/
Telegram: http://t.me/cashbagtoken / http://t.me/CashBag
Author: Martilda
Profile link: https://bitcointalk.org/index.php?action=profile;u=1887582
Eth addres: 0xd0D5d98857192B3931c831b7B809D47CD830da32