Casper – Platform for DApp developers to storage data
Casper API is a new Russian start-up, which has a rather promising future. Its main goal is to connect developers who require services for reliable data storage, and those who can provide them with a valuable space within its framework. It can be either simple users who want to profit without much effort, as well as specialized data centers. The platform promises to be completely decentralized and work on the basis of smart contracts to quickly connect the right partners, while ensuring the complete security of each party.
It is noteworthy that the Casper API has the ability to work with any platform based on the blockchain system with smart contracts, which at the moment is a nonsense in this area.
To use the capabilities of the Casper API, only a custom application is required.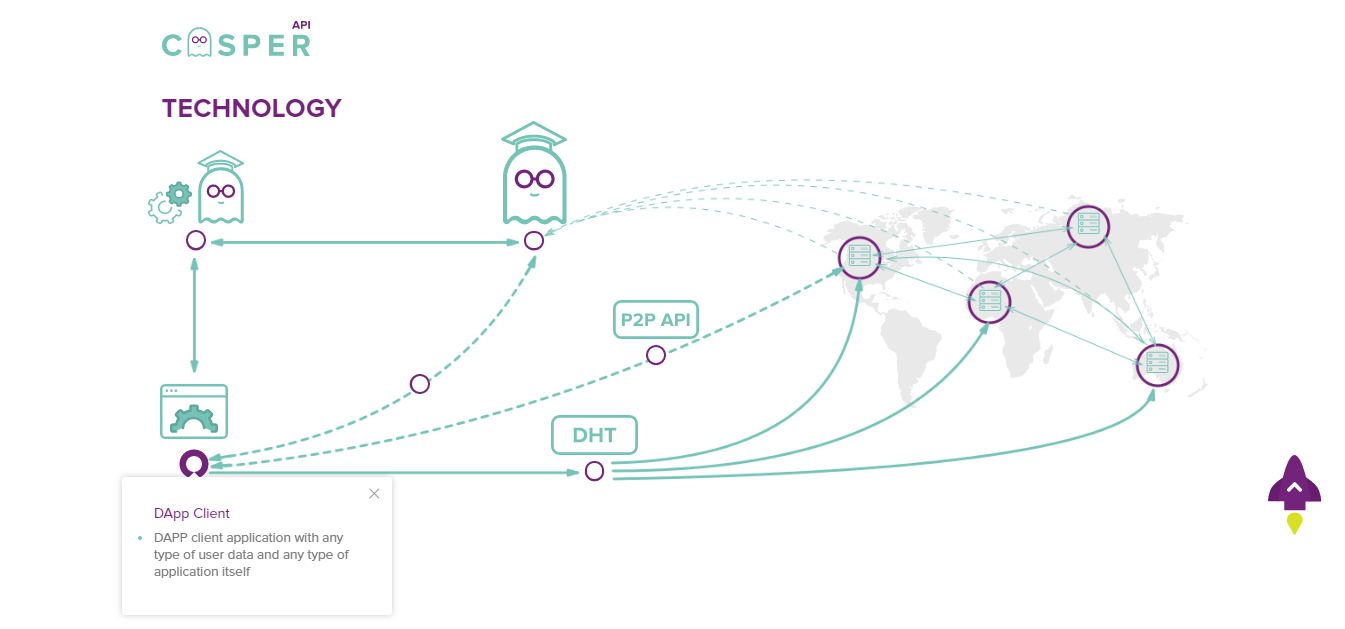 The main advantages of the Casper API platform are the following:
Introducing of smart contracts on the basis of any blockchain platform allows data to be transferred quickly and safely;
Files are encrypted with a trusted code, and are also divided into parts for the transfer, so that third parties cannot access them and take advantage of your intellectual property;
Reliability of the system as a whole, which is provided by duplication of parts, dynamic analysis and correction of failures.
Blokchan is an incredibly advanced technology of its time, which gives many benefits to all its users – both business representatives and their customers. But any system has a significant drawback, for example, in this case, blockchain technology is an overcharge for storing data within the system, and there is also no guarantee that the data will remain completely confidential. The global goal of the Casper API is to solve this problem in the most efficient and reliable way by creating a decentralized data warehouse at a low cost based on blockchain technologies so that your data in any situation remains truly protected and private.
How does the Casper API work? The creators tried to make a really functional, but at the same time cheap hard drive for DApp on the basis of the famous Etherium and other trustworthy blockchain-based platforms. This repository will have all the necessary features and capabilities for your complete reliability – data encryption, all private settings, as well as the ability to download, delete or edit your files.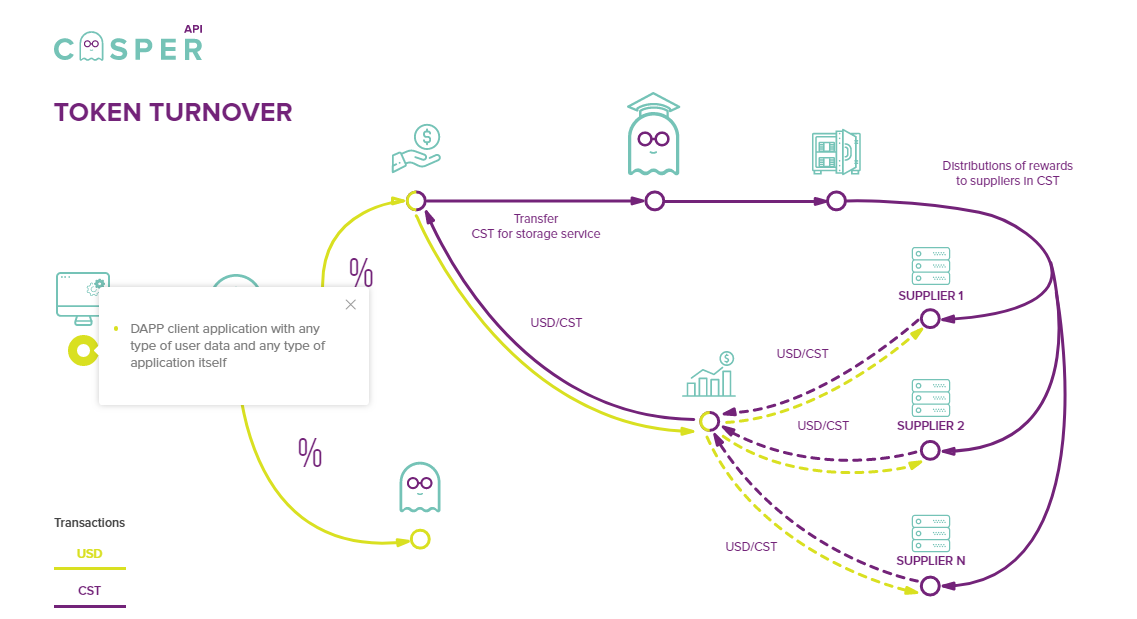 The Casper API smart contract is responsible for the ability to pay for the use of storage resources. To connect to the Casper API system, using its maximum capabilities, you need the Casper API client application. With its help, developers of DApp applications will rise their projects to a really new level, creating high-quality client applications based on Etherium and in aggregate in a functional hard drive from the Casper API.
Using the Casper API platform, DApp developers can now create applications with an incredibly simple interface if necessary, as well as take as a basis known applications and make them a good competition, as well as create fundamentally new unique projects. Now traditional mail services, as well as cloud data stores can be accessed on the basis of the service blockchain. All this in combination allows creating even complex systems and services, for example, for sale, and organize their work on the basis of blockchain technologies.
At this point, it is obvious that the Casper API system, like the direction of data storage based on the blockchain technology in general, has great prospects and a stable future. There are many supporters of the fact that many of the usual services – social networks, e-mail, government services, banking services, shops, etc. moved to work on the basis of blockchain technology. Thus, all operations within it will become truly transparent, generating user confidence, and will no longer depend on a certain number of people.
Casper use prospects
Casper is a data storage network, which may prove interesting for users of typical cloud services. One Casper's distinguishing trait is absence of a common fault point, such as a DNS service. However, Casper is built to comply with blockchain principles, i.e., automated implementation of user requests, regulation by network participants, absence of a common point of decision-making, independence from individuals and organizations. This enables sustainable use of Casper DApps without degradation of their characteristics
Casper Features
Casper enables users to upload random files to a cloud service, and access them later from any device.
Casper's basic features:
● Encoding of stored files
● High file upload/download rate thanks to peer-to-peer technology
● Shared file access
● Feasible data storage pricing
File encoding ensures data is stored confidentially. Each file is encoded at the user's side before transfer, and only the user keeps encryption keys. Only the user may transfer encryption keys to someone else to share access to the file.
Casper Token
Website: http://www.casperproject.io/
White Paper: http://www.casperproject.io/docs/Casper_whitepaper_eng.pdf
My BitcoinTalk Profile:https://bitcointalk.org/index.php?action=profile;u=1500092