Casper Project! First system of decentralized cloud-based data storage!
Hi, my dear friends! I want to tell you today where you can securely store your data and earn on it!
DApps is a decentralized, transparent, and more resilient to attack applications that are built on blockchain technology. This technology itself is a database that is open for viewing, where all information cells are linked to each other cryptologically and have the structure of immutable blocks. This ensures a higher level of data security and transparency for all users.
In addition, it is necessary to understand what decentralization means in dApps. Many users confuse this definition with distribution, so we will focus on it. A decentralized system is a structure where individual stand-alone computers are connected to one network and interact with each other to achieve one specific goal.
In the case of decentralization, everything works a little differently. Decentralized computing involves allocating resources to each participating node. That is, individual links do not tell each other what to do. We find that the dApps running on the system P2P computers.
To date, there are more than 1,000 registered decentralized applications. They affect not only economic, but also many other spheres, e.g. media, sports betting, games, voting, mail services, etc. Most of them are built on top of Ethereum. Every day the supply and demand for such products is growing, so there is a high probability that in the near future the majority of users will give up centralized systems and move to a more secure and transparent dApps.
I recommend you to pay attention to the Casper project, which will be carried out by ICO for the development of its product dApps, as they have already successfully conducted Pre-sale and behind this idea is the Russian Agency Legion Digital, which has good experience in this field.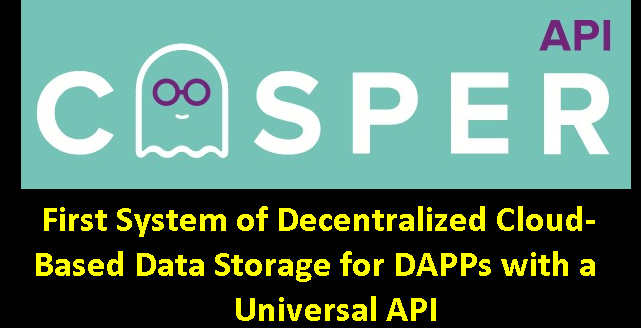 Here dApps are a decentralized repository of your content such as photos, videos, audio recordings, tables and their storage carried out jointly by suppliers, members of the ecosystem, providing their hard drives for transmission and protection. In return for providing part of the memory of their laptops, computers or other devices, they receive tokens.
More and more you need to process information every day: developing at a fast pace the Internet of things, Autonomous vehicles, and crypto currencies and they all require a large area for computation and storage.
It is for this reason that the project team took up this issue. With this product, your information will be in a secure vault, safe, completely confidential and only you have access to it. Now you will not allow intermediaries to earn on your personal data, which they can say stole from you. In addition, you will be able to make a profit by providing their memory cells to other participants or giving their data to firms, corporations.


What advantages will you have:
Resistance to censorship.
Without a single center and host, a decentralized application cannot be destroyed or changed by force. With the right approach, even disabling the Internet will not cut down your network and your application will be able to work with those users who are nearby.
Speed. 
In a decentralized network, pieces of data needed to run the application can be pumped from several nearby machines participating in the work of DApp!
Privacy of information.
In a decentralized network, information can be stored as a set of encrypted synchronized copies of the blockchain — while the information itself is at all, but the ability to get and use it only you — the owner of the key.
Resource saving.
All the power of the network is combined, so that all its nodes work on one blockchain. And all the power of this computer can be used for the benefit of DApp based on this network. At the same time, you being part of the network infrastructure, can make useful calculations for it even on your phone — using your idle power and getting paid for it by the cryptocurrency network!
Pre-sale of tokens has already taken place and behind the idea of this project is the Legion Digital team with good experience in this field.
But there is still the main sale of tokens, where you can take an active part. I recommend you to join, you will see a picture of the distribution of tokens:
More information on these links: