In this internet driven digital economy, there are many digital platforms with digital assets. The simple meaning of digital asset is any text or media that can be programmed into binary source code. Digital files are not included in this and they can't be termed as digital assets. A digital asset can be a motion picture to a document, crypto and many other things. This my article will be on crypto which is a digitalized decentralized currency, the context of my focus will be about one the unique exchange platform out there for this kind of digital assets.
The way cryptocurrency which is a form of digital assets is being created is by using encryption process to moderate the generation of its units and validate its transfer within seconds. This process is far better than the conventional method which waste more time and resources. The conventional financial system face many critical issues which I will further explain here.
Introducing Cat Exchange (CATEX)
Catex is the short term for catexchange which was created in August, 2018. Currently, there is no exchange like Catex, it is quite unique when compares to others. This is not a statement of exaggeration but it is not and I will surely explain what I see before saying so. Most of the existing exchange out there don't care much about the interest of their users, what they care about most times is how to make huge money off their users by demanding high transactions fee and many other excessive charges.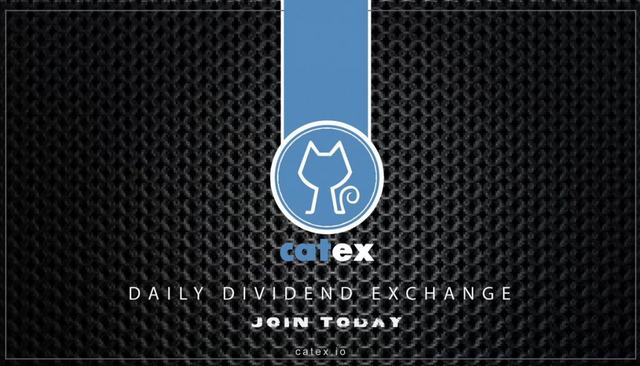 Catex exchange is built for the community and it is being managed by them which is very rare in other platforms. The meaning of this is that users of the exchange will always be the ones to vote on critical decisions on the exchange which the team will then implement the result of the polls. Catex team are well experienced in the industry and they have what it takes to run such an innovative platform.

Problems With Existing Digital Asset Exchanges
With the advent of the innovative blockchain technology, thousands of crypto coins and tokens have been created and the obvious truth is that many of them find it very difficult to get listefon exchange platforms and even after getting listed on some of them, traders still face the issue of volume exorbitant transactions fee. High transactions fees, low liquidity, non intuitive interface, hacks, phising and frauds are the news that we always read in the industry every day.
Another frustrating thing about most of the centralized exchange platforms is the issue of KYC, in some platforms out there, getting verified take a while and if you have already deposited into it, you won't be able to withdraw it again without completing the kyc.
Features Of Catex
Multiple Trading Pairs: Users of the platform will have the chance to trade in many trading pairs. There will be catt, bitcoin, ethereum, neo, stellar, ripple, tron, iost, litecoin, dash and many others.
Easy To Use Interface: The interface of Catex platform is well designed and it is very to navigate even for a novice trader. A trial will convince you about this because am making use of it.
Customer Service/Support: Users with any issue that might arise will get 24/7 support, they can either send a mail or visit their telegram handle for instant answers. There are different languages available which users can choose from but the default will be English.
Liquidity: This is the most important thing to watch out for in an exchange catex will create good liquidity for its traders.
Advantages Of Using Catex
Referral extra: Users who bring new traders to the platform will be compensated for the work done. He or she will get a 10% referral reward when referrals make a trade, all rewards will be in catt.
Mining: Users should bolt their catt tokens and thusly get catt tokens at a limited rate contrasted with its present trading an incentive with a 5% mining reward.
Profit: 90% of all incomes got from trading expenses will be circulated to catt token holders.
Buyback and burning program: A buyback account was made to ensure the market estimation of catt.
Casting a ballot: Tokens with most noteworthy votes in number one and two will be recorded week after week, clients can vote in favor of their most loved projects with 10 catt tokens for every vote.
Security: It is protected to state this is the most vital component of any exchange, the capacity to rest during the evening with no nervousness that funds stored can get stolen. Catex integrated two-factor validation, alphanumeric login codes, trading codes, and pulling back codes to guarantee the security of saved resources.
Catex Applications
Catex made a mobile application that has an incredible interface and above all easy to understand, the mobile application is anything but difficult to explore and is accessible on both Android and Apple download stores.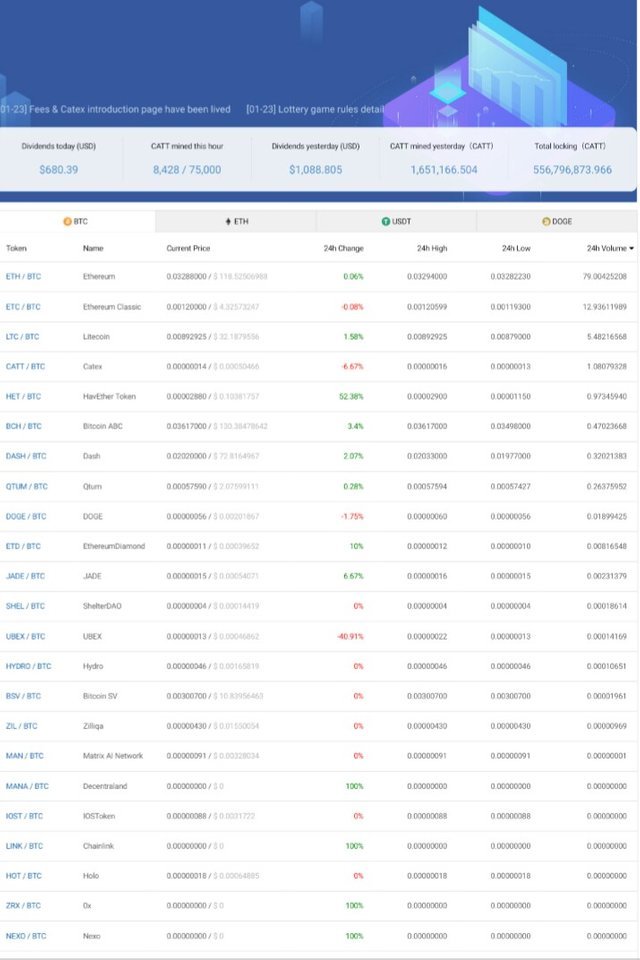 CATEX Tokens (CATT)
Catt is the abbreviation of catextokens which was made on the ethereum blockchain in this way making it erc-20 agreeable. Catt will be utilized as the standard cryptocurrency for every executed exchange on catex, utilizing catt will draw in limits on service charges when trading. Catt can be purchased or sold by and by on catex, to safeguard the token esteem, the team has chosen to start a buyback and consume program and no other token will ever be made, mined or stamped.
On February fifteenth, 2019, an astounding news was shared 
@catexofficial
the twitter handle of feline exchange, they are presently recorded with coingecko. With this critical news, clients can undoubtedly get the most recent cost of catt, recorded sets, trading volume, trading charges, exchanges it is at present recorded on, and get liquidity status with only a tick. Catt token is additionally presently recorded on three exchanges with additional in transit.
Catex Team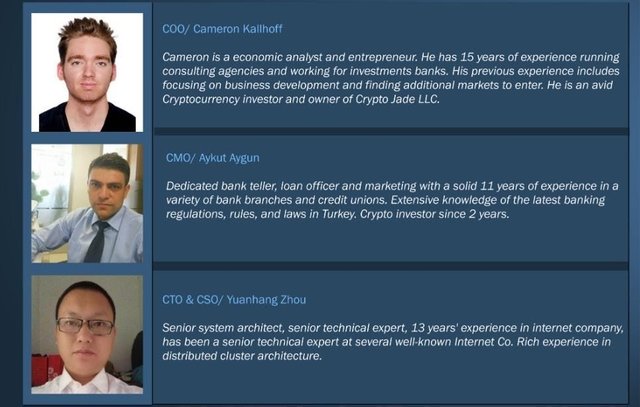 Check any of the following links below for information about the project :
Bitcointalk Profile Link :