Champions coin review

The development of blockchain technology has greatly improved and made ways for the quick growth of lots of digital assets basically cryptocurrency which propelled the likes of Bitcoin, ethereum and other altcoins.
Nevertheless there have been numerous disruptions of notable industrial sectors by blockchain innovation and the level of great adoption rate of these digital currencies especially by individuals that have excelled and understand the capabilities of crypto world. Since then we have witness the entrance of many cyptocurrency exchanges, where this digital assets or cryptocurrencies are trade against one another.
The worrisome issue that has lingered for sometimes is the centralized nature of many of these trading exchanges which has led to some critical inefficiency in their mode of operations such as, security issues, time consuming trades, difficult verification process and requirements, high barriers for newbies (potential user).
Champion Shave, a superstar-owned shaving company, has outlined its intentions to launch its own cryptocurrency token. Champion Shave is set to launch its own currency, going by the name of the Champion Coin, with the initial coin offering (ICO) building up at the end of the month. The pre-ICO is set to start on October 29th, and according to the official announcement, the idea is to deploy blockchain technology to "enable Champion Shave to track every detail of their supply chain end-to-end; greatly reducing costs and increasing efficiency by providing an open, immutable, global, online ledger for tracking freight movement".
The company was established in 2016 by 100m world record holder, Fusain Bolt, soccer legend, Ronaldinho, and NBA legend, Dominique Wilkins.
Since its inception, the company has sold over 10 million razor products. The products are available in 17 countries across the world. According to Manny Bains, the CEO of Champion Shave, the firm is revolutionizing the men's grooming sector that is valued at $47 billion. They intend to further this transformation by adopting a blockchain-based solution for their supply chain and customer data management.
Manny states that Champion Shave will use blockchain technology to track the entirety of the supply chain. This would reduce expenses and enhance efficiency by offering a transparent, unalterable and decentralized ledger for tracking movement of freight. Moreover, Champion Shave will conduct an ICO where it will issue its cryptocurrency token, called Champion Coin.
Champion Shave is a major player in the men's grooming industry. The company produces shaving razors that serve customers globally. Recently, the company patented a disposable razor blade that is 100% recyclable. Therefore, blockchain will greatly help towards managing services in the lucrative men's grooming industry.
Interestingly, the firm has the backing of celebrities in the sports arena, from soccer to the track. They include Ronaldinho Gaucho, a former soccer star and 100-meters sprint record holder Usain Bolt. At the center of the company's mission is to provide the best products that are eco-friendly and ergonomic.
Currently, supply chain management for international men's grooming companies, including Champion Shave, is logistically inefficient and expensive. Champion Shave alone has several different types of razors, consisting of differing handles, heads, and blades. All of which are only compatible with their specifically designed counterpart. The differing blades come from different countries as do the other components of the razors. All of which are delivered to the assemblage factory in China. Once there, all products must be assembled with their compatible components and sent to another factory where they are packaged. Once they arrive at the packaging factory, the razors must be packaged correctly in line with order submissions from vendors worldwide. After packaging they are shipped to 17 countries across the globe.
Throughout this process there are several deficiencies, inefficiencies, mistakes, losses, and instances of theft. Steel that is imported from Germany, as opposed to China, is used in blades that have several unique qualities and are designed to be sold to different demographics (consistent with their facial skin sensitivity). As stated before certain steel blades only fit on certain heads, as do certain heads onto specific handles, without a blockchain solution it is simply not possible to not only have large inefficiencies that affect the entire supply chain. With the implementation of a block chained supply chain management system, Champion Shave will be able to pinpoint where consistent inefficiencies lie.
Solutions profounded
Increased Transparency: Champion Shave prides itself on providing the highest-quality razors at the most affordable price. Their blades are from Sweden and Japan. With a block chained supply chain customers and distributers can verify the exact origin of the materials used to make the razors.
Granular Traceability: When a customer in Asunción purchases a rusted Champion Shave Razor, the Blockchain will enable Champion Shave to pinpoint exactly where the problem originated so that future problems will be prevented.
Cut Costs: Champion Shave razors come in many different varieties. Due to human error, incompatible components of the razors get packaged together thus wasting resources and time, while reducing profitability per unit.
Competitive Advantage: The blockchain enables Champion Shave to ship to vendors sooner because freight is paid in Champion Coin via a smart contract. Once payment is submitted to the blockchain, the factories can instantly confirm receipt of funds without the possibility of them being retracted, allowing them to ship products sooner and get them on the shelves faster.
Customized and Complicated: Champion Shave customizes its packaging and razors for each global partner and athlete.
The objective of the Champion Coin and Champion Shave blockchain ecosystem is to eliminate intermediaries and charges in cross-border transactions. In addition to increased efficiency, Champion coin users will get rewards and discounts for shaving products.
Conclusively,The Champion Coin Ecosystem curtails expenses by eliminating middle-men and transaction fees by providing an open, immutable, global, online ledger for tracking freight movement.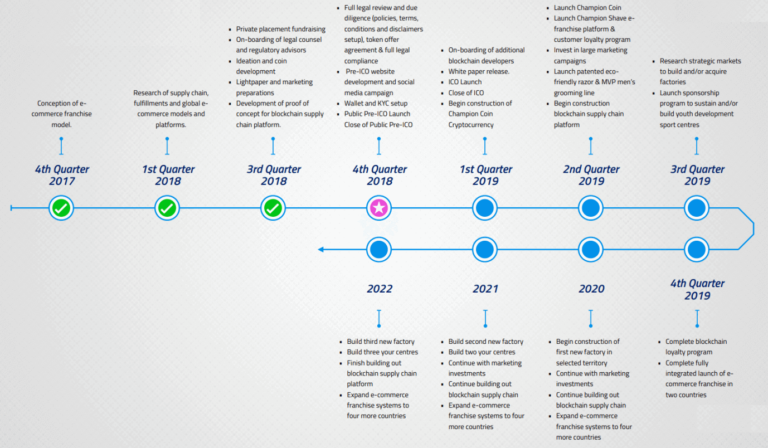 For more info access the links below
WEBSITE | LIGHTPAPER | TELEGRAM | FACEBOOK | TWITTER | REDDIT | ANN POST
Author: Dulo Wegner