Cibus World – Food Ecosystem on Blockchain
Introducing
Nowadays with increasing numbers of people increasingly encourage the availability of food needs and food supplements. Communities certainly look for nutritious food sources to suit their needs, and look directly at the nutritional information sections normally supplied by food supplies suppliers. However, many problems faced by the community in finding this nutritional value information, sometimes the suppliers do not include information on the value of nutrition in accordance with the actual information. This leads to a decrease in consumer confidence in food suppliers, as it is well known that the transparency of information about the nutritional value contained in food or dietary supplements is needed by consumers for the sake of their need.

Getting Started Development
We recognize that this is a serious problem and begin to develop a platform, where producers can further develop and launch products to market with no bound to any system, and customers will get real information about the products they buy. We will develop a platform called "CIBUS", which offers a large number of services on platforms facilitated by CIBUS tokens and supported by CIBUS communities scattered around the world, so the problems experienced by consumers and manufacturers today can be handled well, and true business potential can be realized by its users.

GLOBAL FOOD BUSINESS ECOSYSTEM ON CIBUS BLOCKCHAIN
CIBUS transparent global food business ecosystem on blockchain technology can promote following categories of
food businesses on global platform:
● Agricultural production
● Industrial manufacturing of processed foods
● Wholesale or retail food distribution
CIBUS blockchain based business ecosystem can offer well suited solutions to the majority of recurring quality and
authenticity problems in food business supply chains worldwide. Benefits can be enjoyed in following areas:
● Traceability of ingredients and packaging materials for best food safety
● Brand protection resulting to brand equity establishment
● Consumption of real time data to adhere to regulatory audits
● Monitoring of delivery condition of temperature for sensitive products
● Ensuring compliance to GFSI motivated VACCP (Vulnerability Assessment and Critical Control Points)
guidelines.
● Fast recovery of food safety data in case of product recall
● Accurate traceability implanted in supply chain will enable partner producers to deal with problematic
products fast.
In conclusion
We believe that blockchain technology is the most important part of it, we can build a platform that is safer and better than similar platforms.

TOKEN SALES – JOIN OPPORTUNITY
With this opportunity, we invite you to enlarge this Platform, to reach the Broader Society. We will release the Token under the name "CIBUS Token ", here is the data.
•  Name:  CBT
•  Token exchange rate: 1 ETH = 1000 CIBUS Token
•  Total token supply (max):  100,000,000 CBT
•  PRE - TGE TOKEN SALE END DATE:  10:59 AM (GMT) on February 28, 2018
•  ICO Token Sale Start Date: 11:00 AM (GMT) on February 28, 2018 
•  Payment methods: BTC, ETH, LTC, DASH
•  Soft cap: 5,000,000 CBT
•  Hard cap: 40,000,000 CBT
•  Min purchase: 10 CBT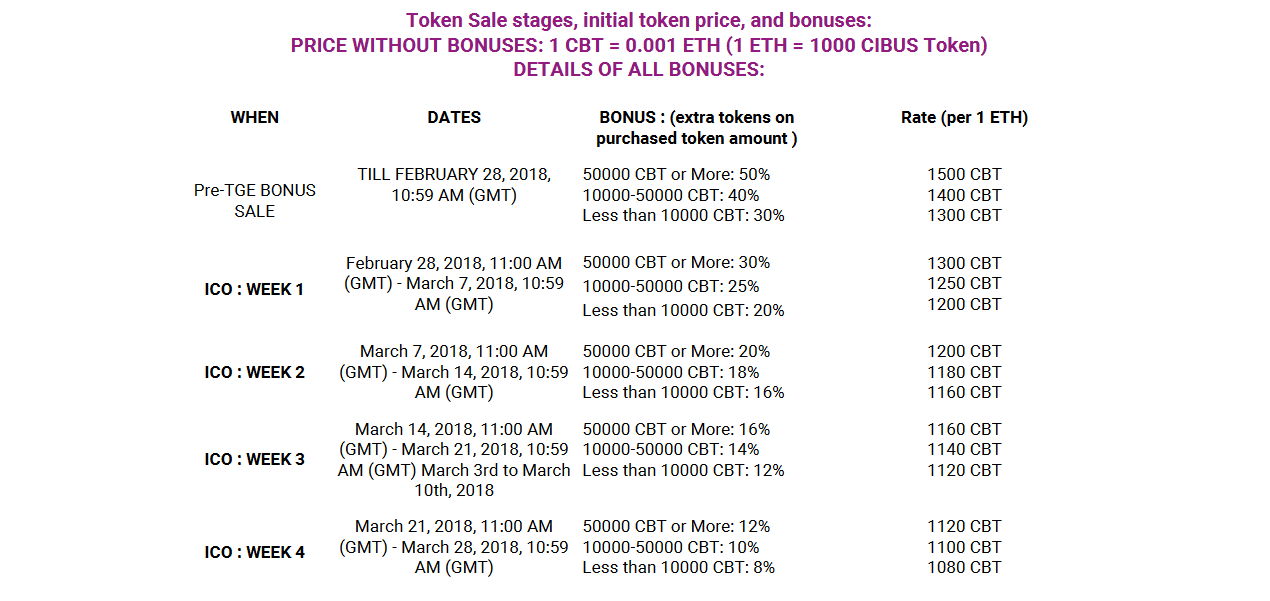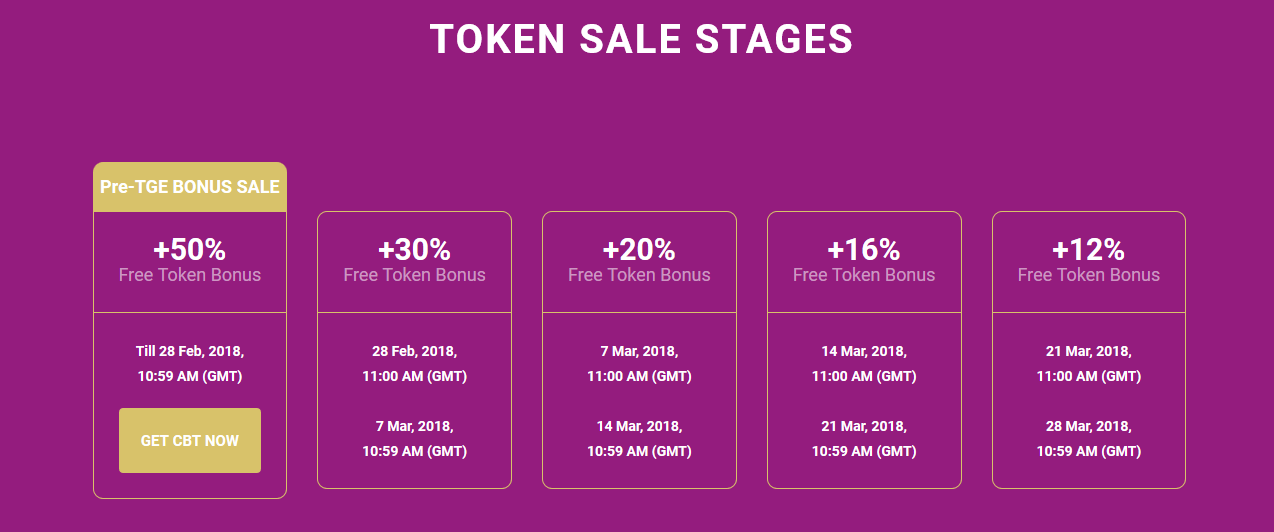 ROADMAP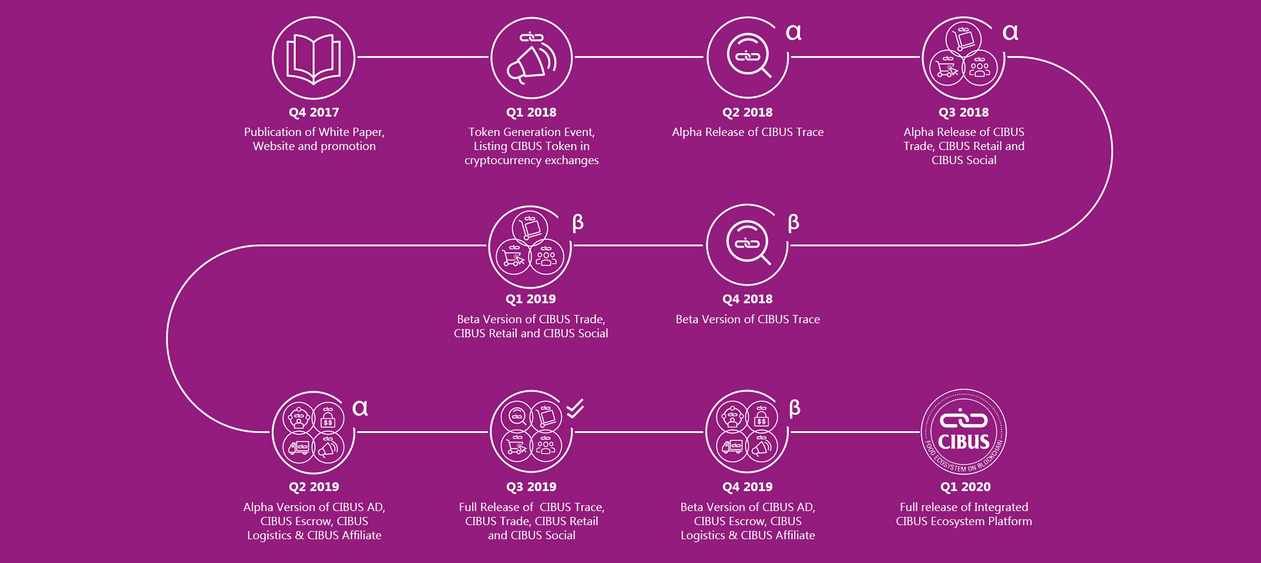 Visit;
Website: https://cibus.world/
Whitepaper: https://cdn.cibus.world/wp-content/uploads/2018/01/cibus-whitepaper-version-1.6.pdf
Facebook: https://www.facebook.com/cibusworld/
Twitter: https://twitter.com/cibusworld
My profile Bitcointalk:https://bitcointalk.org/index.php?action=profile;u=1015910