Cloudbric Secure Your Blockchain Experience
ICO market is nowadays pretty similar to the Wild West during the gold rush period. It is possible to earn money very quickly, sometimes even good money, but you have to find a perfect spot, or in this case, a good project to invest. Common thing to the Wild West? No guaranties and almost no law. It is pretty easy to find bad cowboys which are going to promise you golden mountains to steal your last piece of bread. So in all this mess, if you want to find your gold nugget, you can trust just your own brain composites.
So did I and during my research I found the project in which I really put my faith: CLOUDBRIC Very likely you haven't heard about them, project is made by great team members. Nevertheless, guys have an advantage, many other teams does not: already existing product made on a very perspective field. But these are not all pluses I found in this project. Below you can read the analysis and decide on your own, do you want to send some pennies to the pot.
Annually criminals steal various cryptocurrency assets of hundreds millions of dollars, hacking up exchanges and wallets of users. In addition to money, which for users are irretrievably lost, in the hands of hackers there are the personal data of investors and traders. Almost daily, news comes about breaking into a regular exchange, finding a vulnerability in a wallet or stealing funds from the ICO. Together with money, scammers get access to these users, information on their accounts, passport data and even the address of residence of investors. Nobody knows how the criminals will proceed with these data. Now many exchanges and ICO require verification of users. Therefore, investors risk not only money, but personal data.
Now in the world there are more than 1600 solutions in the field of cybersecurity. The choice of different antiviruses is so great that users are not able to understand it. Most antiviruses compete with each other and it is impossible to install 2 antivirus software on one device at once. However, no antivirus gives full protection against viruses.
The developers of antivirus software always work after the fact. Hackers go one step further, they come up with a virus, it is launched. The developers of antiviruses are only forced to fix the virus and take measures to eliminate it. The elimination of the virus and its consequences takes from several days to several weeks. The problem for all antivirus developers is that their databases are always closed, because there is very strong competition between the developers themselves. No one can say how complete the base of one or another antivirus developer is, how often information is updated in it and how relevant it is.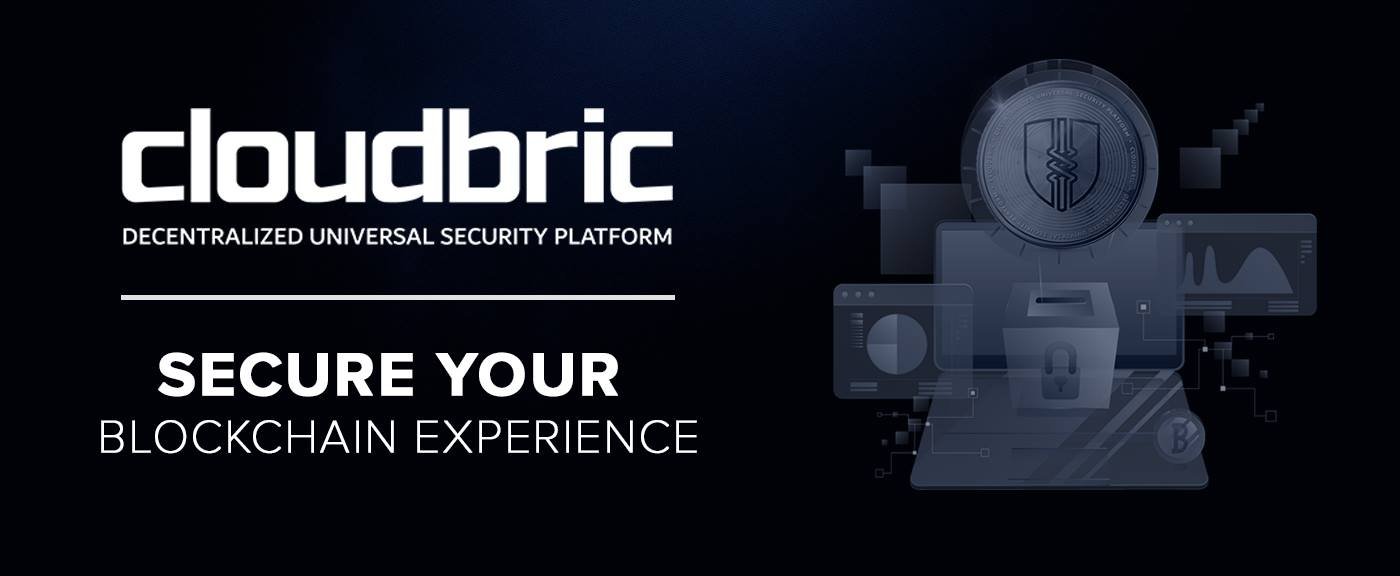 Cloudbric offers a completely different approach to security. All information about all existing viruses is absolutely open and stored on a decentralized platform. This information is recorded on the blockchain, it can not be changed, destroyed, overwritten. Any person or company in the field of cybersecurity can get acquainted with this information without fear of competitors. Thus, all information about the viruses, vulnerabilities and threats that are emerging becomes available to the public almost immediately after the threat. Hackers simply do not have time to take advantage of the fruits of their virus, which makes viruses not economically viable. They spend time and money on their creation and development, and scammers can not wait for the result of the virus's work if the antivirus works and blocks the virus in time.
But this is not all the capabilities of the Cloudbric antivirus. Through the use of artificial intelligence, the system itself anticipates the possible weaknesses of certain elements and prevents them. Thus, the emergence of possible viruses is anticipated and measures of protection against them are developed even before the appearance of the virus.
The Cloudbric product has long existed and is successfully used. Cloudbric is used by more than 10,000 users, more than 50 enterprises and 25 data centers to protect their users' data.
Moreover, the Cloudbric product at various times was awarded various international awards, including prizes, awards from SC Magazine, Stevie Awards, Info Security PG and others.
To read more about the Cloudbric
Web: https://www.cloudbric.io/
Whitepaper: https://ico.cloudbric.io/upload/file/Cloudbric_Whitepaper_EN.pdf
Bitcointalk ANN: https://bitcointalk.org/index.php?topic=4376899.0
Bounty BTT: https://bitcointalk.org/index.php?topic=4265957.0
Cloudbric blog: https://www.cloudbric.com/blog/
Telegram: https://t.me/cloudbric
Twitter: https://twitter.com/cloudbric
Reddit: https://www.reddit.com/r/cloudbric/
LinkedIn: https://www.linkedin.com/company/cloudbric/
Author
Nisot505
Bitcointalk.org: https://bitcointalk.org/index.php?action=profile;u=2343231