COBO WALLET: THE CRYPTOCURRENCY WALLET FOR POS AND MASTERNODE COINS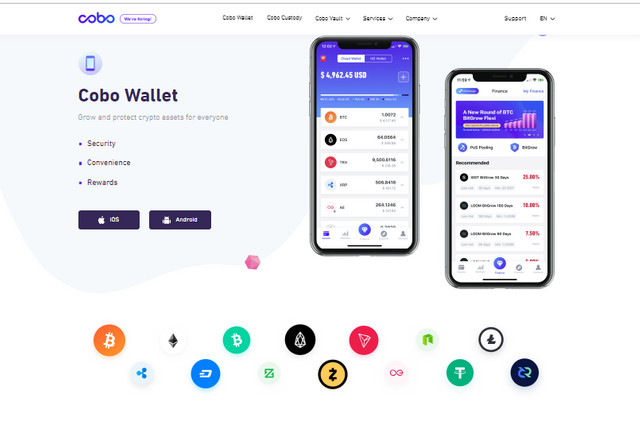 Introduction
The COBO Wallet is an All-in-One-Wallet that supports both Cloud and HD wallet. It is a wallet that is based on Proof-of-Stake (PoS) and Masternodes. It can be utilized as a payment method or used in exchanging goods and services. The Cobo wallet is also available on both Android and iOS which can be downloaded at https://cobo.com/wallet
Cobo wallet is a distinctive and professional asset management that is well designed for crypto traders or cryptocurrency enthusiasts in utilizing the use of digital asset. The Cobo wallet is built with sophisticated technology that makes it more unique and easy to use with the advantage of increased digital assets. Users who utilizes the Cobo Wallet enjoys increase in digital asset likewise enjoying some dividends without risk.
The Cobo Wallet is a Beijing-based cryptocurrency wallet that is led by DHVC and Wu Capital which is an office based in China. It has raised more than $13 million and also plans to establish its offices in the United States and Southeast Asia like Indonesia and Vietnam. The wallet has about more than 500,000 users utilizing the wallet while also enjoying increased digital assets and dividends.
THE FUNCTIONALITIES AND UNIQUENESS OF COBO WALLET
The COBO Wallet is an All-in-One-Wallet that supports both Cloud and HD wallet. The wallet is designed in such a way that makes it more unique and faster to send digital assets between users of the COBO wallet.
The Cobo wallet supports BTC, ETH, BCH, DASH, LTC, ETC, TRX, EOS and ETH, TRX, EOS and other 500 tokens and Dapp stores, Cobo wallet aims and strives to revolutionize the cryptocurrency market at large by offering over twenty different coins and 500 tokens with a registered users of 500,0000 worldwide.
Cobo wallet rewards users through dividends. Users who leverage Cobo wallet enjoys increased digital asset thereby providing reward investment through the utilization of digital asset growth tools for PoS and PoW coins.
Cobo wallet provides Dapp store by empowering the most popular Dapps in order to make transaction payment easier and faster.
Cobo wallet is also developed and built with maximum tools which make the wallet more secured and easily navigated. The wallet is built with sophisticated tools which has features of multi-factor authentication with Hot-cold storage technology.
Users utilizing the Cobo wallet will be able to select the type of cryptocurrency node to use
The Cobo wallet is developed by great and professional team with diverse knowledge about blockchain technology and cryptocurrency market.
Cobo also aims to be the best with diversification and inclusion of modern technologies.
Users will be able to make use of their private key to import their digital asset.
Users will also be able to send and receive digital asset.
COBO VAULT AND ITS FEATURES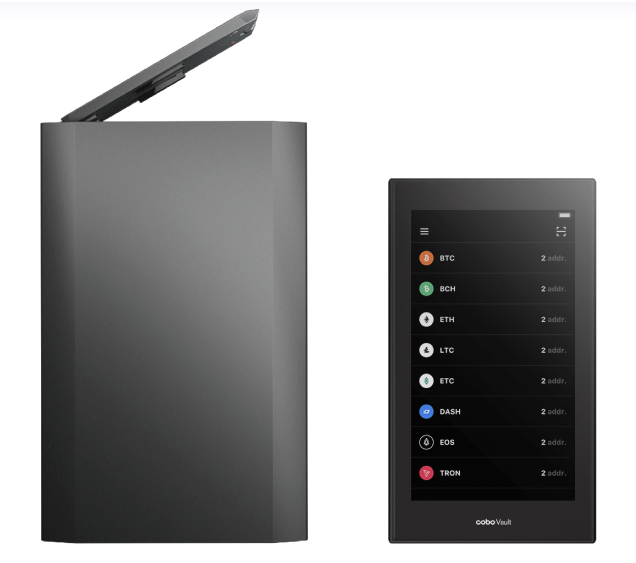 Cobo Vault has military grade durability
The Valut has a bank-grade encryption chip
Cobo Vault secure the transfer of data
It's also has multi-signature for added security.
COBO WALLET APP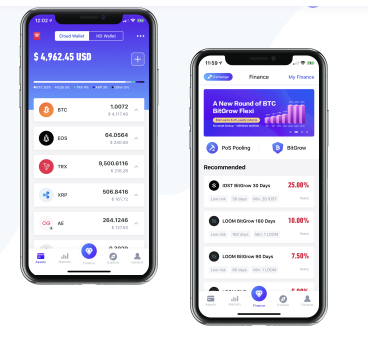 Cobo wallet will be utilized by users for different functionalities ranging from storing, sending of cryptocurrency assets. The Cobo wallet APP is made available on both Android and iOS which can be downloaded at https://cobo.com/wallet
STEPS ON HOW TO REGISTER THE COBO WALLET APP
The Cobo wallet APP is made available on both Android and iOS which can be downloaded at https://cobo.com/wallet
After downloading and installing the App
You can choose either Cloud wallet or HD wallet which can be seen at the top of the App when opened.
Click on Register, input your email or phone number and click next
Verify your email or Phone Number
Copy the 24keyword security passphrase and put it down somewhere safe and verify it by filling in the key appropriately
Congratulations as you can now navigate and access your digital asset with dividend benefits.
COBO CANDY (CC)
The COBO candy is the main token to be used in the Cobo wallet. The token can also be used as a reward for utilizing the Cobo wallet and can also be used to exchange for other products and services offered by the platform.
THE TEAM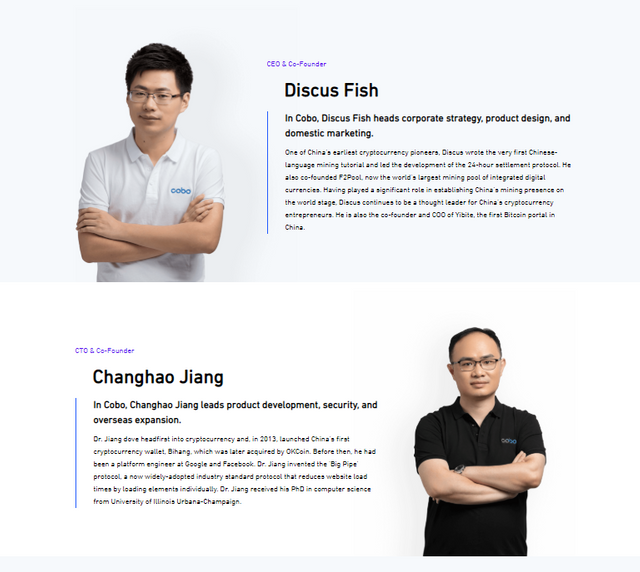 Kindly visit the below website for more in depth knowledge about the project:
Website: http://cobo.com/
Facebook: https://www.facebook.com/coboOfficial
Twitter: https://twitter.com/Cobo_Wallet
Linkedin: https://www.linkedin.com/company/coboofficial?lipi=urn%3Ali%3Apage%3Ad_flagship3_pulse_read%3BVGWSNg2kQRugu11jbukzPg%3D%3D
Telegram: https://t.me/cobowallet
Medium: https://medium.com/cobowallet
Youtube: https://www.youtube.com/channel/UC4pPHVxoBYQubw19zL9tu-A/videos
Bitcointalk username: bosunbossman
Bitcointalk profile link: https://bitcointalk.org/index.php?action=profile;u=1197648;sa=summary