COOL COUSIN – WE ARE TRAVEL
PRESENTATION
Tourism is travel for pleasure or business also the theory and practice of touring, the business of attracting,accommodating and entertaining tourists and the business of operating tours.Tourism may be international or within the traveller's country.The World Tourism Organization defines tourism more generally,in terms which go beyond the common perception of tourism as being limited to holiday activity only,as people traveling to and staying in places outside their usual environment for not more than one consecutive year for leisure,business and other purposes.
A travel agency is a private retailer or public service that provides travel and tourism related services to the public on behalf of suppliers such as activities,airlines,car rentals,cruise lines,hotels,railways,travel insurance and package tours.In addition to dealing with ordinary tourists,most travel agencies have a separate department devoted to making travel arrangements for business travelers;some travel agencies specialize in commercial and business travel only.
Launched in 2016,Cool Cousin is a VC-backed travel company used by over 500K travelers worldwide. Crowned as an up-and-coming travel service by New York Times,Guardian,USA Today,National Geographic and TechCrunch,Cool Cousin enjoys monthly double-digit growth and is well positioned to become a major player in the $2.3 trillion travel industry.
How Cool Cousin works
The modern tourist market is experiencing a powerful impact of operators and companies who need to sell their services and goods at any price. The Internet is flooded with false reviews and articles that do not provide real and useful information, but try to induce a person to buy.
Because of this, the tourist, choosing a place of residence, transportation and interesting places for a trip, does not receive objective information. This affects the entire tourism industry.
The solution to the problem was suggested by Cool Cousin developers. In 2016, they introduced an application for tourists from around the world. Relevant, useful and, most importantly, reliable information about everything that can interest travelers in 70 countries is in it.
Feature of Cool Cousin is sources of information. The site does not cooperate with travel companies, but collects information directly from local residents. Before registering in Cool Cousin, they undergo a verification procedure and confirm that they really live in the specified location.
In fact, the Cool Cousin user gets a virtual guide at his disposal. Communicating with local residents on the platform, tourists get true information about where to go, where to live and how to get to interesting places.
The Benefits of Cool Cousin
The main advantage of Cool Cousin, which will help the site win competition is reliable information. There are no marketers, representatives of travel agencies or hoteliers. Before talking with a guide, you can study his profile, which indicates the gender, age, profession and other information. Also, a photograph is attached to the portfolio of a local resident.
Like another cryptocurrency project, Cool Cousin does not tolerate intermediaries. Tourists communicate directly with local residents, without involving a third party in this process. This is also an advantage of Cool Cousin: communication occurs faster and without distortion of information.
You can get advice from residents of 70 cities around the world using Cool Cousin. This is convenient for globetrotters: It is not necessary to search interesting features of a particular place each time on the Internet . It's enough to open Cool Cousin, find a person living, for example, in Barcelona, and ask him about all the sights, perks of the city and tourist "lifehacks".
Why is it profitable to invest in Cool Cousin?
The release of the Cool Cousin platform took place a year and a half ago – a sufficient time to evaluate the results of the project.
The number of Cool Cousin users increased by 220% in the last quarter of 2016. This indicates that the company has found a successful niche. The tourists had a request for a source of truthful information about popular places, and local residents got a good opportunity to earn.
The capacity of the tourist market is constantly growing. If in 2007 the cost of travelers around the world amounted to $ 1.9 trillion, then by 2017 the figure has grown to $ 2.3 trillion. The market will grow even more, to $ 3.5 trillion by 2027 according to the forecasts of the founders of Cool Cousin.
Mass media highly appreciated the Cool Cousin prospects. The "Los Angeles Times" described the application as one of the best among free apps for tourists. And reporters of "The New York Times" believe that Cool Cousin is ideal for all travelers who do not have cool cousin tourists.
CUZ Tokens
Cool Cousin is introducing an open-source ERC20 compatible cryptographic token,called CUZ
Public pre-sale will begin in March 2018
Crowd-sale will take place in April (Exact dates will be released soon)
The public token sale : 14 days (when we reach our hard cap)
Token Name : CUZ
Type : ERC20
Price : 1 ETH = 3,770 CUZ
Token Suply : 300,000,000 CUZ
SofCap : 4,500 ETH
HardCap : 17,500 ETH
Minimum purchase : 0.1 ETH.
Accept Payment : BTC,ETH and USD
We will examine the regulatory developments and framework,as they keep on changing in the different jurisdictions and follow the advice of our legal counsel.As of now,it looks like participants from Israel,Singapore and China will not be able to take part at the public ICO itself.
BONUSES
A number of bonuses ranging from 17.5% to 50% will be offered during the public sale,depending on contribution size and date of purchase.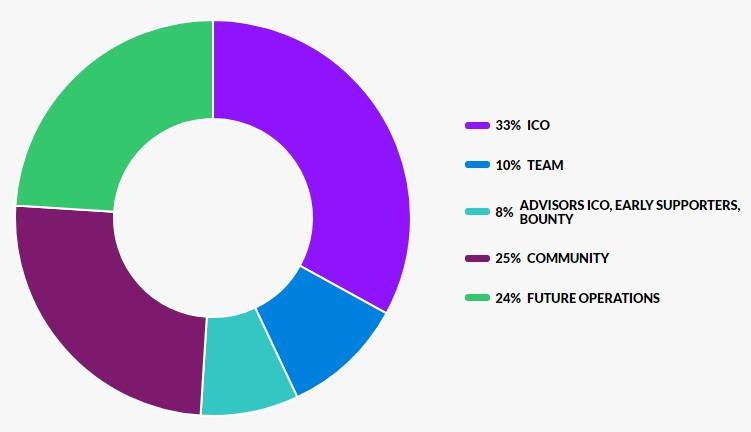 ROADMAP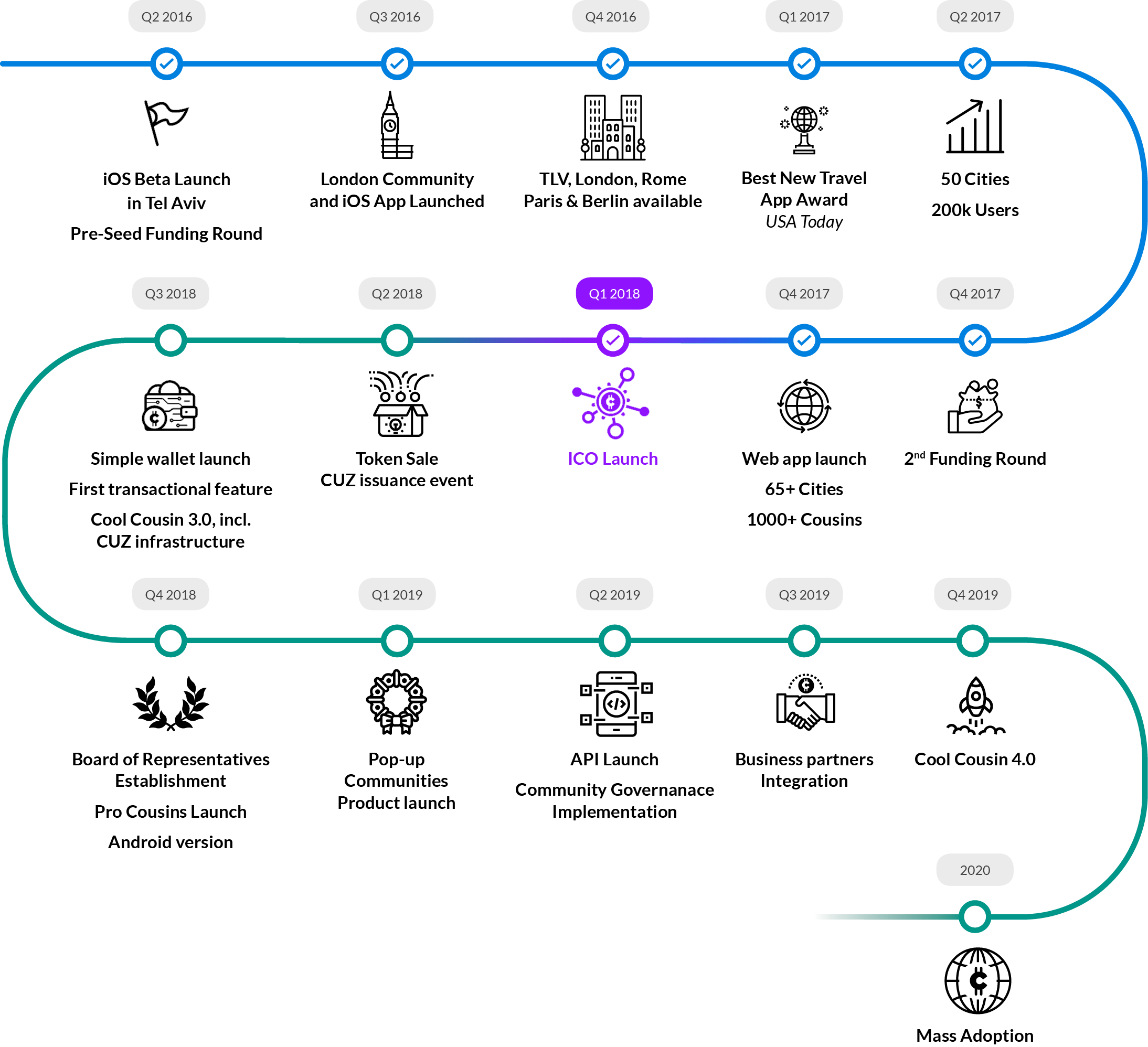 FOUNDER TEAM


TEAM




ADVISOR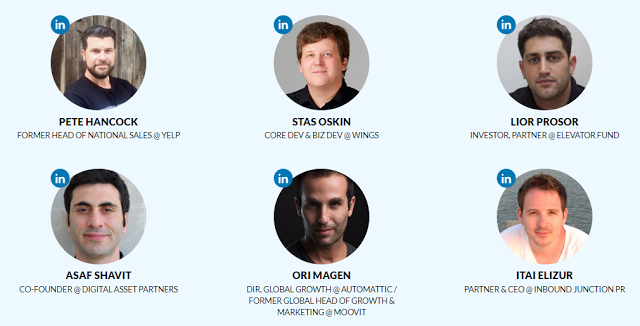 Be a part of this incredible project. Download the whitepaper for the full scoop.
Till next time…
For more information, please visit:
WEBSITE:https://www.coolcousin.com/ico/
WHITEPAPER:https://www.coolcousin.com/ico/coolcousin-whitepaper.pdf
FACEBOOK:https://www.facebook.com/CoolCousin
TWITTER:https://twitter.com/coolcousinco
TELEGRAM:https://t.me/CoolCousin
YOUTUBE:https://www.youtube.com/channel/UClQ-OmPE_Y9moK8iUjJZ3-g
ANN THREAD:https://bitcointalk.org/index.php?topic=2887590.0
BLOG:https://www.coolcousin.com/blog/
REDDIT:https://www.reddit.com/r/CoolCousin
LINKED IN:https://www.linkedin.com/company/10053626/
BOUNTYHIVE: bountyhive.io/join/Cool%20Cousin
BOUNTYHIVE: bountyhive.io/join/Cool%20Cousin
Author: TheMichaelMatch
My BitcoinTalk Profile: https://bitcointalk.org/index.php?action=profile;u=1326035
Disclaimer: This article was published in terms of the bounty campaign. I am not a project team member or its representative but a supporter of this incredible project.