COSPLAY TOKEN
The Blockchain is a rapidly growing technology that is engulfing every possible business domain. Therefore, many reports published have predicted a huge rise in the Blockchain market. According to reports, the Blockchain market is expected to extend to over 20 billion dollars by 2024. It is counted in one of the most promising new technologies that are hoped to change the future of businesses and the internet.
Basically the rise of cryptocurrency and subsequent attention brought to blockchain technology has prompted nearly every industry to evaluate the benefits of integrating the technology into their operations. One such firm at the forefront of blockchain innovation is COSPLAY TOKEN
ABOUT COSPLAY
COS Token is ERC 20 Token on Ethereum Blockchain which is going to Revolutionize the Cosplayer Community with power of BlockChain and also be used as de-facto currency of this community.
Cosplay Token (COT) will be used by the Cure World Cosplay website, a community also managed by the same team, the main idea behind COT is to use it for contributing to individual cosplayers and getting something in return such as access to exclusive contents or events. In that way COT will be more similar to Patreon than to other cryptocurencies.
VISION
They have a strong emphasis on providing community service which is characterized by self-sustainability and development. Cosplayers have various motivations for their activity, some Cosplayer want to become professional, others want more fans, and yet others are looking to share their work with groups. Photographers and Props Makers working closely with Cosplayers also have some influence on the increasing diversity of motivations. The enthusiasm of fans who support them are also on the rise, and Cosplay Economy is attracting attention as a market.
However, regardless whether in Japan or overseas, cosplayers, photographers, prop makers and users alike have challenges and roadblocks. For the sustainable development of the Cosplay economy, we need measures to meet and resolve them. Sustainable Development of the Cosplay Economy "The world's largest Cosplay platform"
THE AIM
Cure WorldCosplay and COT aims to boost the cosplay industry and make it more sustainable moving forward.
The Problem facing the cosplay industry goes thus:
Issues associated with copyright and revenue sharing
Problem of trust and harassment in the cosplay industry
Only a few have access to settlement account
There is little or no recognition for values
The content of cosplay is not globalized
SOLUTION
Resolving Issues associated with copyright and revenue sharing by storing all data records on blockchain.
All Cure users are identifiable and held accountable. This solves the problem of trust and harassment in the cosplay industry
Cosplay token will be accessible by all
Cure Worldcosplay increases exposure and connections
All information on Cure Worldcosplay is translated in different world languages and is globally accessible
Let's understand how the Cosplay Token platform will work:
"Player" (artists such as cosplayer, photographer, prop makers) will purchase COT at the exchanges.
By putting his COT tokens in a reserve inside the platform, the "Player" will be able to create his own and unique token, this new token will be know as CPC, however each participant player will have his own CPC token named as he wants (ex: Yoshi Kawasaki could issue his own token called YKC, Yoshi Kawasaki Coin).
a "User" (fan, sponsor, etc) will also purchase COT at the exchanges, and using that COT he will be able to purchase any "Player" unique CPC coin.
The "User" will have access to exclusive content for that "Player", by either holding a specific quantity of that player's CPC, or by spending CPC on content (This will be defined by each "Player", if he prefer his fans to either hold or spend CPC, its up to him to decide).
"Users" can still trade different Players's CPC inside the platform with themselves as they wish, however CPC will not be withdraw-able outside the Cure World Platform, just COT.
"Players" can still generate more of his own CPC tokens by putting more COT tokens on the reserve.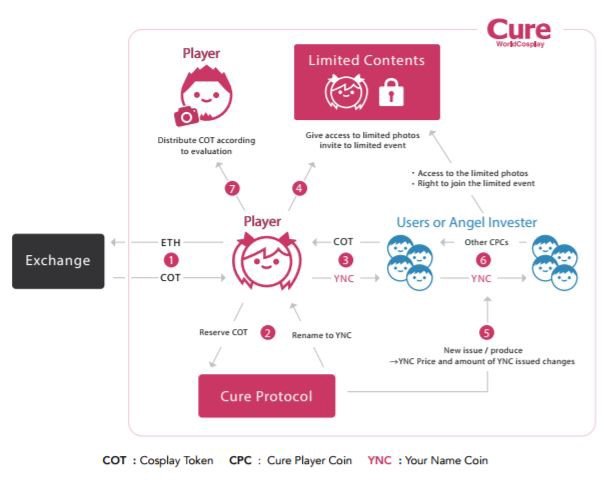 A major unique difference in the way this platform will work is that the CPC tokens will be a Smart Token, this is something borrowed from the Bancor protocol.
Explaining it in a very simplistic way how a smart token works, it means the more COT the Player puts in his reserve, the higher the price his own CPC will become, and more CPC will be issued. The opposite will also be true, if the Player withdrawn COT from his reserve the price of his CPC will go down and so does the total supply.
Benefits of COT Token:-
Access to Settlement Account/Player
Sharing of Content Revenue/Players/users
Trust and Transparency of Players
Value actualization of players and users
Globalization of Information and users
They have great team and some experienced experts to make COT Token the great success and this is going to make Cosplay community to very big and mainly benefit Cosplayers across the world.
COSPLAY TOKEN (COT) SALE DETAILS
COT is an ERC20-standard token that will be disseminated as a feature of the TGE and ICO. This will be the main token sold amid the ICO. Following the crowdsale, COT can be put away in any ERC20-consistent wallet.
Extra usefulness will be presented later on:
COT will be put away in the COT wallet incorporated into the Cure WorldCosplay platform
Users will have the capacity to see their COT adjust upon login to the platform
Users can send/get COT inside the platform, and also tip Players
Events tickets will be available with COT
Player shops will acknowledge COT
Token type: utility token for the cosplay world used within the system and to create smart tokens for cosplays
Token Ticker: COT
COT issuance limit: 1,000,000,000 COT
COT sales price: 0.00008 ETH
Soft cap: 5000 ETH
Emission rate: No new token will ever be created after ico
Token network : Ethereum ERC 20
Distribution: Tokens will be distributed after the end of ico
Bonuses based on escrow period
Cure has added a bonus tier structure available for participants who wish to leave their tokens:
3 months (90 days) +10% bonus
6 months (180 days) +20% bonus
12 months (364 days) +30% bonus
24 months (730 days) +40% bonus
The players coin will be used for;
Payments
Incentives
Tips
Reputations
TEAM AND ADVISORS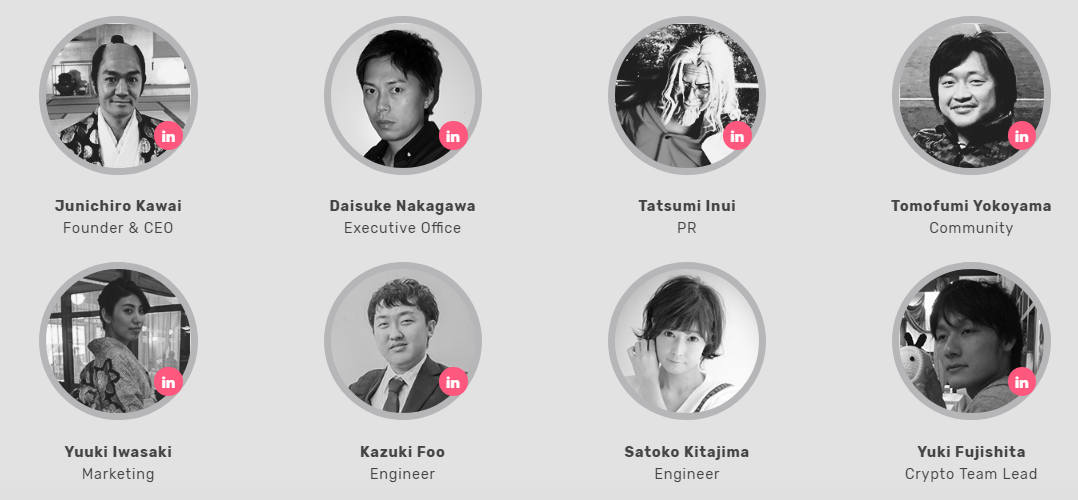 PARTNERS


For more information, please visit the links i have provided below;
Website: https://cot.curecos.com/
Token sale: https://cot.curecos.com/token-sale/
OnePaper: https://cot.curecos.com/docs/COT-Onepager_EN.pdf
WhitePaper: https://cot.curecos.com/Whitepaper_EN.pdf
YouTube: https://www.youtube.com/channel/UCoJKzE2Cn4HUEKw2PMy2NpA
Telegram: https://t.me/cosplaytoken
Twitter: https://twitter.com/WorldCosplayNet
Facebook: https://www.facebook.com/CureCosplay/
Medium: https://medium.com/cosplaytoken
Author: BrainerdPaul
BitcoinTalk profile link: https://bitcointalk.org/index.php?action=profile;u=1680409