Cryptocurrency is becoming more and more mainstream. It is opening up a whole new world of investment opportunities. Originally there was just one cryptocurrency called bitcoin. This is the one that almost all people are now familiar with. However, now there are literally thousands of different ones on the market for investors to choose from. This can be very overwhelming to the normal investor. How can they be sure what they are buying is a good investment? This is where Crassula Capital comes in. Crassula Capital has a team working for you to grow your capital with smart managed investments. They will perform analysis of cryptocurrency to assess their potential as an investment. Then a comprehensive risk analysis will also be performed.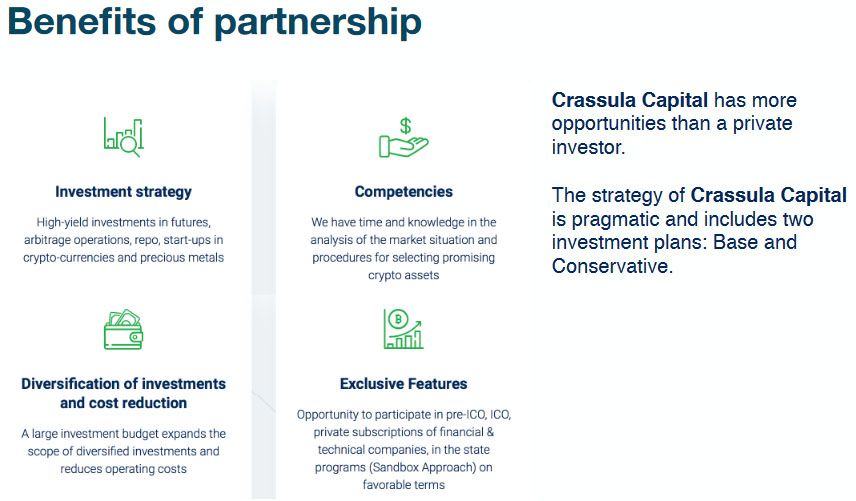 If you are looking for assistance in getting into the cryptocurrency investment space, then Crassula Capital is a great choice. To become an investor, you will need to purchase the Crassula Capital Token, which they will be calling Crass. There is an initial coin offering for investors. Following the sale, investors will also be able to buy and sell Crass tokens on the secondary market. This is great for securely buying and selling when you want to. One Crass will initially cost one hundred US dollars. You may purchase Crass with a number of different cryptocurrencies, including bitcoin, ethereum, litecoin, ripple, monero, and others. Bitcoin and Ethereum are directly accepted, and others would need to be converted online using something like the ShapeShift website. Crass tokens can be stored at any Ethereum wallet address after the completion of the token sale.
ICO REGULATIONS
Crassula Capital carries out the initial sale of Crass to investors at the website of the ICO Crassula Capital http://crassula.capital
The ICO proceeds within 51 calendar days where:
a. January 18, 2018 is the first day of receipt of applications and payment for Crass, ICO beginning date.
b. March 10, 2018 is the last day for receipt of applications, ICO completion date.
c. During the entire ICO period the single selling price of Crass is effective. One Crass costs 100 US Dollars.
d. Payment for Crass is conducted in crypto-currencies.
e. The following crypto-currencies are accepted for payment for Crass: Bitcoin Cass, Bitcoin, Ethereum, Litecoin, Ripple, f. Monero, Dash, Zcash, Aragon and others.
h. Bitcoin, Ethereum are accepted for payment directly, other crypto currencies and tokens are to be converted in online
account with ShapeShift System.
i. Crass are distributed at the completion of the ICO, based on the amount of funds raised and subject to the minimum
threshold for ICO. The amount of the last one is determined as 10,000 Crass.
j. In case where less than 10,000 Crass are sold at the completion of the ICO, the ICO will be considered invalid and all funds will be returned to investors after deduction of commissions for transactions.
DISTRIBUTION OF PROFITS OF CRASSULA CAPITAL
The increase in NAV (profit) of Crassula Capital is calculated on the basis of the results of the reporting period (quarter), based on the public data on the activities of Crassula Capital. It is determined by the following formula:
Profit = NAV as of the end of the period – NAV as of the beginning of the period, (in US Dollars, > 0)
The profit distributes as follows:
50% remains in the assets of Crassula Capital, increasing the value of Crass;
25% is paid to partners of Crassula Capital (owners of Crass);
25% goes to the Management Team of Crassula Capital.
http://crassula.capital/uploads/wp_crassula_en.pdf
My bitcointalk profile link: https://bitcointalk.org/index.php?action=profile;u=934062