CREST DIGIAD: BLOCKCHAIN MARKETING AND ADVERTISING PLATFORM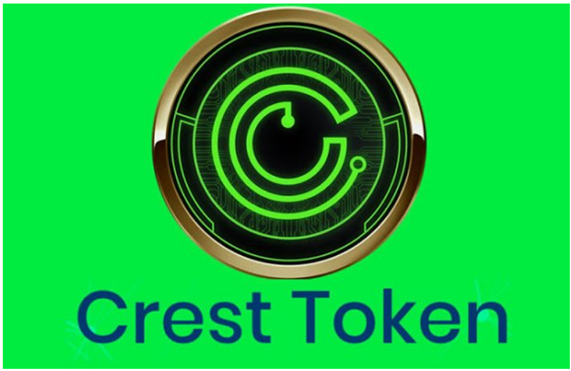 Online marketing and digital advertising over the years as continued to grow as technology growth increases. People now easily place goods and services online, targeting potential customers who will be interested in whatever they have to offer. This has prompted millions to explore the idea of generating passive income through digital advertising and online marketing. But most of them lack the necessary resources or skills required to select and actively promote campaigns which will generate substantial income. With the introduction of cryptocurrency into the world, a better opportunity presents itself to those interested in generating passive income through online marketing and digital advertising.
A team of smart experts with decades of experience who have generated substantial revenue in the online marketing industry over the last 10 years came together to analyze this issue closely and up with a unique and great idea, first of its kind called CREST. Crest will present to the world an opportunity to earn passive income by combining cyrptocurrency power and Artificial Intelligence AI with online marketing and digital advertising industry. The Crest team will develop a robust, user friendly DigiAd campaign platform which runs on independent Ad Servers equipped with self-learning algorithms. Using real-time, up-to-date website tracking and historical data on devices, the independent Ad server determines which ads to serve a particular consumer at a specific time. Crest will be focusing on industries like gaming, health/beauty, technology, retail, automotive and financial services.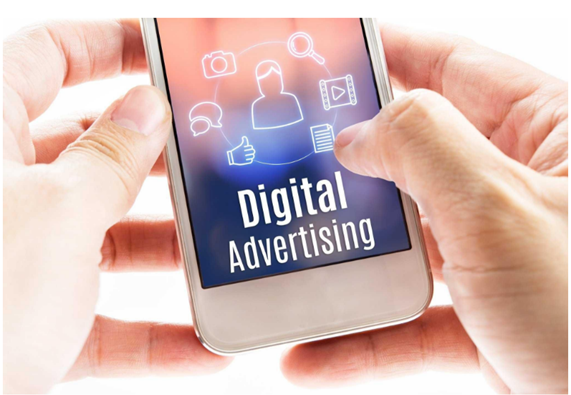 HOW CREST PLATFORM WORKS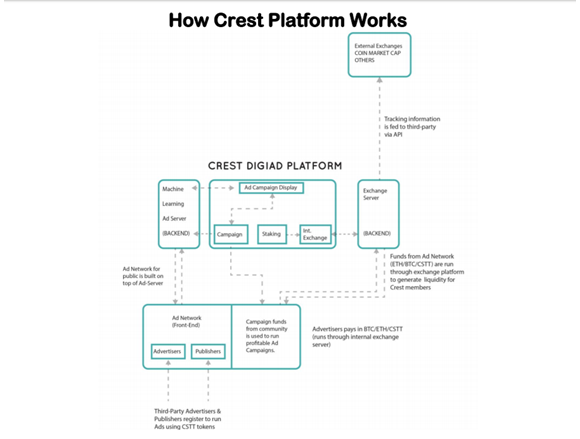 CREST TOKEN UNIQUENESS
No doubt there are lots of cryptocurrencies currently existing and more are being introduced on a daily basis, offering mouth watery benefits but none can be compared to what Crest token offers to all. Below are some of the features which makes Crest token stand above all other cryptocurrencies;
It has a lower and higher purchase cap range during ICO
Gives a clear openness on ICO funds allocation
At the close of ICO, there will be a fully developed platform
Crest token business model is completely independent of the cryptocurrency volatility.
Crest token gives daily community update via email and active social platforms
During ICO, Crest token will not hold onto your Bitcoin and Ethereum.
Crest token has a generous bounty program
Crest token has a weekly token buyback and token burn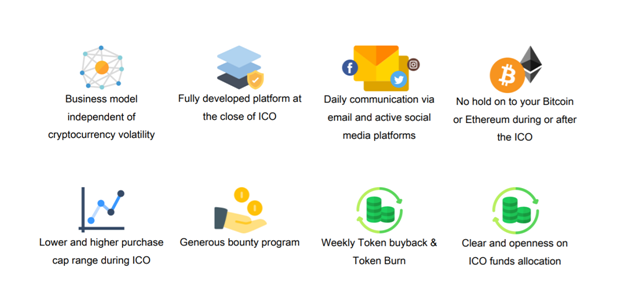 ICO DETAILS OF CREST TOKEN
Crest will carry out two stages of token sale which are pre-sale and main sale. During the pre-sale, tokens will be sold at a price of $0.25 per token with a minimum / maximum token purchase of 100 / 10000 CSTT. All funds acquired during this stage will be used to promote the ICO and kick-off full platform development. Shortly after the pre-sale, there will be a main sale ICO in which there will sixteen rounds, with 400, 000 tokens made available for each round. At the initial stage, price will be $0.35 which will later increase by $0.10 per round. The last round price will be $1.85. Token purchase limit at different rounds during the ICO will have a limit range between 20 to 1500 CSTT.
TOKEN BURN TO STABILIZE PRICE: upon launching the internal exchange, the Crest team will attempt to buy-back specific amounts of tokens weekly and burn. This will continue until price stabilizes beyond $15 / token. Having a market cap of about $200m will place Crest token in the top 100 coin on coinmarketcap.
STEPS TO FOLLOW TO PARTAKE IN THE CREST ICO
Partaking in the Crest ICO is very easy. All you need do is create an account by registering on the crest token website (https://cresttoken.com/) or login to your crest token account. Next go to your ICO dashboard and follow the instructions outlined there. Deposit ETH or BTC on the address provided on your dashboard. Then you receive your CSTT token to your ERC20 compatible wallet. It's that simple.


TOKEN INFORMATION OF CREST TOKEN
Crest token is an ERC20 token which will be issued via smart contract. Bitcoin (BTC) and Ethereum (ETH) will be accepted during ICO. There will be a total supply of 12, 500, 000 tokens which will be distributed in the following manner;
51.20% (6, 400, 000 tokens) will be available during the main ICO,
36.80% (4, 600, 000) goes to staking reserve,
8% (1, 000, 000) will be available for pre-sale ICO
4% (500, 000) goes for bounty reserve.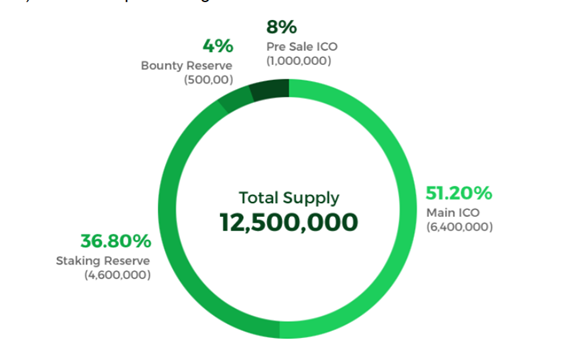 ICO FUNDS DISTRIBUTION OF CREST TOKEN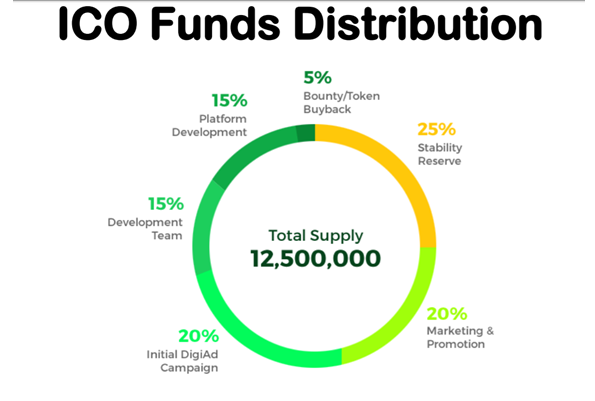 25% goes to stability reserve
5% goes to bounty / token buy back
15% goes to platform development
15% goes to team development
20% goes to Initial DigiAd Campaign
20% goes to Marketing and promotion
ROADMAP OF CREST TOKEN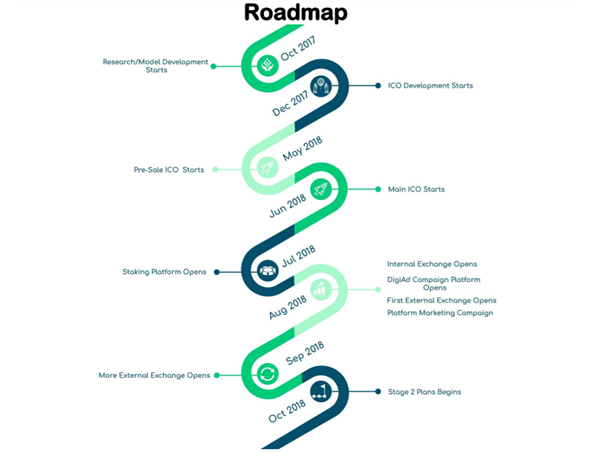 Research / model development starts: October 2017
ICO development starts: December 2017:
Pre-sale ICO starts: May 2018:
Main ICO starts: June 2018:
Staking platform opens: July 2018:
Internal exchange opens, DigiAd campaign platform opens, First external exchange opens and platform marketing campaign: August 2018:
More external exchange opens: September 2018:
Stage 2 plans begins: October 2018
CREST TOKEN TEAM MEMBERS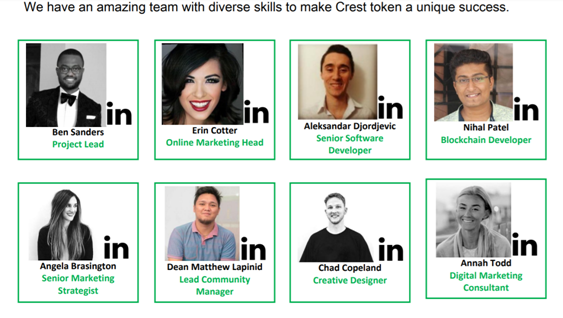 Ben Sanders: project lead
Dean Matthew Lapinid: lead community manager
Erin Cotter: online marketing head
Aleksander Djordjevic: senior software developer
Nihal Patel: blockchain developer
Angela Brasington: senior marketing strategist
Chad Copeland: creative designer
Annah Todd: digital marketing consultant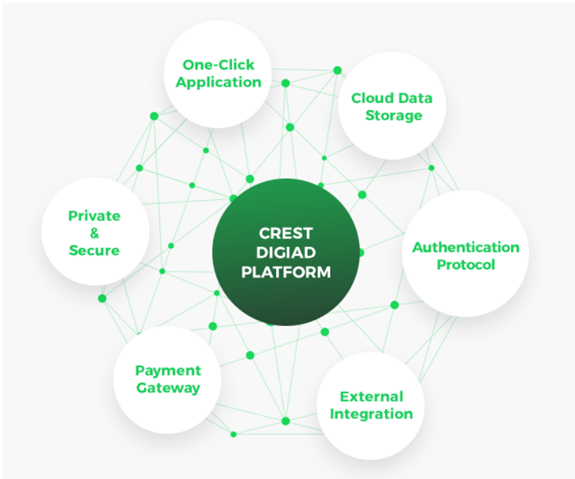 With all analyzed above, you will agree with me that the Crest token ICO is indeed what the world has been waiting for. I strongly believe this project will be a huge success and I encourage everyone to be part of the journey to the Crest token success. Please visit the website and whitepaper for more information about the Crest token project and connect with the team and other participants through the Crest token different social media platforms.
Ann Thread: https://bitcointalk.org/index.php?topic=4148297
Whitepaper: https://www.cresttoken.com/assets/CrestTokenWhitepaper.pdf
Website: https://cresttoken.com/
Medium: https://medium.com/@cresttoken
Facebook: https://www.facebook.com/thecresttoken
Telegram: https://t.me/cresttoken
Twitter: https://twitter.com/CrestToken
Instagram: https://www.instagram.com/cresttoken
PUBLISHED BY: thankyoulord
BITCOINTALK URL: https://bitcointalk.org/index.php?action=profile;u=2076086
ETHEREUM WALLET: 0x2859DD117e5E186B2dec97b50012C66D0E7597Ad