CREST TOKEN: Community-Centric Token that pays Daily Passive Income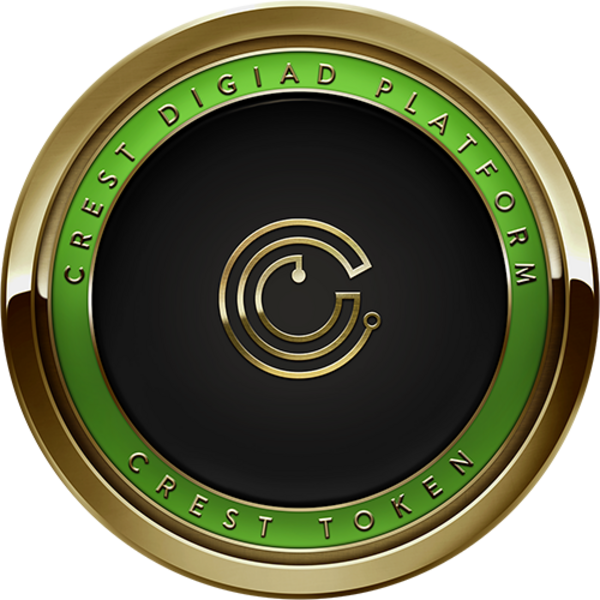 Hello my 21st century friends. Today I will be shedding light on a subject that has great potential of adding more money to your wallet, and it's called Crest Token. As we all know online advertising, also called online marketing or Internet advertising or web advertising is a form of marketing and advertising which uses the Internet to deliver promotional marketing messages to consumers. With over $204 billion, the digital advertising and online marketing industry have grown to become one of the most used forms of marketing and advertising. Because of the enormous revenue generated here, millions of people actually want to generate passive income through online marketing and digital advertising but lack the skills or resources to do so. Well, the solution to that is Crest Token.
Crest Token, otherwise known as the Crest DigiAd Platform is an online marketing and digital advertising platform that generates daily returns (in cryptocurrency) by allocating Crest utility tokens to run several ad campaigns. This user-friendly DigiAd campaign platform functions on independent ad servcers equipped with automated self-learning algorithms.
This project has a collection of team members who have much experience and have generated a commendable revenue in the online marketing industry over time. Crest Token combines for the first time, the power of crytocurrency and artificial intelligence together with the online marketing and digital advertising industry, ensuring capital security and stability to its community members.
Why Crest Token?
• Generous bounty program.
• Lower and higher purchase cap range during ICO.
• Fully developed platform at the close of the ICO.
• Daily community update via email and active social platforms.
• We will not hold onto your Bitcoin or Ethereum during ICO.
• Weekly Token buyback &Token Burn.
• Clear openness on ICO funds allocation
• Our business model is completely independent of the cryptocurrency volatility.
The Crest DigiAd Platform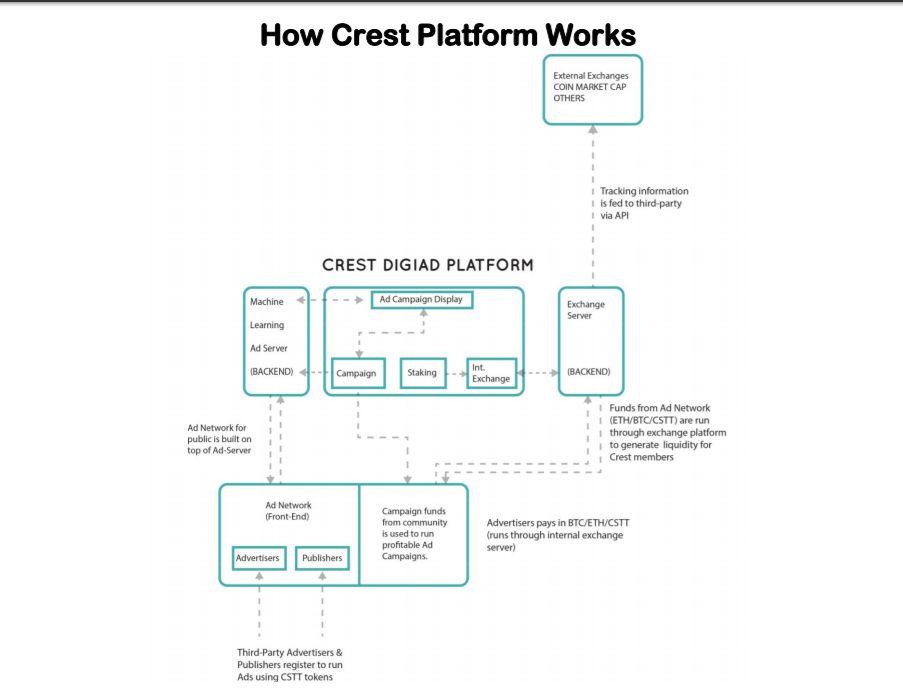 This platform is designed with the functionality of online marketing and artificial intelligence to allocate Crest utility tokens to run several marketing and advertising campaigns, thereby generating income for the members of the Crest community.
Streams of Income for You
• Referral program
• DigiAd Campaign (1.75%-2.25% daily tokens)
• Internal Exchange/Trading
• Staking Income (monthly dividends)
• Bounty Program
ICO Details
Symbol: CSTT
Pre-ICO: 24th May – 18th June
Main ICO: 18th June – 18th July
Token Price: $0.25/CSTT – $1.85/CSTT
Pre-Sale ICO Tokens: 1,000,000
Main ICO Tokens: 6,400,000
Total Supply: 12,500,000
Min/Max Personal Cap: 20 / 1500 CSTT
Accepts BTC an ETH
Token Distribution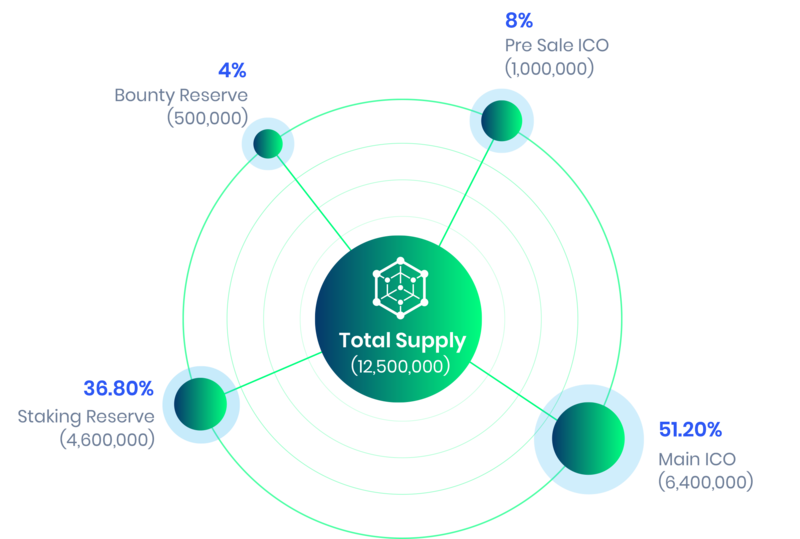 Pre Sale ICO: 8%
Bounty Reserve: 4%
Staking Reserve: 36.8%
Main ICO: 51.20%
Funds Distribution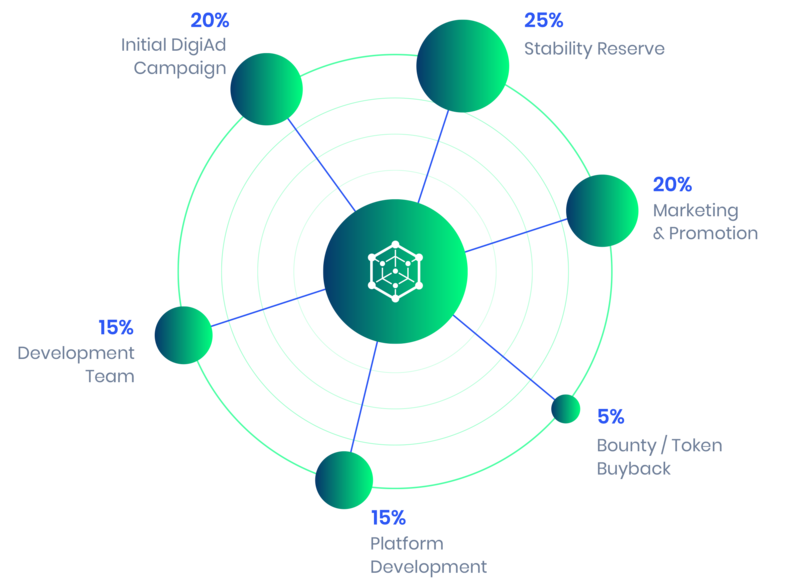 Initial DigiAd Campaign: 20%
Stability Reserve: 25%
Marketing & promotion: 20%
Development Team: 15%
Bounty Token: 5%
Platform Development: 15%
Roadmap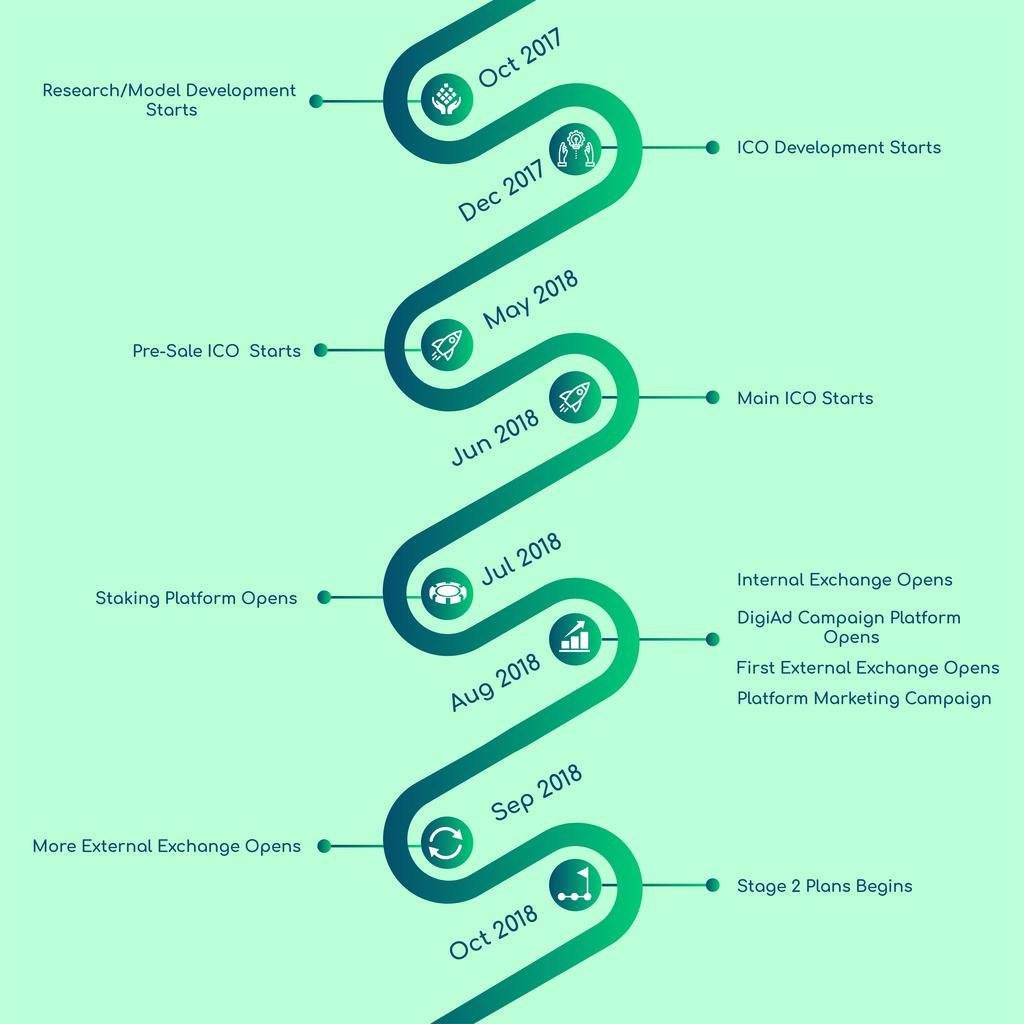 Our Team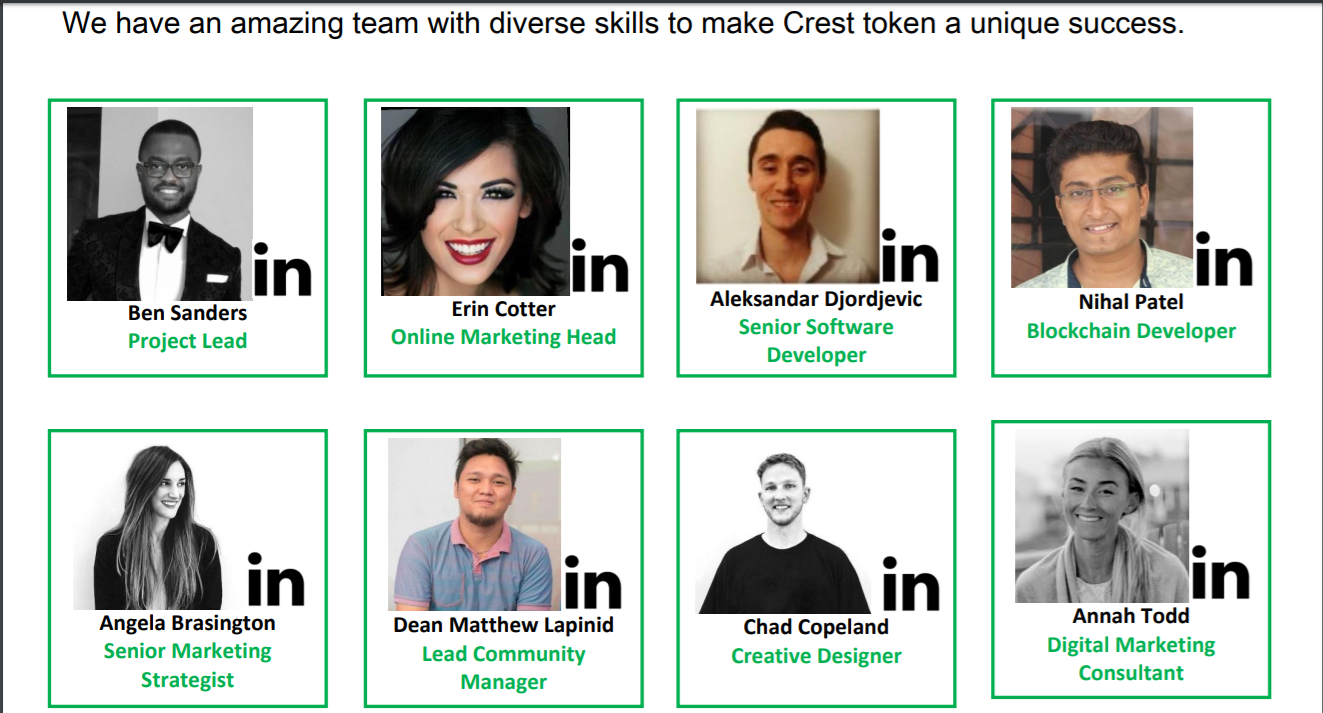 Ben Sanders – Project Lead
Erin Cotter – Online Marketing Head
Aleksandar Djordjevic – Senior Software Developer
Nihal Patel – Blockchain Developer
Angela Brasington – Senior Marketing Strategist
Dean Matthew Lapinid – Lead Community Manager
Chad Copeland – Creative Designer
Annah Todd – Digital Marketing Consultant
Conclusion
As pointed out before, the promoters of Crest Token have years of experience and have generated substantial revenue in the online marketing industry over the last 10 years. Building on their broad industry knowledge, a robust DigiAd campaign was developed in an online marketing and digital advertising platform, allocating Crest utility tokens to run ad campaigns, thereby generating daily income. Join us today and continue basking in the sheer euphoria of making money. Please do well to follow the links provided below for more information.
Reference Links
Website: https://cresttoken.com/
Whitepaper:https://www.cresttoken.com/assets/CrestTokenWhitepaper.pdf
Telegram: https://t.me/cresttoken
Twitter: https: // twitter. com / CrestToken
Facebook: https://www.facebook.com/thecresttoken
Instagram: https://www.instagram.com/cresttoken/
Medium: https://medium.com/@cresttoken
Bitcointalk: https://bitcointalk.org/index.php?topic=3557431.msg36381357#msg36381357
Authored by: Davison
Bitcointalk url: https://bitcointalk.org/index.php?action=profile;u=2075838
Wallet: 0xcd3AA411AAF6Ab5017394e00Ad49eCF6B39Ee84B