CREST TOKEN: COMMUNITY-CENTRIC TOKEN THAT PAYS DAILY PASSIVE INCOME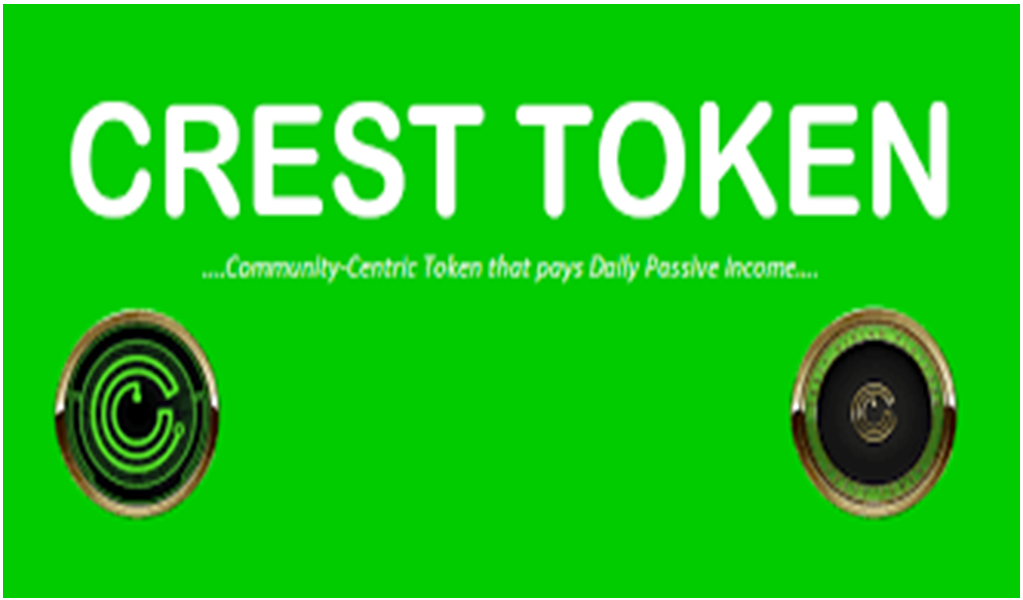 It is always exciting whenever I come across a promising project online. Something uniquely planned, an idea generated by a smart intelligent team to positively affect the world in the best positive way. No doubt, one way or the other we must have come across a cryptocurrency platform on the internet but none can be compared to the CREST TOKEN platform which I will spend the next few minutes to talk about, analyzing its unique offers.
Crest token has a platform called the Crest DigiAd platform which runs on Crest Token. This platform combines the power of artificial intelligence and online marketing, and is designed to generate income to Crest community members by allocation Crest utility tokens so as to run different advertising and marketing campaigns. Crest token is backed by promoters who have decades of experience and have generated substantial revenue in online marketing industry more than 10 years.
With crest token, millions who have no skills or resources to select and actively promote campaigns which can give them substantial income will be able to explore the idea of generating passive income through online marketing and digital advertising as Crest token will be combining the power of cryptocurrency and artificial intelligence with the $300Bn online marketing and digital advertising industry. A robust user-friendly DigiAd campaign platform which runs on independent Ad servers equipped with self-learning algorithms will be developed to identify several data points using real-time, up-to-date website tracking and historical data on devices so as to determine which ads to server a given consumer at a particular time. The Crest token team will focus on industries like technology, financial services, health / beauty, retail and gaming.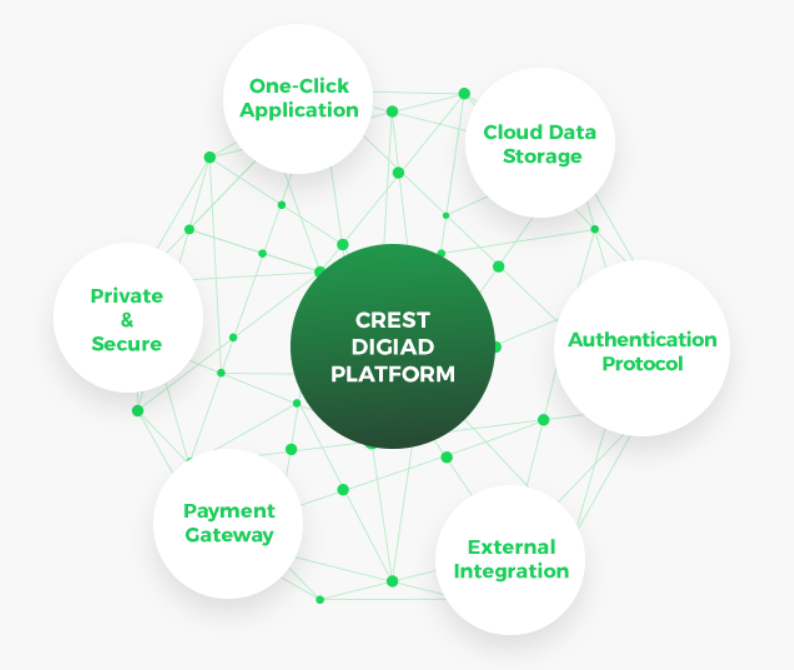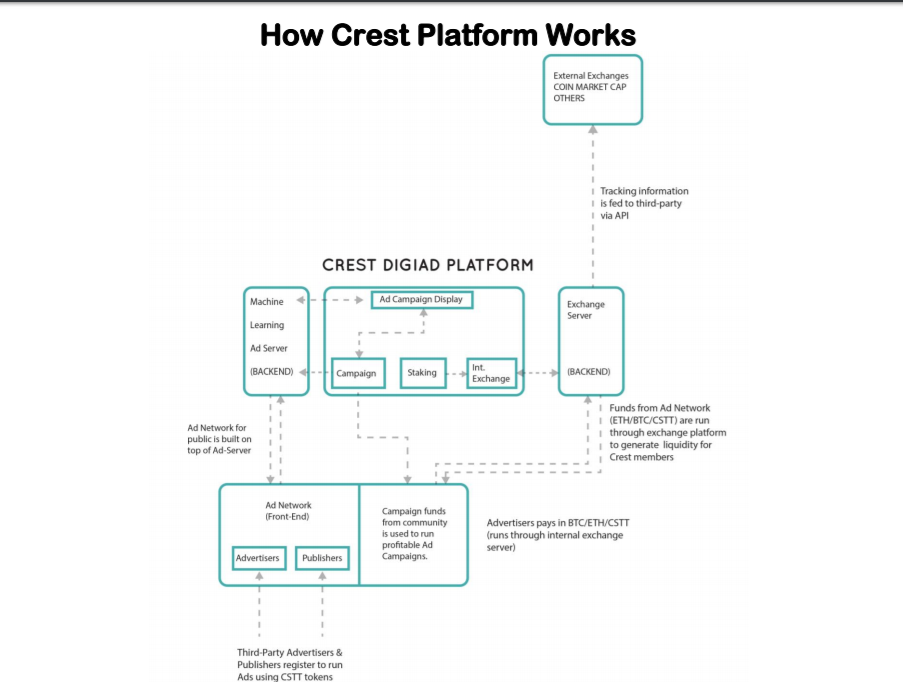 THE UNIQUENESS OF CREST TOKEN
Crest token as compared to other existing and upcoming ICOs, stands out in a unique way. Some of the features or rather advantages it has over other ICOs include;
• Crest token has a business model which is independent of cryptocurrency volatility
• Crest token will have a fully developed platform at the close of ICO.
• Crest token communicates daily via email and active social media platforms
• No hold on to your Bitcoin or Ethereum during or after the ICO
• Lower and higher purchase cap range during ICO
• Crest token has a generous bounty program
• Crest token will have a weekly token buybacks and token burn
• Crest token gives a clear openness on ICO funds allocation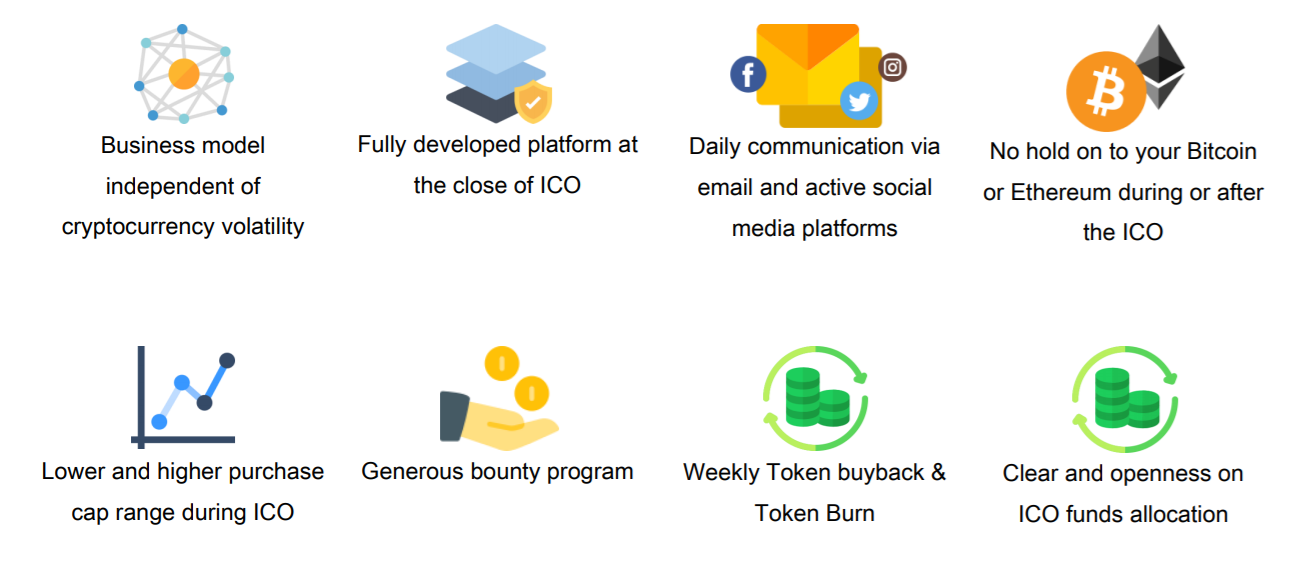 ICO DETAILS
PRE-SALE ICO: Crest token will carry out a pre-ICO during which tokens will be sold at a price of $ 0.25 per token with a minimum / maximum token purchase of 100 / 10000 CSTT. The funds raised will be used to promote the ICO and kick-off full platform development.
MAIN SALE ICO: there will be 16 rounds and will be 400, 000 tokens per round. Initially price will be $0.35 and later increase by $0.10 per round with the last round price of $1.85. At different rounds during the ICO, token purchase limit will range between 20 to 1500 CSTT.
STABILIZATION OF PRICE VIA TOKEN BURN
The Crest token team will attempt to buy-back specific amount of tokens per week and burn until price stabilizes beyond $15 / token once the internal exchange launches. Crest token will be positioned in the Top 100 coin on CoinMarketCap with a market cap around $200M.
STEP BY STEP PROCESS TO PARTAKE IN THE CREST TOKEN ICO
Create an account by registering on the crest token website (https://cresttoken.com/) or login to your crest token account.
On your ICO dashboard are instructions outlined, follow them.
Also on your dashboard is an address provided, deposit ETH or BTC.
Receive your CSTT token to your ERC20 compatible wallet. DONE!!!


TOKEN INFORMATION
Crest token has a token which is an ERC20 token that will be issued via smart contract and during ICO, Bitcoin (BTC) and Ethereum (ETH) will be accepted. There will be a total supply of 12, 500, 000 tokens. 51.20% (6, 400, 000 tokens) will be available during the main ICO, 36.80% (4, 600, 000) will go to staking reserve, 8% (1, 000, 000) will be available for pre-sale ICO and 4% (500, 000) for bounty reserve.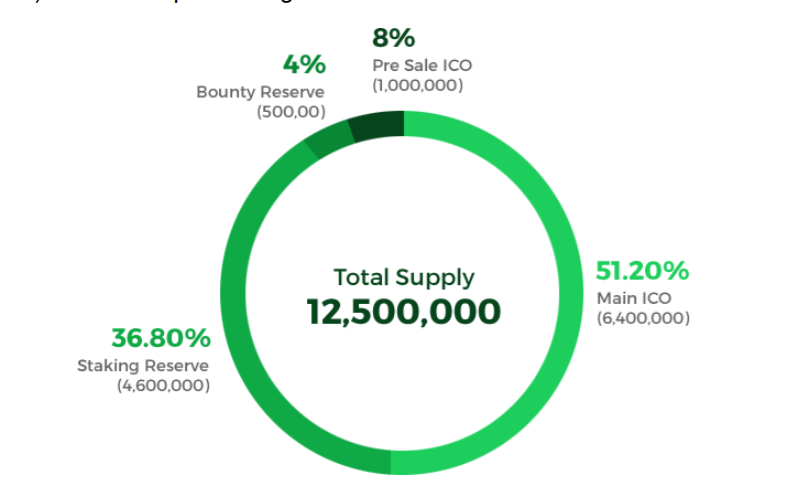 THE CREST TOKEN ICO FUNDS DISTRIBUTION
Stability reserve: 25%
Bounty / token buy back: 5%
Platform development: 15%
Development team: 15%
Initial DigiAd Campaign: 20%
Marketing and promotion: 20%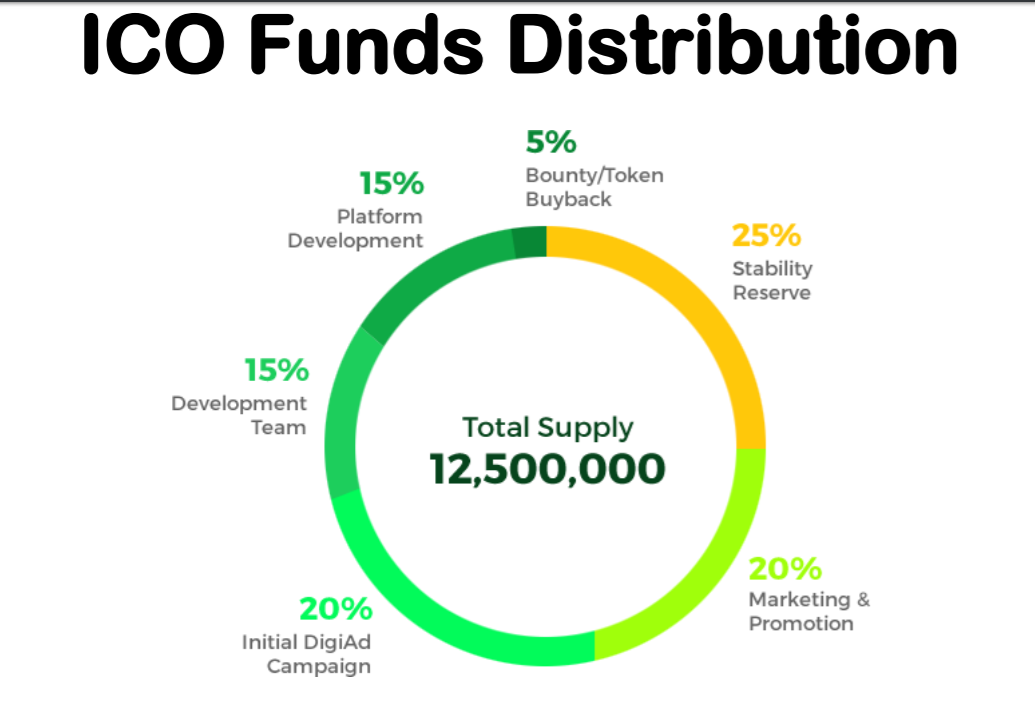 ROADMAP
October 2017: research / model development starts
December 2017: ICO development starts
May 2018: Pre-sale ICO starts
June 2018: Main ICO starts
July 2018: Staking platform opens
August 2018: Internal exchange opens, DigiAd campaign platform opens, First external exchange opens and platform marketing campaign
September 2018: More external exchange opens
October 2018: stage 2 plans begins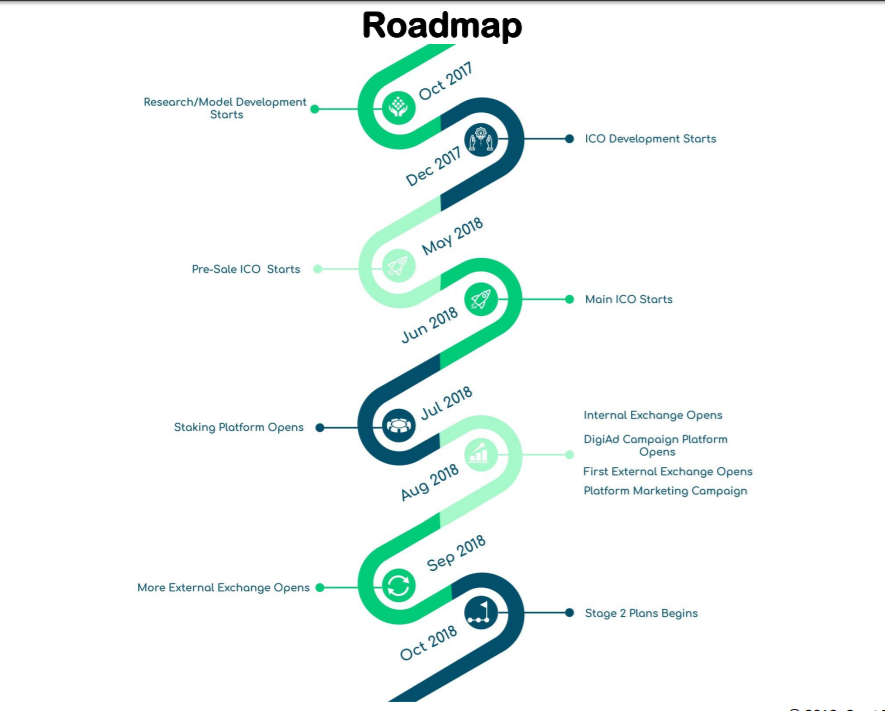 THE CREST TOKEN TEAM
Ben Sanders: project lead
Erin Cotter: online marketing head
Aleksander Djordjevic: senior software developer
Nihal Patel: blockchain developer
Angela Brasington: senior marketing strategist
Dean Matthew Lapinid: lead community manager
Chad Copeland: creative designer
Annah Todd: digital marketing consultant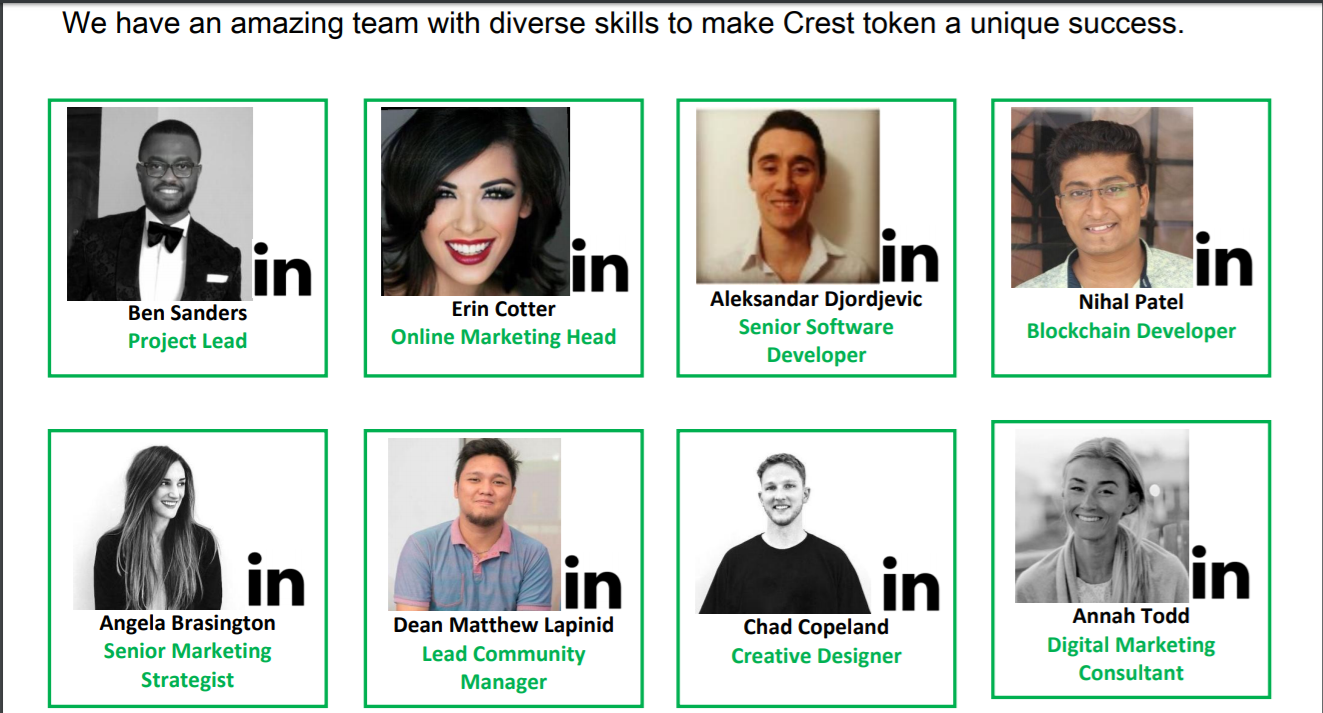 Crest Token is indeed a project with so much prospect and will surely be a huge success. This is one project I will strongly encourage all to partake in as there is so much to gain from this brilliant idea. Be part of it today. For more information about this unique and great idea, please visit the website and whitepaper. Also connect with other participants across the globe through the different Crest Token social media platform links below;
Website: https://cresttoken.com/
Whitepaper: https://www.cresttoken.com/assets/CrestTokenWhitepaper.pdf
Ann Thread: https://bitcointalk.org/index.php?topic=4148297
Telegram: https://t.me/cresttoken
Twitter: https://twitter.com/CrestToken
Facebook: https://www.facebook.com/thecresttoken
Instagram: https://www.instagram.com/cresttoken
Medium: https://medium.com/@cresttoken
Published by: teejayrichard
Bitcointalk URL: https://bitcointalk.org/index.php?action=profile;u=1265803
Ethereum wallet: 0x937fe2c8bd616344a9Be33fDEC04D6F15f53c20F